ON-DEMAND WEBINAR:
The Winning Team: 5 Keys to an Impactful Candidate Experience
A recent ERE study revealed that more than 6 out of 10 recruiters feel their jobs are more difficult today than just a year ago. If that sounds familiar, it could be because the HR function is not always keeping pace with candidate needs and expectations.
We live in a consumer-centric world. And if you view your candidates as consumers, it could shed some light on the potential that digital transformation could bring to your recruitment process. Today's candidate experience is all about personalization, relevance, and ease of use – backed by a strong employer brand.
It's less about applying for a job and hoping to hear back – and more like shopping for a product or service on Amazon or Expedia.
In our recent webinar, "The Winning Team: 5 Keys to an Impactful Candidate Experience," we discussed how candidate expectations have been forever changed through technology that delivers relevant, useful information. And how the TA team can leverage the power of analytics to personalize the candidate experience at every touchpoint.
Remember, it's not just the candidate who benefits. AI-driven technology and automation also help recruiters truly "market" their open positions to both large and highly specialized candidate pools, ensure every dollar is spent wisely and efficiently, and measure performance in real time.
In short, the HR function moves from reactive to strategic, candidates feel nurtured and engaged – and everyone on both "teams" is a winner.
We'd like to share this webinar with you. You can download it here.
---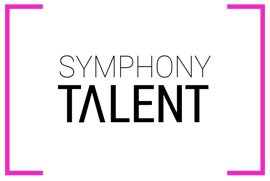 Symphony Talent is redefining how employers and talent connect with our personalized, seamless talent acquisition suite. We apply consumer marketing strategies to deliver relevant and compelling experiences for candidates, employers and employees through our solutions.