2017 Is The Year to Apply Consumer Marketing to the Candidate Experience.
On-Demand Webinar: Mastering Key Consumer Marketing Tactics for Talent Acquisition
Original air date: March 14, 2017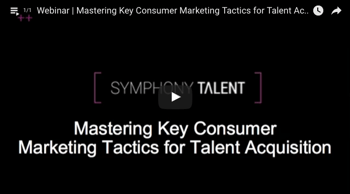 Let's face it. Talking about creating a consistently amazing candidate experience and actually making it happen across every channel where you engage talent are two very different things.
Yet, top organizations are beginning to do just that. If this leaves you wondering "How are they doing that?" and wishing you could launch a similar strategy in your talent acquisition organization - join us for an event you won't want to miss.
We've pulled together Talent Board VP, Kevin Grossman, Symphony Talent CEO, Roopesh Nair and Jess Schuster, Project Lead, Candidate Engagement and Experience for Northwell Health to help you learn:
What candidates really think you should do to improve their experience, as reported by the Talent Board Candidate Experience (CandE) Awards.


How A.I. improves recruitment media optimization and helps you quickly attract the best candidates.


How A.I., Game Theory tactics and hyper transparency between your organization, ad agencies and media vendors will have your recruiters reimagining the recruitment marketing process.


How Symphony Talent's best-in-class consumer marketing strategies and new A.I. powered personalization attract and convert top candidates to you most critical opportunities.
Talent Acquisition tools, strategy and data have finally made the leap to consumer marketing - now it's your turn!