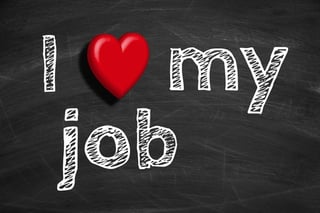 Join Jess Von Bank and Christine Marino today on #TheRoadtoHRTech to discuss: Onboarding for Employee Engagement. They go live at 1PM CT >> Click here to join.
HR Tech is right around the corner, and I'm reminded it was at last year's HR Tech where I cruised the expo floor with Patrick Rooney, asking him, "What do we need?" Kind of a broad statement, but the question was directed at our Global Head of Innovation, so that's exactly what I meant. His answer: "Onboarding." Symphony Talent is a complete set of talent solutions for attracting, nurturing, and hiring incredible talent for amazing brands. Since we love the parallels between dating and recruiting, you could say we offer all of the solutions needed from courtship to commitment. Well, almost all. We were missing a big one, and we knew we weren't complete without it: Onboarding.
I texted Christine Marino within 3 seconds: "Where are you? We need an onboarding partner."
Why was this critical to Symphony Talent, and why should this topic matter to you?
I've seen a lot of numbers and all you smart cookies could spend an entire day deconstructing this nuanced metric for accuracy: Cost per hire. I'll go with Bersin's $4,000 average cost per hire to make the point: we invest a lot to attract and hire talent.
Gallup's State of the American Workplace report shows that 33% of employees in the United States are engaged at work. (Gulp.) That means that 67% of the workforce is disengaged, disenfranchised, and detrimental to the bottom line. The financial impact is staggering: according to Gallup, actively disengaged employees cost the United States between $450 and $550 billion in lost productivity per year.
So forget average cost per hire. I'd like to see the average cost of keeping a role well-filled over, say, 5 years. Considering all of the above.
The time immediately after we've made the hire is the moment of truth. This is literally where you start realizing or losing your investment. Giving new hires the tools, materials, and information they need to do their jobs appropriately from Day 1 will see an 11% increase in profitability and a 27% improvement in quality. And that's just a starting point.
That's pretty low-hanging fruit, isn't it? There's more you can do, none of it mind-boggling, all of it perfectly doable, and I'm going to let the expert spell it out.
There's good news and good news: A little goes a long way when it comes to onboarding for Employee Engagement. You'll automate and improve workflows that are painfully manual or missing altogether today. You'll dramatically improve your candidate-to-employee experience while freeing up your recruiters and HR pros. And the dividends of all of that are massive. There's no downside to this topic.
Join my conversation with Christine Marino of Click Boarding to understand how onboarding for Employee Engagement impacts retention, productivity, job satisfaction, and employee happiness. We go live at 1PM CT today! Click here to participate in the live webinar.