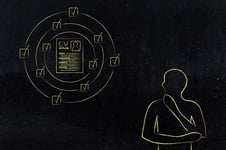 Join Madeline Laurano & Jess Von Bank for our latest episode on #TheRoadtoHRTech: Getting Candid on Candidate Management. Click HERE to join! Show starts at 9:00am CT sharp!
Here we go with Episode 6 on #TheRoadtoHRTech; only two months til The Big Dance that is #HRtechconf! Our Recruitment Marketing segment led us here: into our Candidate Management segment. Pie in the sky to eating humble pie. ;)
But hold the phone! Craig Fisher, Chloé Rada, Michael Drayer, Chris Hoyt, Will Staney, and I have talked a big game around employer branding and employee advocacy, digital disruption and the consumer candidate, the gig economy and how it all requires a consumer marketing mindset and approach.
If I'm a recruiter, I'm kind of tired of hearing everyone tell me to think like a marketer. Just put me on the phone with good people. I know. I get it.
"Keeping up with technology is a part of your job in talent acquisition," said William Tincup, president of Recruiting Daily. I agree. 100%.
But leveraging the right tools, using it all effectively, driving adoption and creating value. That's where the rubber meets the road.
That's why we're getting candidate on candidate management, and
Madeline Laurano
sort of
wrote the book
on this. Join us on #TheRoadtoHRTech at 9:00AM CT! Click here to join our "unwebinar" webinar.