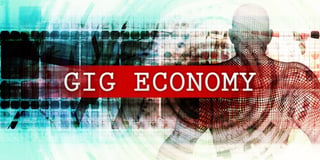 "My Next Gig" isn't just for musicians - it's likely your next hire. As we break down the talent lifecycle on #TheRoadtoHRTech, I admit I think of the traditional 9-to-5, direct hire, full-time employment model. Will Staney doesn't make the mistake of traditional, status quo thinking. He reminded me how quickly things are changing - that more and more people work on a purchase order, not your company's payroll. That freelancing will be as common as direct employment in just a few years. He reminded me of Uber and Airbnb and Google's approach to project-based work. See? That's why he's my next guest.
This notion isn't just driven by the rise of the millennial and Gen-X workforce who like the flexibility of working this way. Shorter unemployment benefits than in previous years, fewer employer-funded pension plans, and a healthy focus on work-life balance also push older workers to leverage their experience and assert more control over their careers. Who doesn't want to be your own boss?
Call it work mobility, call it freelancing, call it contract for hire. We could refer to Deloitte's prediction of the Open Talent Economy or Josh Bersin's Bold New World of Talent. Let's just talk about it - the GIG ECONOMY. Because it raises a bunch of questions:
How do you effectively manage talent when a growing segment of them are not actually your employees?

Think about employer branding, recruitment marketing, all of the techniques you use to attract talent to your culture. Are you only speaking to the traditionally employed, or are you attracting the freelancer who's attracted to exciting 1-2 year projects?

How can the best workers be attracted, acquired, and engaged no matter what type of work contract they have?
Tune in this Wednesday, July 26, at 12 noon CT. Will Staney is my guest! The future workforce is already here, we think it's going to be all the buzz at HR Tech '17 and elsewhere, and we're going to break it down. Wondering how you get the link to join? Subscribe now and we'll send you send you the link to participate Wednesday morning.