The Road to HR Tech started because I love geeking out with all of you, any of you. Recruiters, leaders, solution providers, from operations to admins to job seekers and all of you great hunters of job seekers -- anyone connecting talent to opportunity.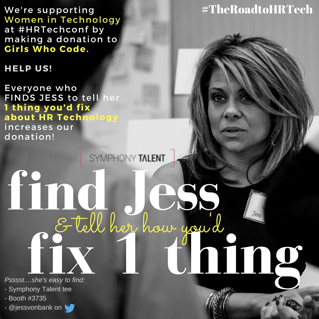 I'm a former recruiter who fell in love with the tools and processes we use to recruit better. We have great conversations with each other every day about how and what is needed on our quest to deliver an improved candidate experience, make recruiters more productive, and help talent leaders and strategists measure the business outcomes they're looking for. I wanted to bring those water cooler conversations to the masses; after all, we're a collaborative bunch who love to share and problem solve together. Innovation and progress can't happen in a vacuum.
The Road to HR Tech has led us to Las Vegas - we're almost there! As we approach the event, I had to pause and think, what are we all there for? This largest of conferences in our space where solutions and services run the gamut, from employee engagement to benefits and wellness, to recruiting and learning and…..uff. There's a lot -- lots of work to do, multiple projects to tackle, no shortage of initiatives to pursue if budget and resources were unlimited. So what are people trying to solve at the broadest level?
Symphony Talent is up to some good at #HRTechConf this year, contributing to Girls Who Code for every person we meet at our booth (#3735). I'm throwing some muscle behind the cause by encouraging attendees to find me.
Find Jess & Tell Her How You'd Fix One Thing about HR Technology
Some of you have already answered, and I was astounded at the immediate and passionate responses. The broad consensus is that we have work to do. A few themes I'm hearing so far:
Don't let the tail wag the dog! Start with the problem, not the solution.

Jessica Lee,

Global Talent Leader for

Marriott International

: Don't accept HR technology as it is; challenge solutions providers to evolve and improve.

Stop making the software the work. Design solutions that allow HR to focus on people. Yes,

Heather Bussing

! This is so fundamental we actually forget, don't we?

Put yourself in the seat of the person using the technology. "If you're selling recruiting solutions,

hire recruiters

."

Craig Fisher

runs Marketing and Employer Branding for

Allegis Global Solutions RPO

; he knows delivery better than anyone.

Stop overselling. And offer honest comparisons of solutions.

And then

Carrie Corbin

, Head of Talent Attraction, Employer Branding, and Diversity at

American Airlines

: "We need so many tools to do all the things."
I chatted recently with Nick Mailey, VP of Talent Acquisition at Intuit. (Intuit hires Awesome Assessors….as in, Assessors of Awesome. Not just any recruiter gets to interview talent for Intuit. They will only hire the top 25% of talent they review; they'll wait patiently for it if they have to. And once they've hired this créme de la créme, they continue recruiting you internally. It takes a special interviewer to identify and woo this talent. It takes an Awesome Assessor. Holy cow, do I love that, but I digress.) He talked about the disparate and disjointed experience of HR systems. There's a massive ecosystem of solutions that do so many things (to Carrie's point); as users come in and out of applications that offer different experiences; you can practically see the seams of your organization in the systems each function uses. How cumbersome; how hard to use! Nirvana for HR Technology is an integrated, harmonized experience that doesn't show the seams.
The "Find Jess" challenge continues at #HRTechConf in Las Vegas next week. Find Jess anywhere - at Booth #3735 in the Expo Hall, @jessvonbankon Twitter, or simply walking the floor in her Symphony Talent tee. Just FIND HER, TELL HER, and increase our donation to Girls Who Code.
See you in Las Vegas!