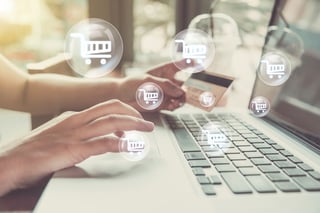 I'm not sure I knew what I was tackling when I suggested Candidate Experience as a topic with Chris Hoyt. Candidate experience is almost as big a topic as employee experience; in fact, one bleeds into the other. That's precisely why it's for all the marbles.
There are two ways to think about THE CONSUMER CANDIDATE we're all raving about.
The job seeker's experience of your talent brand should be as compelling as the experience with your (or any) consumer brand. We're social creatures with digital habits and expectations of fast, easy, personalized online experiences. This is where automation and AI can relieve recruiters of mundane tasks and instill standardized workflows to help deliver a consistent and timely candidate experience and a more "personal" touch through technology. Think about interview prep and scheduling, providing directions and delivering information, requesting feedback, etc. If Suzy Chatbot can help Joe Recruiter eliminate the candidate "black hole", isn't that a win? "Co-bot" might be my new favorite term: collaboration between humans and technology is here.

The candidate experience you deliver directly impacts financial performance. If you deliver a poor candidate experience, you will lose loyalty to your consumer brand. Conversely, delivering a positive candidate experience - not just to qualified applicants moving through your consideration process but to the thousands who apply who never get an interview, let alone hired - can earn new or deepened customer favor.

Because we're online creatures, we're pretty easy to target. What if you leveraged some of the tech available today to create a sniper approach in your recruitment marketing strategy so that your recruitment funnel looked more like a chute? Less noise at the top of the funnel (unqualified candidates, qualified candidates you can't get to, recycling qualified candidates you've already attracted to past roles rather than spending new dollars to get new-again faces) means fewer candidates to keep out of the black hole.
The flashy stuff we deliver in our talent attraction strategy is wasted if we blow the candidate experience when it really matters. The WAY YOU TREAT candidates must deliver on the employer branding, advocacy and storytelling, and nurturing tactics you used to set the hook. This part doesn't need to be flashy - in fact, the candidate touchpoints that have the most impact on overall experience and your ability to convert the best talent are so very easy for you to influence.
Please spend 5 minutes on your job description. You don't have to be a copywriter, and this part won't cost you one red cent. Is it easy to read? As in, visually. Actually look at it. Does it make sense? Would

you

apply?

Are you getting interview feedback from candidates to see where you're strong and where you need to patch a few holes?

Teach your hiring managers how to interview - give them basic tools to ensure a positive experience for both the interviewer and the interviewee.
Finally, candidate experience is not reserved for the external. If I'm an external candidate, it starts when I first experience your talent brand, continues when I convert to an applicant, and should extend through my hire and onboarding process. If you promote and develop your employees (ahem), internal candidate experience should be as good or better. And guess what? The way you treat internal candidates becomes a differentiator for external recruiting - all else being equal, who wouldn't want to work for a brand who is known for their red carpet treatment of employees who want to grow their career inside the company?
Whew. Told you it was a lot. So candidate experience matters - not only matters, it PAYS. Land better talent, see improved company performance. I don't need to draw that correlation for you. Next week on The Road to HR Tech, I'll ask Will Staney what happens after you've set the hook. Reeling them in is the conversion process, and who better to ask than the guy who made up his own job title when "Talent Community Managers" were futuristic, luxury headcount on Talent Acquisition teams.
Join us again on #TheRoadtoHRTech next Wednesday, July 26, at 12 noon CT. Will Staney in the house!