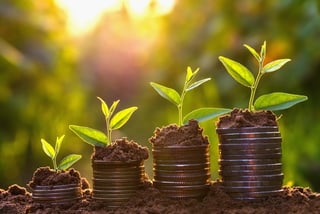 I posted the outcome of my recent Spartan race on Facebook. On that post, I exchanged comments with a friend about our kids doing an obstacle course race together. I included a link to the Terrain Racing series I did with my kids last summer. This was on Facebook. Buried on the comments of a post.
The next time I opened Instagram on my phone, I viewed a sponsored ad for the Terrain Racing series encouraging me to sign up for the next one in my city. Big Brother? Your call. Convenient? Heck yes. I clicked the link to see if Minneapolis had added dates yet. The new normal? Absolutely. Retargeting at its finest – across browsers, across devices, across social media channels. I leave a digital footprint wherever I go, and it's not the first time I've clicked on a hyper-personalized, targeted ad based on my browsing behavior. From girl power superhero swag to the last tank I bought, consumer brands know me. I am the exact buyer persona some of you are targeting, and your targeted advertising works on me.
We're all consumers. And at any given point in our careers, we're all active or "I'm-not-saying-I-won't-listen-to-an-amazing-opportunity"-passive job seekers. Why should searching for a job be any different than seeking a product or service online?
Several months ago, I searched for a book an Amazon. "Good Night Stories for Rebel Girls" had been posted to my Facebook timeline by a number of friends who knew this was right up my alley. Because I peeked at it, this book started appearing in sponsored ads for me everywhere I browsed. Yes, yes, I'm interested, I'll probably buy it eventually.
When I finally did, I went straight to Amazon and keyed in the exact name of the book in the search bar. None of those sponsored ads get credit, exactly, for my actual purchase. Not technically speaking. But technically they all get credit. It all worked; the ads were personalized and appropriately relevant and I was a purchase waiting to happen. It had to be at the right time and place when I had a reason to go ahead with the transaction. (I was stocking books for a spring break road trip to St. Louis.)
Stay with me a bit longer…when I carted that book, Amazon showed me other titles I might like. "Rad American Women A-Z", "Shoot Like a Girl", etc. I bought them all. They were perfectly related and perfectly me.
Translate to job seeker behavior. If I'm a female software engineer, I'm highly sought after so rarely an active job seeker….or at least not for long before I'm scooped up. That doesn't mean you can't get my attention. I spend time on social media, on the websites and chat forums of professional groups and associations I belong to, on Amazon and Netflix and Spotify. If you know this persona, you know where to find me and how to speak my language. Once I experience your brand, you keep speaking to me…gentle nudges until I'm ready to click and see what you're all about. If the ONLY option at that point is apply or goodbye, you lose. You need to give me options to stay in touch, and you need to stay in front of me. What if the perfect job isn't open today, or what if I don't have the time to complete a 17-step application process on my lunch break, or what if a massive reorg is happening in 3 weeks and I'll suddenly be a little more attentive to your opportunity then? Who cares who gets credit for the eventual application. It all worked - every source of influence. Your ads were personalized and relevant and I was an applicant waiting to happen.
Chris Hoyt knows this is just the beginning; I expect ease of application, simplicity of interview scheduling, personalized screening tools, a beautiful UI when I interact with your technologies, a mobile experience, etc. My experience as a candidate helps me understand what my employee experience will be like, so this is for all the marbles. Chris Hoyt knows candidate experience and why it matters. He's joining me on #TheRoadtoHRTech this Thursday, July 20th at 12pm CT. Subscribe now and we'll be sure to send you the link to join. Already a subscriber, awesome! You're set.