Candidate experience is king. Employers seeking to attract and convert top talent know this, and the war for talent is really a series of battles to stay current on and deliver the kind of experience that will attract, nurture, and convert today's job seekers and passive talent. Active job seekers are hard enough; it's a candidate-driven market and they have options. Passive talent with their noses to the grindstone are true needles in a haystack; they're not looking for you, so you need to put yourself in front of them.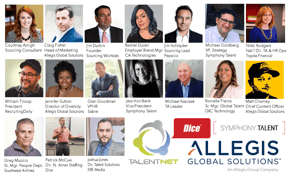 Six years of Talent Board talent acquisition and candidate experience research tells us 41 percent of tens of thousands of candidates globally who believe they have had a "negative" overall 1-star job seeker experience (based on a 1-5 Likert Scale rating) say they will definitely take their alliance, product purchases and relationship somewhere else. On the other hand, 64 percent say they'll definitely increase their employer relationships based on the very positive job seeker experiences they've had. These aren't just the job finalists either, but the majority of individuals who research and apply for jobs and who aren't hired. (Thanks, Talent Board. Big fan.)
What that just said: The candidate experience you deliver impacts more than your ability to hire the talent you want. There's financial business impact.
No pressure.
We may be reinventing the wheel, but there is a wheel to model, and it's Marketing. Today's candidates are consumer candidates. Consumer Expectations = Candidate Expectations. Consumer marketing is the new role model, not the supply chain. Branding and social marketing were the two most important trends impacting hiring back in 2015; it's only increased since then.
Too many job seekers experience an inconsistent, unclear employer brand and a disjointed candidate and employee experience. Lots of reasons for this, but it's more exciting to talk about how to fix it by putting yourself in the shoes of the empowered consumer. Because that's the same as the empowered job seeker who expects to connect to employers when, how and where they want (mobile life), has near-perfect information (Glassdoor phenomenon), wants the chance to retell their stories (democratization of credentialing), and requires flexible work options (freelance economy).
This is what I'm talking smart about at TalentNet Live in Dallas along with Michael Goldberg, who tells real-life application stories for employers who have been successful in moving the needle. Follow @SymphonyTalent_ and #TalentNet to catch the day's conversations, and tell me if you want my slides. Sharing is caring.
Thanks for following me on #TheRoadtoHRTech with this pitstop in Dallas!