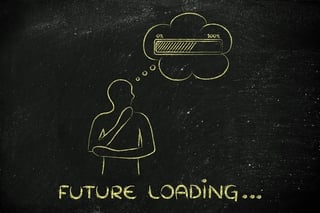 Another killer TalentNet Live in the books! Shoutout to Craig Fisher (TalentNet Founder and Marketing and Employer Branding Leader at Allegis Global Solutions RPO), Jim Durbin (Digital Marketing Extraordinaire and Sourcing Worklab Founder), and the hustling start-up community of 211 N. Ervay for hosting a great event. You know what I loved?
That Gen-Z panel.

If you're discounting millennials in any way, shape, or form - high–maintenance, entitled, lacking work ethic or an appreciation for corporate values – you better think again. You know what these job seekers want? They don't care about money, they care about the work they'll do. Your brand matters – they have an ego about where they work because they have pride of ownership. Speaking ofownership, they want it. Psychological ownership over the work they're doing, but stock will also do. Show them equity. They want bragging rights, but not the kind you think. They want to brag that they work for a reputable brand with a value system that matches their personal brand. They want to work on projects that matter with people who care. Social responsibility is important to them. If you're not selling all of that to the Gen-Z job seeker, you're missing out on a highly engaged, passionate, self-driven future employee.

Good god, the robots.

We love to talk about the robots.

Matt Charney

, Chief Content Officer at Allegis Global Solutions, reminded us the most accurate description of this big AI topic we're all chattering about is "Machine Learning." And stop fussing about robots taking your jobs. If you hate it, automate it. (Thanks, Durbin.) Let computers do the stuff they're better at and we don't want to do anyway – sifting through resumes, stack ranking applicants for you to review, scheduling interviews, that sort of stuff. AI will continue to mature and MAYBE I'll talk to a bot the next time I apply to a job, but is it a bad thing if I ask where your job is located and it gives me an accurate answer? Sounds efficient. Sounds like an improved candidate experience. In the meantime and until technology gets that stuff right, pick low-hanging fruit to achieve efficiency of scale for workflows that can and should be automated. Not so scary after all.

@LifeatToyota

blew my mind. You know how Gen-Zers want to care about the work they do for reputable brands with a strong sense of social responsibility? Toyota applied their factory production model to a county eye clinic to help them eliminate a surgery backlog 18 months long. The result? Underserved patients didn't have to go blind waiting for corrective surgery. Toyota did that. They also make cars, I hear. Sing it from the rooftops,

Nikki

(National Director of Talent Acquisition & HR Operations). This story just might help eliminate your req backlog. ;) So proud of the work you've done embracing and defining a distinct employer brand and EVP from your new global headquarters and home.
These were just a few of the #TalentNet conversations that helped us look at recruiting from the outside world in. I'm having a conversation like this on #TheRoadtoHRTech next week with Charu Malhotra of Ferrero. We chatted recently about employer branding and advocacy, and she asked me why we always talk about employer brand for external talent attraction. Why don't we turn it inside our organizations to engage and retain the talent we worked so hard to attract and hire? (Charney: "Retention is Recruiting." Another favorite takeaway.)
Tune in on Thursday, September 14, at 10AM CT to understand Activate Your Employer Brand for Employee Engagement.
Who defines an Employer Brand?

We know employer branding is critical for attracting new talent; how should it be applied internally?

What are the ties between Employer Branding and Employee Engagement? Where does Employee Advocacy fit in?

How does all of this lead to retention?
I say this all the time, but this time I mean it 127% more: I love this topic. Tune in.