Our January 2019 Release focuses on integration & personalization enhancements and includes:
XCloud CRM has the ability to connect to a third party ATS and exchange data and improve the overall Customer Experience. We have successfully integrated with one of the leading ATS providers Workday, Inc. to provide a seamless experience for candidates applying for jobs in a branded experience within XCloud; while at the same time, allowing recruiters to leverage the tools and hiring processes within Workday. Essentially, data for requisitions, candidates, applications, and status in the hiring process will be mirrored in both systems and updated simultaneously in both when changes are made by a user in either system.
Given a job is created in Workday, when it is posted to an external portal, then it will be sent to the XCloud platform and posted to the Career site, and optionally be available to post to media. Once it appears in XCloud career site and external media, people can search and apply for jobs. When such a job is edited in Workday, then the edited version will be sent to the XCloud platform and changes will be posted to the Career site and external media. if a job is closed in Workday, then it will be closed to the XCloud platform and removed from the Career site and external media.
If a candidate clicks to apply to a job on the XCloud site and submit all required information in the questionnaire, then the completed application is sent to Workday, and the application status for that candidate is set to Applicant in XCloud CRM. When a Recruiter moves applicants through the hiring process in the Workday system, their corresponding status will appear in the XCloud CRM so that Job Alerts will message the user appropriately in terms of In Consideration or Hired status. With XCloud and Workday in sync, the system's apply file capabilities ensure job alerts don't go out to those who are under consideration. Meanwhile, there's a clear insight into all stages of the recruitment process, and data can be collected and used for campaigns at a later date. And with an integrated apply process and unified analytical process in place, you can now obtain data, as well as end-to-end results, at all stages of the recruitment process.
With Symphony Talent's rapid integration with the Workday platform, we are already reaping improved visibility into our talent pipeline which not only increases the effectiveness of our recruiting team and creates an exceptional candidate experience but ultimately improves business outcomes.
Personalized Video Emails in CRM
How do we personalize the right message and deliver it at the right time to the right individual? We are proud to announce our high engagement campaign vehicle that can be provided to select candidates in the Talent Community. The personalization technology has come a long way and the next step will be the actual content itself for different individuals or companies - it's all about connecting with your talent and increase their engagement in your message!
A recruiter can create a personalized campaign which includes a personalized thumbnail and a link to a video on the Career Website to see the video. The recruiter has the ability to select from a list of preconfigured email templates, which he/she can further modify as per the appropriate messaging need.
This is our favorite example of a recent personalized video campaign. Unique details about each viewer are passed smoothly right into the video content itself. Each video can use the first name, last name, area of interest and email to personalize the message to the candidate. Combined with employer branding elements in the email itself (and in the video if produced that way) speaks to that person in a unique, personal and engaging way. If you saw your name on the video, wouldn't you click to watch? And just wait until you see your own name in action when the video plays...love it!
Campaign Overview Report in Analytics
A New Campaign overview page is now available in XCloud Analytics with performance metrics of Standard, DRIP and Job Alert email campaigns that were sent out in the selected time range. Top five campaigns based on Click-through rate will be shown.
Cards Added Campaign Overview Page:
Standard Campaign: Will show performance metrics of all standard email campaigns that were sent out in the selected time range. Also, the top five campaigns based on Click-through rate will be shown.
Drip Campaigns: Will show performance metrics of all standard Drip campaigns that were sent out in the selected time range. Also, the top five campaigns based on Click-through rate will be shown.
Job Alerts: Will show the performance metrics of the Job Alerts sent in the selected time range and Hires and Applies attributed to these job alerts will be shown.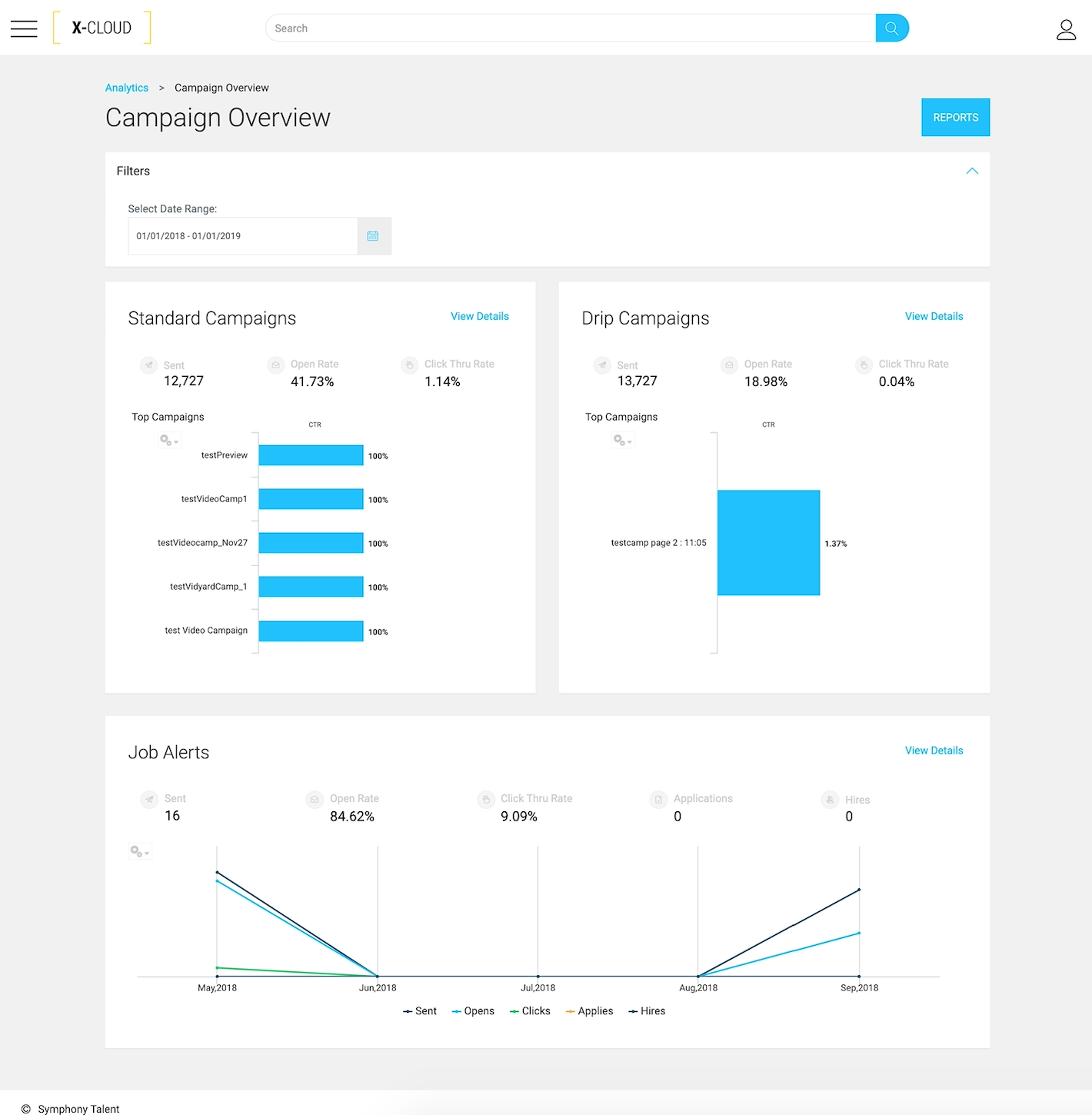 Improvements
Here's a list of additional things part of our January 19 release:

Speed Hiring with Multiple Interviews Creation in one go
A streamlined experience can be provided to recruiters by letting them offer a range of interview slots to multiple candidates in one go. It helps to reduce time-to-fill by eliminating back-and-forth communication that delays in-person interviews. The feature will allow a recruiter to line up to 25 interviews with no scheduling headaches.
Recruiters can select multiple people in the candidate tab of a job details page or from the candidate profile page within candidate tab and offer a range of time slots to them. Candidates can then choose from the available slots to confirm an interview.

Onboarding Activity
Candidate can view Onboarding related activities such as new onboarding form assignment and form completion status in activity panel of their candidate profile.