Our February 2019 Release focuses on a simplified interface for Hiring Managers and includes:
Does your organization require to hire for hourly or low-skilled jobs? Is it near impossible to differentiate between resumes, thus making recruiter screening an overhead? For such jobs, XCloud ATS allows for a job level configuration that eliminates recruiter screening and allows Hiring Managers to directly screen and provide feedback on applicants.
The 'Default Applicant Step' configuration in the job creation process allows recruiters to specify which one of the following Statuses every applicant to this job directly falls into:
Choosing the 'Candidate' option directly puts anyone who applies to the candidate bucket.
This option is useful for low-skill jobs where screening is best done by the Hiring Manager through a telephonic or face-to-face interaction, instead of recruiters looking at the resume/profile. As shown in the image below, The control field in the requisition creation process can be introduced to clients as per their needs.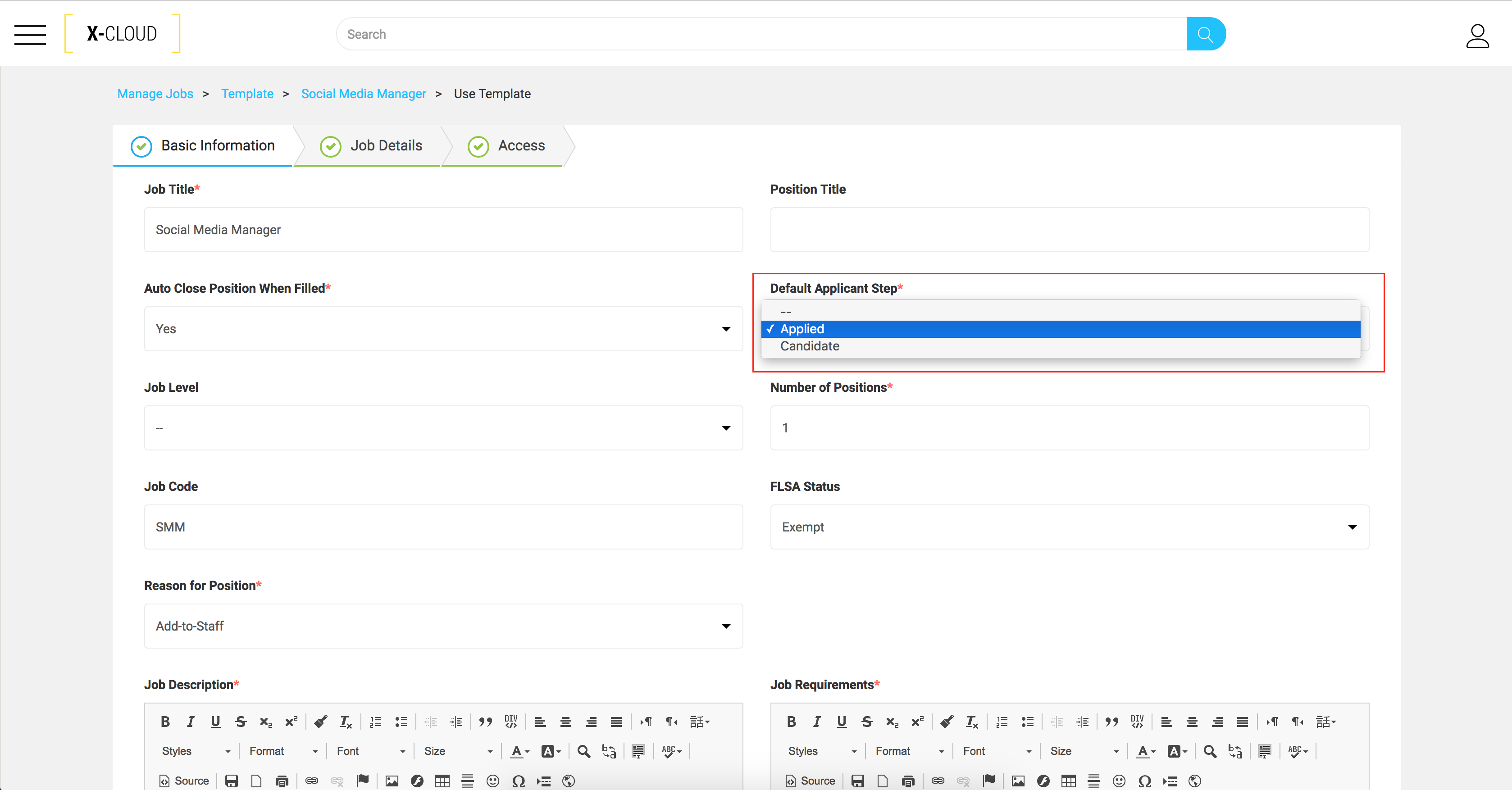 Also, Hiring Managers screen and make recommendations on hundreds of profiles in a week, and for reject recommendations, recruiters have no further say. If the Hiring Manager makes a reject recommendation shown below, the candidate can be moved to 'Reject' status with the disposition step as 'Reject' or 'Rejected'.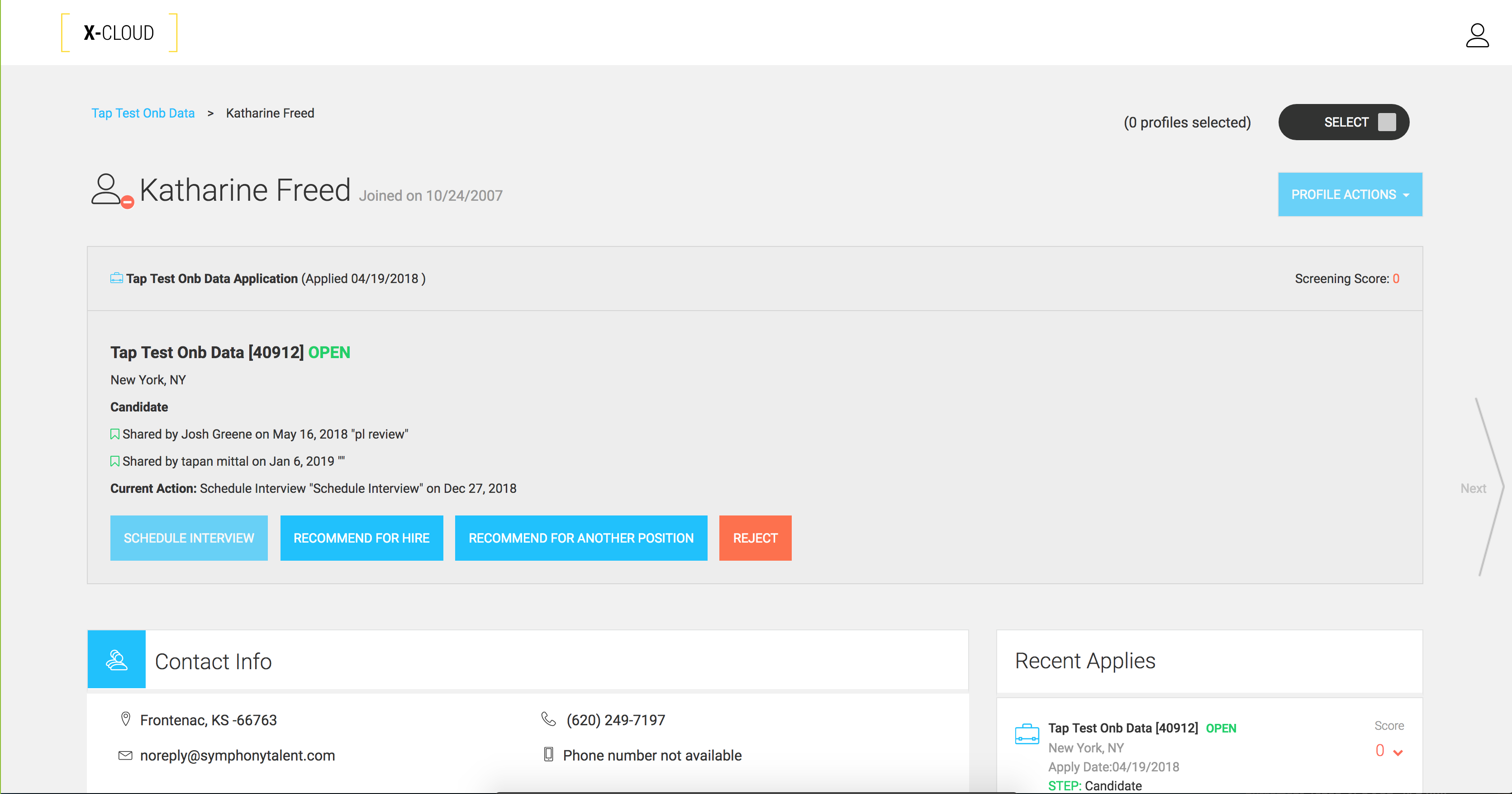 We have made an update with the step changes according to the feedback. In the Past, when a Hiring Manager provides feedback on a Candidate, the feedback is visible to the Recruiter on the Candidate Profile, but any action to be taken is done manually by the Recruiter. Going forward, with this release, the Candidate Disposition Status will change based on the feedback. This Action is taken by XCloud automatically and helps the Recruiter identify Profiles marked for specific feedback/action.
For each feedback action, the Candidate step is changed as per:
'Schedule Interview' action: Candidate is moved to candidate status Step of 'Candidate - Interview Requested'
'Recommend for Hire' action: Candidate is moved to candidate status Step of 'Candidate - Recommended for Hire'
'Recommend for Another Position' action: Candidate is moved to candidate status Step of 'Candidate - Reposition Requested'
Additionally, if Reject status change permission is ON in feature permissions, the change of step upon Reject feedback will change Status to Rejected and step to 'Rejected - Rejected in Review'. If Reject status change permission is OFF in feature permissions, the change of step upon reject feedback will change step to 'Rejected - Rejected in Review', but the status will remain as 'Candidate'.
To simplify the interface for Hiring Managers so that they can focus only on actions important to them, certain functionalities can be turned off through configuration and their view will be restricted to read-only. For example, if the client does not wish to give the Hiring Manager access to the candidate's recent applied jobs history, it can be easily made read-only.
Applications Details Report in Analytics
We are rolling out our new application details report with this release. The report displays the details of all the applications received and application status in the selected date range.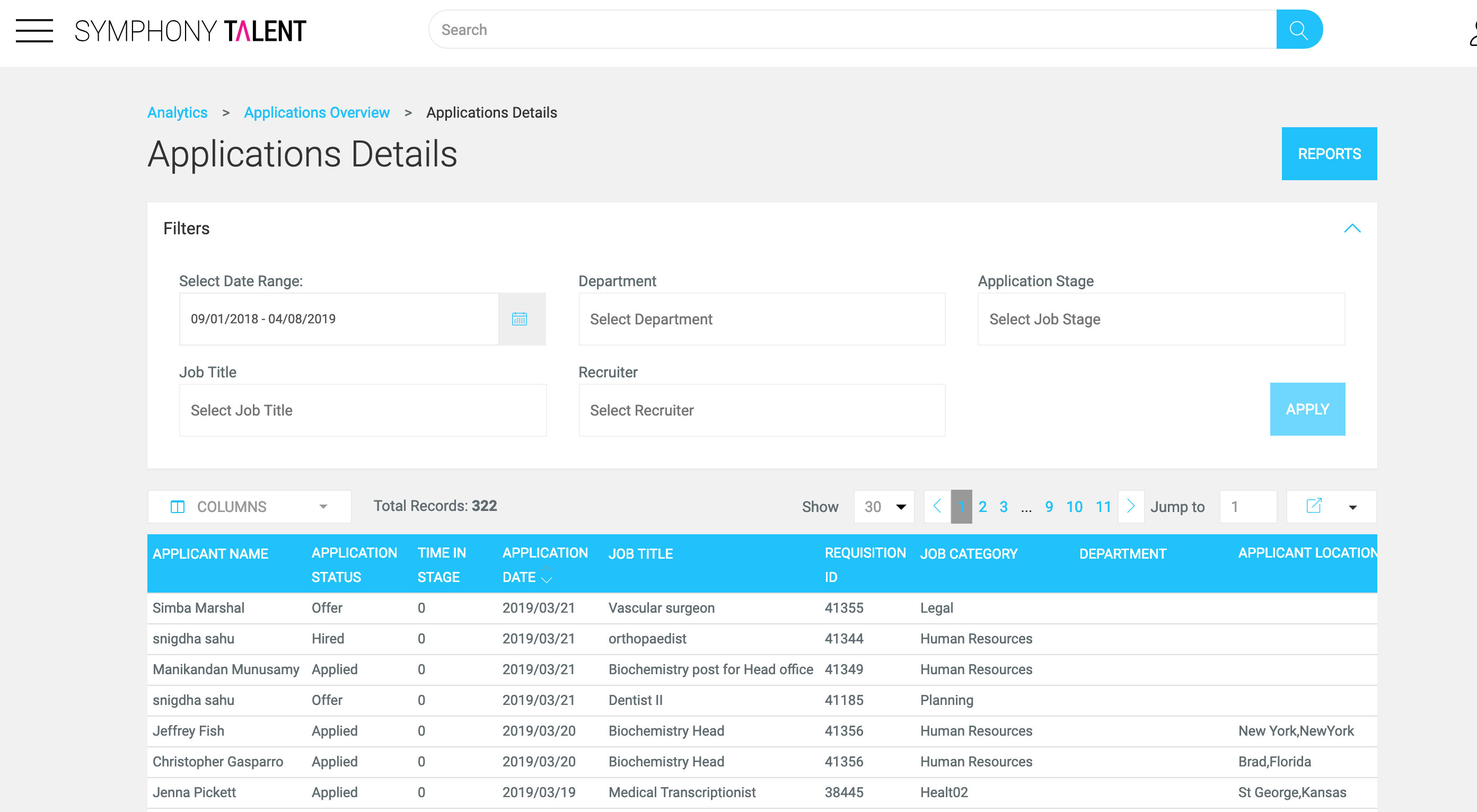 Improvements
Here's a list of additional things part of our February 19 release:

New 'Community' filter in Job Search page for Recruiters to fulfill each Community's hire needs.

Improved creation and updating of field groups which will be beneficial for recruiters while configuring onboarding forms.

Addition of a new toggle option to switch between the new improved vertical Candidate profile dashboard and existing profile view.

Once a Candidate adds their personal details in the 'Personal Information' Card of Candidate Dashboard, the summary will be shown where the user can review the details added and edit at any point of time.