Our April 2019 Release focuses on analytics & reporting enhancements and includes:
Analytics For Personalized Video Campaigns
XCloud has introduced high engagement video campaign vehicle that can be provided to select candidates in the Talent Community. Our April 2019 release extends our personalized Video Campaigns reports to provide more information on video views.
What's new:
Visualization is added in Campaign overview page to view the video views of all the personalized video campaigns sent in the selected date range. Go to Analytics > Campaign Summary > Personalized Video Campaigns to view this report.

Also, the following 3 columns are added to Campaign details page related to personalized video campaigns:
Personalized Video Views: Total number of times the personalized video sent in the corresponding campaign was viewed by the recipients.

Personalized Video Unique Views: Unique number of times the personalized video sent in the campaign was viewed by the recipients.

Total Time Video Watched: Total amount of time (in minutes) that the video sent in the campaign was watched by the recipients. This helps us understand how engaging the video was.

Access to additional details in Hire Analytics
To help companies better analyze hire data at a granular level, we've also added more details to hire reporting.
What's changed:
The earlier hire details report was an aggregate report for hired numbers across locations and departments.
What's new:
We have corrected hire details report to show all the details of the candidates hired.
In the report, all the candidates with a hire date within the selected date range are shown. Go to Analytics > Recruitment Funnel > Hires to view this report.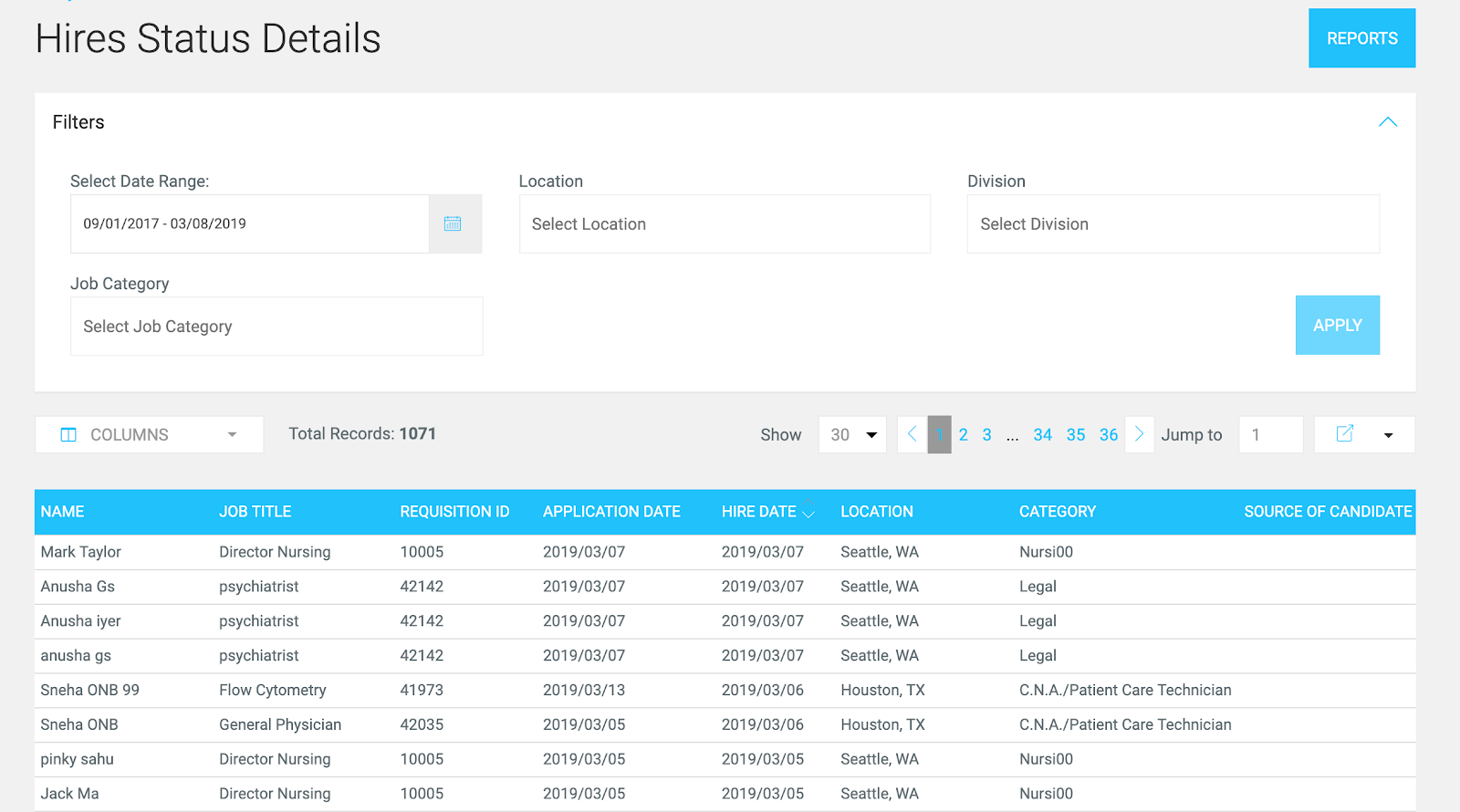 Profile Building Widget in CWS
We are introducing our new Profile Building widget that can be configured to place on any page of your career website. This widget is available for candidates who have logged in to their talent profile.
When jobseekers visit career site pages to know more about their career prospects in company, a widget placed on site pages can encourage them to provide their details in the same page without the need of going back to their profile page.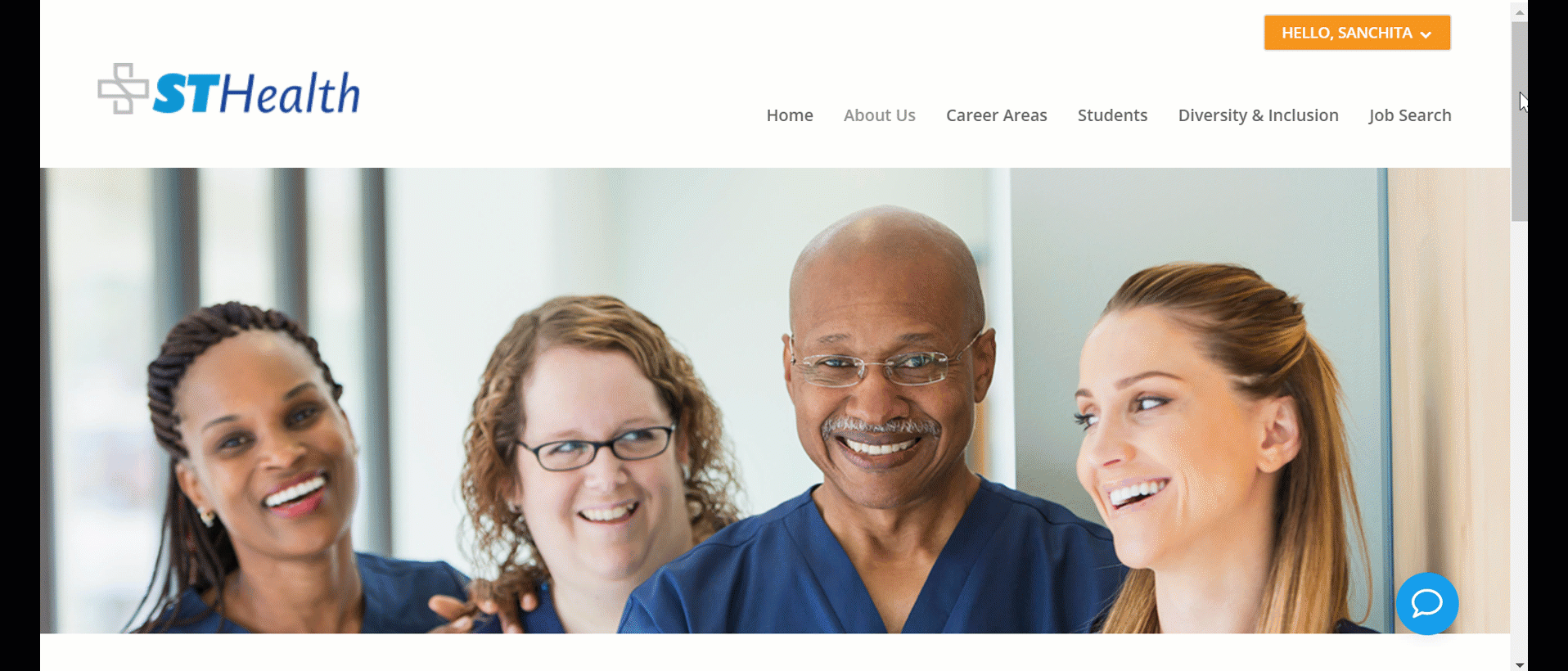 On the click of 'Edit Profile', user can view this widget with prepopulated data provided by user earlier and they can modify or save new information in their existing profile. With the option of instant resume parsing, users profiles can be enriched with the information available in their resume. This will lead to keeping profile current and receiving tailored job recommendations and job alerts for candidates.
Date and Time record of Candidate Activity in CRM
We've made it easier for Recruiters to view updates done on the profile with a timestamp.
What's changed:
Previously, Recruiters could only see date of candidate's activity such as recent apply and application history, recommendations.
What's new:
Recruiters can view not just the date, but the time when activity was recorded. For example, If a hiring manager left feedback on a profile to Hire the person, the recruiter would know not just the date, but the time the recommendation was made. This helps recruiters keep their SLAs around hiring.
The recent activity section on the Candidate profile shows time, along with date of activity.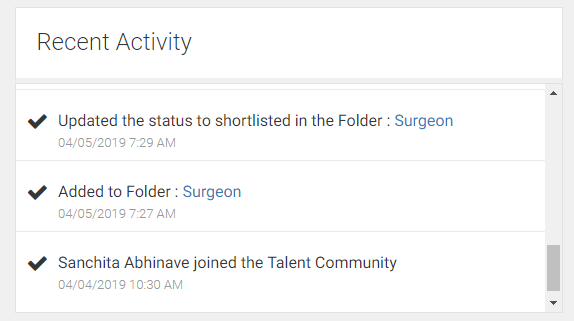 Improvements
Here's a list of additional things part of our April 19 release:
Employee status change to Alumni on termination in CRM
A logic is added to manage employees in an organization so that on termination of internal employees, their status can be changed to external alumni.
Candidate's Unsubscription Preference Management in CWS
When candidate lands on a unsubscribe page from specified communication type emails, a flag will be changed and the user will be unsubscribed from communications without the need of logging in. User can also further update the profile from a link on this page.
Candidate profile's new look in CWS
New candidate dashboard's look is friendlier, simpler to use, and easier to understand. It is mobile friendly and gives a quick glance of for Education, Work Experience, and Personal information and EEO forms in a summarized card layout.
Read-only fields in Onboarding forms
Recruiter can now configure fields in a form to appear with pre-filled values and it can be shown to candidate as read-only. For example, if your organization wants the candidate to sign off on a form that specifies their duties, calling out the particular store they'd be joining, the Store Number field can be configured on the form as a read-only field. This tells the Hiree which store they'll be joining, and to sign-off on the same.
I-9 form preview in federal format
Recruiter can view information filled by candidate in i-9 form in the federal i-9 format. User can print this form from preview pop-up, and it prints in the same federal format with all data present.
DRIP Campaign Email Flow in CRM
DRIP campaigns can be configured in people's folders to send emails that go out based on specific timelines or user actions. Recruiting with speed is all about efficiency and we have made recruiter/sourcer's job easier and quicker with automated email flow setting. When recruiters create a drip campaign, the third email in the campaign is typically targeted towards people who've looked at either one of the previous two emails. Previously, recruiters had no way to set any default recipients for third email. With this release, the third email's recipients can be set automatically as a default to people who opened either first email or second email.