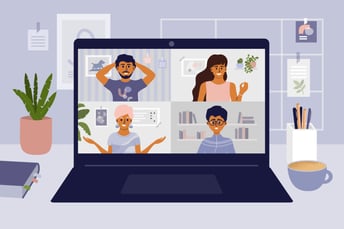 As I left our office to begin lockdown, I wondered when COVID-19 would allow us to go back to working 'normally' again, I felt a strong sense of urgency and determination. I wanted to keep the team safe, connected, engaged and productive. Ultimately, I knew this would provide a learning opportunity, so I channeled my resolve through the lens of excitement. This was a chance to adopt new ways of working, engaging and becoming even more agile.
I've spent years advising clients and their teams on how to position their employer brand, how to develop an employer value proposition (EVP), how to harness culture, how to connect with candidates and their employees. But I never really considered how this would play out during times of crises, or how they would remain tied together and united on an emotional level.
It's at times like these, when companies get to see how well they've really built brand equity. How well they've invested in their people. How well their teams pull together and continue to live their unique culture in the confines of their own homes.
At home… but not alone
Suddenly, everything we've talked about as a business in regards to employer brand, culture and EVP; everything we work with our clients on; everything we understand about them and what they stand for as employers, including why people love working for them, was staring me right in the face. Will what we've cultivated as a business ourselves, withstand weeks, possibly months of lockdown?
I'm confident it will. But at the same time, I can't deny I feel vulnerable. As a business leader, you have a different connection to your organisation, because of your level of responsibility. You have people to take care of and lives you're responsible for. So my determination to maintain our connection with one another; our company culture; our passion and motivation; while continuing the excellent level of service we provide to our clients, globally – is that much more pronounced.
In the very first week of working from home, I decided that we should have virtual morning catch ups for each team. Normally, I walk around our King's Cross office, but now, I "drop in" on these morning meetings to see how everyone's doing, and of course, share my positive perspectives and a bit of usual (hopefully funny) banter. It's intriguing how each team, though an eclectic mix of personalities, lives and breathes our Symphony Talent-esque culture. It's also great to see the enthusiasm and willingness of teams to change and adapt to the new circumstances.
A virtual walk in the park…
Another thing we implemented was our All-staffer Virtual Walk (prior to the 'stay-at-home' directive). Twice a week, we all "got-together" – virtually – via our phones, and enjoyed a bit of fresh air. Each person took us on a tour of their local area. We saw everything from people's local parks and canals to lakes and wildlife. We even played "eye-spy" which was quite fun. Those who couldn't leave home, dialled in and gave us a house tour or a little commentary of their day. This was a nice way to get people's minds off what's happening in the world – even just for a moment. Exercising together, creating headspace, and inviting one another (virtually) into our homes and neighbourhoods, is something we've never experienced before. It's activities like these where our emotional connection with each other and the company, deepens.
Life-balance and the importance of emotional connections
The importance of developing emotional connections is just one key focus of your employer brand. Another significant aspect is understanding life-balance and the value of what happens outside of work that impacts what happens at work.
While we were in the office, I was always super conscious of trying to leave promptly at the end of each day, using my own time outside of the office to thread in work and tie up any loose ends. I felt this was incredibly important as I know from experience that many employees often feel a certain pressure to stay in the office and work into the evening, if their bosses remain. Instead, I wanted people to feel they could leave on time and attend to their personal lives while having the flexibility in their day to meet their deadlines. I've extended this flexibility even more, to Fridays, so that when business demands allow, we can leave any time after 3.30pm. Giving our team this leeway, helps them gain a better life-balance, and ultimately has a positive effect on engagement, productivity and of course, emotional commitment to our business.
In Europe, we've never worked remotely as an entire organisation. And now, all of a sudden, we're treading far further into people's personal worlds than we've ever done before. I think this makes us even more aware of everyone's situation - their lives, responsibilities, and the people around them. As an employer we have a duty of care, not just to develop employee skills, capabilities, careers and professional growth, but just as importantly - their personal health and well-being. Ultimately, we're helping to sustain livelihoods, and supporting so many other aspects of people's lives.
The take home
Now, is the time to drive employee engagement; to instill in your teams an even greater sense of security, belonging and culture. Now, is also the time to celebrate and share what we're learning during this difficult period. Now, more than ever, will people be consuming content greater than they've ever done before. So let's feel completely liberated to share all of the brilliant things we're doing. Share the sad and difficult stories. Share the happy stories. Share content in its rawest form, filtered through only the lenses of empathy and understanding. Let's be more thoughtful, but let's not be afraid to share real everyday content that will help each of us connect.
Culture doesn't live in bricks and mortar - it lives in the hearts and minds of people. So, by engaging these, we can amplify company culture more than ever before. The more we focus on this, the stronger we will come out on the other side.
Stay safe. Stay well. And stay in!