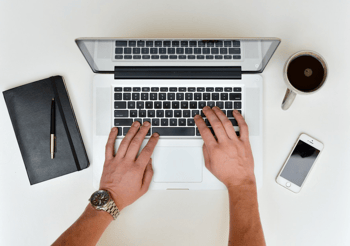 In today's recruitment marketing landscape, to say that candidates are in control is an understatement. The expectations of active and passive candidates alike are evolving—they are now in the driver's seat and are demanding an easy, engaging and seamless journey throughout the entire hiring lifecycle.
The evolution toward a candidate-driven market uniquely challenges businesses to innovate the ways they source, nurture, engage, and hire top talent. Subsequently, new solutions and services are emerging to bridge the gaps between recruitment organizations and their top candidates. Here is a glimpse into our latest eBook, The Insider's Guide to Reaching the Right Candidates to Build an Extraordinary Workforce...
Although not all solutions are the same, some major functions that today's top recruitment marketing platforms offer include:

Helping hiring professionals stay organized

Streamlining the hiring process

Creating and distributing job postings

Developing career sites

Recruiting job seekers with email, content, lead capture, and so on

Allowing recruiters to quickly search for qualified individuals in the CRM

Maintaining profiles of job candidates

Tracking qualified individuals through the application process

Establishing and maintaining workflows

Conducting skills assessments

Inviting candidates to apply for job vacancies

Engaging with job seekers on brand social media pages
Measurement and reporting
What's missing from most of these solutions is the ability to develop a strong employer brand (the EVP, creative and strategy) and bring it to life across all of the various touch points available to candidates. In marketing-speak, this means providing a consistent and cohesive candidate journey through the PESO lifecycle: Paid (advertising), Earned (word of mouth and advocacy), Shared (social media and organic content), Owned (brand-owned properties such as career site, employee stories, reviews and brand journalism).
The ability to integrate all of these elements is unique. Often, recruitment marketing is forced to cobble together a hodgepodge of third-party solutions or, far too often, rely on the traditional "post and pray" of advertising in order to handle different aspects of the recruiting process. If this sounds familiar, here are five important reasons why you should consider an integrated talent acquisition solution for your organization:
1. Your employer brand is essential in today's hiring environment.
Your company's brand is important not only to current and potential customers, but also to the candidates you hope to attract and hire to serve those customers. In order to have a chance with the top job candidates in your industry, the corporate brand and employer brand must be closely aligned, compelling and resonate with your target audience. In other words, your employer brand has to reach candidates wherever they are, and tell a story that will make them want to come work with you.
2. In a candidate-driven market, only the truly innovative will prevail.
This is particularly true for hourly workers, as well as people coming back on the job market, looking for second jobs, or seeking more hours. It's also true with those hard-to-find candidates in the STEM (Science, Technology, Engineering, Mathematics) industries. With the exploding number of channels your audience uses, traditional post-and-pray and recruitment advertising won't cut it anymore. Creating consistent, relevant and cross-channel experiences is essential to reaching, engaging and attracting the right candidates.
3. The ability to streamline and automate recruitment and hiring efforts.
We all have too much to do to deal with inefficiencies and time-sucking workflows. Today's recruitment marketing reality is that you need to:
quickly find the right candidates

across the digital landscape

engage

them in meaningful ways throughout their journey

easily add them to a CRM that enables you to

quickly search for candidates with specific skills

provide a robust environment

for them to learn and interact

make it super-simple for them to apply in the way they prefer, whether that's on a desktop or mobile device.
A productive system eliminates friction throughout the candidate lifecycle and creates effective candidate-brand matches.
4. Prioritize mobile to stand among the competition.
The Pew Research Center reports that 64% of all adults own a smartphone. This number increases to 79% among 30- to 49-year-olds and jumps to a whopping 85% among 18- to 29-year-olds. Candidates expect to be able to learn about your company, find job listings, and apply for specific positions within minutes, all from their mobile devices. Oh, and did I mention it has to be easy?
5. Easily track results.
Using various point solutions with their own reporting means you need to spend time (usually a lot) sifting through the results and then compiling them into a standard format. This is inefficient, often painful, and doesn't provide the insight you need quickly and easily make decisions. An integrated measurement and analytics platform that tracks all channels allows you to easily see what's working and what's not, and provides the 360 degree perspective to need to recalibrate your efforts.
---
Companies that approach the recruitment marketing lifecycle as an integrated approach rather than a series of individual processes stand to transform the way they source, nurture, engage and convert candidates. Moreover, the quality of those new employees improves, benefiting the company long after the hiring cycle is over.