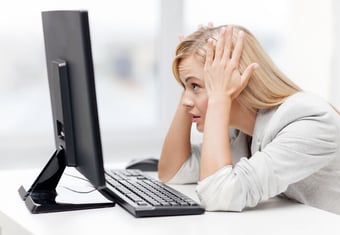 It seems like a new recruitment marketing term is thrown around every other day—and it's hard to determine which ones are worth paying attention to and which ones are fads. While "omnichannel" recruitment marketing may sound buzzy, we can promise you it's one recruitment strategy that's here to stay.
There's just one problem: What the h$#@ is omnichannel, anyway?
Allow us to break it down for you: You may have heard the term "multichannel" before as it relates to recruitment marketing. Multichannel recruitment marketing refers to disseminating employer brand messages and job ads through—you guessed it!—multiple channels, like job boards, social media platforms, and your employer website.
Omnichannel is a far more sophisticated and strategic take on multichannel recruitment marketing. With omnichannel talent acquisition, not only do you optimize multiple recruiting channels, but your different recruiting channels are integrated with and respond to one another. For example, an employer may run a branded advertisement on Facebook that links to the employer website, seamlessly matching the expectations of the candidate who clicked on the ad.
So why is omnichannel considered the new Holy Grail in talent acquisition? Because it will totally rock your world. Here's how:
Hang Out With All the Cool Kids—Your Ideal Candidates
An omnichannel recruiting strategy helps you meet candidates where they are. Gone are the days when you could just post a job opening on a highly trafficked job board and wait for the resumes to roll in (or, at least, qualified resumes). Today, recruiters need to meet candidates where they live and breathe and do so in an authentic way—and omnichannel talent acquisition can do that. Writing at the National Retail Federation, Shaquayla Mims details how the retail industry has adopted omnichannel practices to source candidates, using tactics like social media outreach, blogging, and even "virtual" career fairs to attract attention. Mims writes about how retailing giant Macy's uses Twitter, popular with Millennials, to not only reach but interact with possible candidates: "Regularly tweeting with @MacysCollege, recruiters connect with Millennials by microblogging their events and activities during collegiate visits, sharing career advice for young workers and even allowing interns to tweet their personal experiences working for the company from the account."
Tweeting about collegiate visits is the perfect example of an element of omnichannel in action. Macy's takes a traditional recruiting strategy—campus recruitment visits—and amplifies its value and reach by using it as content on social media, putting its employer brand in front of more of the right eyes. Macy's integrated tweets fit strategically into the bigger omnichannel picture of developing offline and online marketing channels that "talk" to one another.
Kick Silos to the Curb
While the multichannel approach to talent acquisition does establish an employer brand presence on multiple channels, those channels more or less act in silos. The vibe of an employer's Facebook page may be completely out of step with what's presented on the employer website.
And that leaves a bad taste in candidates' mouths. Which brand messages are they supposed to believe?
An omnichannel approach eliminates silos and ensures all recruitment marketing channels are in sync—talking with one another and delivering the same strategic messages about your employer brand. This creates a holistic, seamless experience for candidates. When different channels are strategized holistically, candidates no longer get disjointed, confusing messages about your employer brand. What's more, when the different channels used in an omnichannel approach "talk" to one another, you're able to more easily nurture candidates through the entire recruiting cycle, from awareness to action and onward.
For example, a candidate may click on an enticing employer Facebook ad that touts the employer's personal, hands-on approach to recruiting and employee development. The ad leads to the employer website, where the candidate is invited to engage in a one-on-one discussion with a recruiter via a chat function. In this case, the employer website followed through on the ad's promise—a personal approach to recruiting—and furthered the candidate's journey from awareness of the employer brand to actual action (talking with a recruiter via chat).
Smart Spending: It's the Omnichannel Way
Using and integrating a variety of recruiting channels is not only strategic from a candidate-journey viewpoint, but it's more cost-effective for employers as well. With smart omnichannel software, you can take advantage of a modular framework that allows you to pick and choose the channel tools you need now. Instead of investing in bulky software that comes weighed down with bells and whistles you don't need, you can implement a solution that augments your current recruiting channel strategies, while connecting those channels so that they can "talk" to one another. Not to mention, with the right omnichannel tools and software, you'll also be able to use analytics to determine where your ideal candidates hang out the most (is it job boards? Social media?) and funnel your spend there. No need to spend a fortune on LinkedIn when your ideal candidates spend most of their time on Twitter and Snapchat!
Key Takeaways:
Omnichannel recruitment marketing has the potential to rock your world, as long as you understand where its power lies. As you explore ways to fit omnichannel into your own recruitment strategy, remember:
Omnichannel is a potent way to present your employer brand consistently across multiple channels, cutting down on candidate confusion—and moving candidates more swiftly down the talent pipeline.

An omnichannel approach prioritizes channels where your target candidates live and breathe, taking a more strategic approach to recruitment marketing by reaching more of the right candidates.

With the right software, an omnichannel approach can also help you cut costs. Be sure to explore solutions that have a modular framework that fits your needs.
Does omnichannel recruitment marketing seem too good to be true? What reservations do you still have about this "buzzy" approach to recruitment marketing?