We interrupt your regularly scheduled Zoom call to bring you this important message: the way we communicate with each other has changed. Dramatically. And probably indefinitely.
Due to COVID-19, we're now at a place where we (quite ironically, I might add) must rely on our technology to preserve our humanity — and to keep our companies churning forward. None of this is new to you. You've lived it (actually, you're still living it). And, let's be honest, you probably need to click out of this tab right now to double check the time of your next virtual meeting. It's fine, I'll wait.
All good?
Great. Because this next part is where it gets interesting. According to the research we gathered over four months in our 2021 Recruitment Marketing Strategies Report, just 54% of the Fortune 500 send any communication to their talent networks after a confirmation email. Only 7% send any content other than job openings to passive talent.
With the massive workplace shifts 2020 has brought, you'd think companies would have also shifted their recruitment marketing tactics and own communication with potential candidates (especially given the swift escalation of unemployment in early 2020).
You'd be wrong.
Our data is … surprising, to say the least. With this unprecedented opportunity to connect with talent on a more personal and emotional level regarding what's happening in the world and how it affects work, we heard mostly silence (or simply saw lists of unpersonalized job reqs) from the world's leading companies.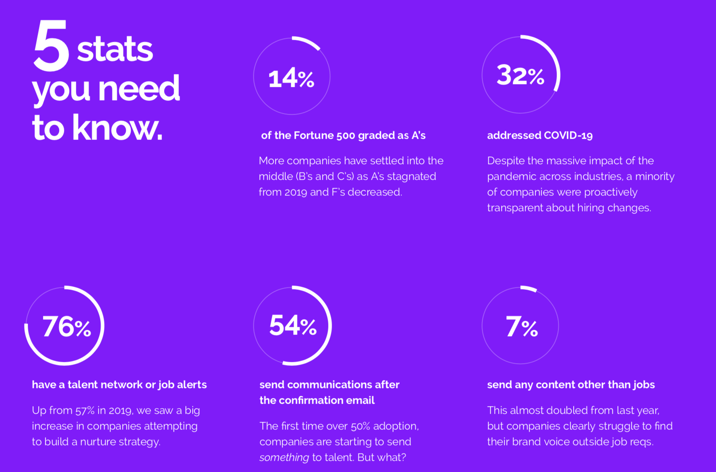 A quick snapshot of some of our most interesting findings from the report.

Surprising? Yes. But not shocking, given we've monitored these best practices in talent nurture and brand messaging for over six years and have seen positive — albeit incremental — growth in adoption. Unfortunately, an enterprise business can't simply snap its fingers and instantly scale communication to potential talent if they don't have the employer brand foundation, content strategy, and right technology in place.
So what does this mean? Well, it's actually great news for any recruitment marketer or talent acquisition professional because there's a clear opportunity to do something that 93% of brands aren't: talk to talent in meaningful, personal ways.
And the kicker is that it's not even that hard or time consuming. But it does require something that only the best of the Fortune 500 have: agility.
It might seem odd, but agility actually comes from preparation. It comes from planning. It comes from developing a solid strategy and foundation that never changes, so the tactics can change whenever they need to. That was the story of 2020: the companies with the strongest foundations were the ones agile enough to evolve instead of stagnate, and seize the unique opportunities that were presented.
If you feel like your company doesn't have an agile recruitment marketing strategy, don't worry — only 14% of the Fortune 500 did in 2020 (they were the companies that graded out as an A in the report). But now is the time to start building your foundation for 2021 and beyond.
We'll show you how. Just follow the data.