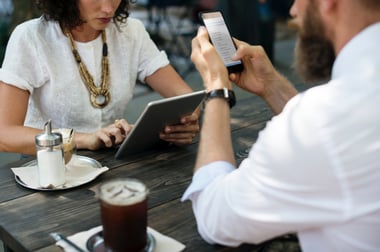 As I'm putting the finishing touches on my upcoming webinar for October 17 - "The Winning Team: 5 Keys To An Impactful Candidate Experience," I'm thinking about how a best-in-class candidate experience has its own internal "omnichannel" structure.
No, I'm not talking about Symphony Talent's candidate-centric media approach (which, by the way, I'll be sharing with you during the Webinar), but more in terms of how a good candidate experience really has a sort of "halo" effect that includes all the people who are responsible for delivering it, too.
What it boils down to is this: If a recruiting team is using outdated technology (and competing with other organizations that have all latest innovations at their disposal) they're doing more work, seeing less results and not leveraging insights and data that would attract – and win – the A-list talent they want most. It's probably one reason why over 60% of recruiters polled in a recent survey find their jobs are tougher than they were just a year ago.
During the webinar, I'll present a step-by-step plan Recruiters can use to make their jobs easier and more impactful. We'll cover all the elements that go into creating a great candidate experience:
I'll also offer Symphony Talent's perspective on how elements 1-4 positively influence the fifth (that halo effect I mentioned earlier) and how surprisingly easy it is to turn the tide in the recruiter's, their stakeholders and their candidates' favor.