Personalize the candidate experience, optimize recruitment marketing and simplify the recruiter experience.
Over the last year, we have been working tirelessly to create and deliver a talent acquisition solution that resolves the needs of employers today, and tomorrow. Today, our story comes to life.
A result of bringing together the right tools and technologies from across the entire Talent Acquisition lifecycle, Symphony Talent delivers the first seamless, end-to-end omni-channel experience for candidates, employers and employees across Recruitment Marketing, Candidate Management and Employee Engagement. With employer needs in mind, we have created solutions that redefine how companies and talent connect.
Dare to think differently. Prepare to hire better.
Introducing Symphony Talent.
It's an exciting and innovative time for us, and we can't wait to start the journey with you.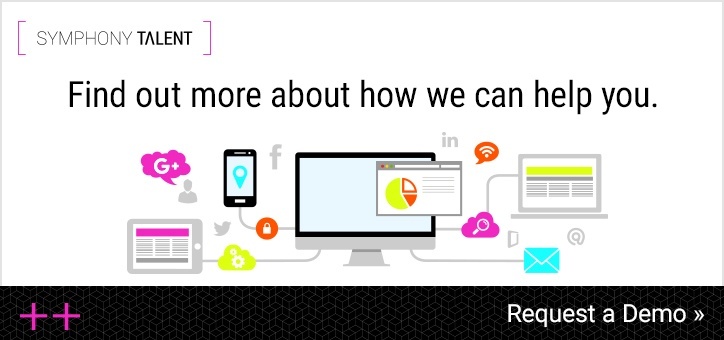 Video Transcript
What if you stopped posting and praying for your open jobs and started orchestrating a more meaningful journey straight to your most critical opportunities? What if you stopped guessing where to tell your brand story? And started knowing exactly where your best fit talent actually comes from? What if you stopped rating employee engagement and started using it as a recruiting strategy?
Say goodbye to "What- If's." Say hello to Symphony Talent.
Delivering the world's first end-to-end omni-channel experience for candidates, employers and employees, Symphony Talent combines the art of storytelling with the science of perfect timing.
We're changing the way best fit talent syncs with the perfect opportunity.
With Hodes, Symphony Talent's creative and employer branding agency, organizations craft the compelling employer brand stories that attract best fit talent. With M Cloud, talent leaders harness the power of Artificial Intelligence to optimize programmatic media buying and support their most strategic hiring goals. With X Cloud, recruiters become true matchmakers and employees become powerful brand advocates.
With Symphony Talent, talent attracting talent becomes the culture.
Say hello to a consistent candidate experience. Say hello to smarter media decisions. Say hello to personalized experiences. Say hello to more employee referrals.
Say hello to Symphony Talent.