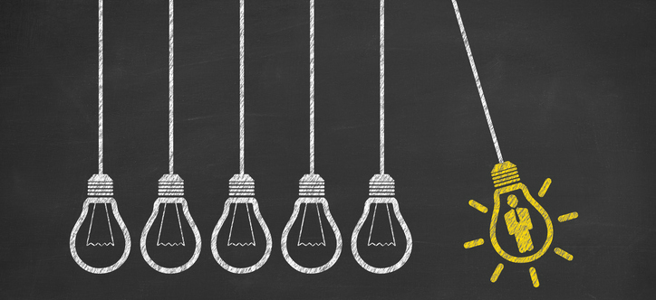 Consumer brands have known for a while that they're not selling products—they're selling experiences. Thanks to the rise of the expectation economy, consumers now demand so much more than a transaction with a brand. They expect their favorite brands to be their friends or lol-inducing stand-up comedians or ace entertainers. Today, both employer and consumer brands are built and fueled by relationships.
Think about how much attention a brand's Twitter presence gets when it responds like a person, instead of a faceless corporation. For example, fast-food giant Wendy's has cultivated a witty, fiesty presence on Twitter—and it's paid off. When the brand started "roasting" followers on Twitter and making jokes about a certain competitor's use of frozen beef earlier this year, the Twitter account gained more than 300,000 new followers in January alone. In fact, Wendy's Twitter "beef" about literal beef spurred a Wendy's representative to clarify that the brand account had not been hacked.
Employers can take a valuable lesson from Wendy's. Should you be picking fights with your candidates on Twitter? Definitely not. BUT—when you imbue your brand with real personality, in line with your employer branding story, you'll be noticed. And if you nail your employer branding, you'll be noticed by the right candidates. Today's candidates don't want to work at companies. They want to work at organisations that align with their values, speak like them, and add real meaning to their lives - an organisation/brand that they can 'love'. Does your current employer brand do that? If not, no worries—here are four ways to vitalise your employer branding story:
1. Establish Your EVP:
Before you fine-tune your employer branding, make sure you've crafted a compelling EVP—employer value proposition—that speaks to your ideal candidates. Your EVP is a potent combination of your values, cultural differentiators, reasons to believe and most importantly the drivers that emotionally connect talent to your brand. In essence, your EVP is a promise to candidates that they'll enjoy a certain employee experience. It's important that you build your EVP against 4 key dimensions; Credibility, Relevance, Differentiation and Aspiration - your EVP needs to get your organisation from today to tomorrow whilst at the same time align with your actual employee experience. . Once you've become intentional about weaving your EVP into your employer branding, start measuring for ROI. For example, employee surveys and analysis of retention statistics, brand sentiment and your recruitment metrics can help paint a picture of how your EVP is being perceived—and if your employees think your EVP lives up to the hype.
For a brand getting EVP right, look to Dixons Carphone. Through extensive research both internally and externally, aligning to deliver on their customer promise, Dixons Carphone defined its EVP as: "Bring Your Passion, Make Amazing Happen." It's pithy, it resonates … but the company didn't stop there. The EVP is supported by four Emotional Drivers that can be turned up or down depending on the talent group or touchpoint, all of which encapsulate what makes working at Dixons Carphone so special:
Love What You Do

Be Ahead of the Game

Explore the Extraordinary

Feel Totally Connected
Dixons Carphone's four drivers touch on real emotion — which so much of the language used by employer brands lacks. The company supported the rollout of its new EVP with consistently branded tools and media, including an interactive employer website, employer brand book, and an interactive toolkit for store managers and across all candidate and employee experiences.
2. Use Employee Advocacy to Your Advantage:
When it comes to cultivating an employer branding story, you don't have to make up some silly mascot or "persona" to drum up an interesting narrative. All you have to do is tap into the power of the already existing face (or faces, technically) of your employer brand: your employees. With an employee advocacy program, your employees become powerful recruiters themselves by disseminating employer brand messages to their social networks. Not only does this increase the reach of your employer brand, it increases your employer brand potency. People tend to trust people who look and act like them—regular Joes, so to speak. That means that the messages disseminated by your employees are a lot more trustworthy than messages coming from your CEO or branded social networks. Your employees are your most powerful recruitment marketing tools—and a formal employee advocacy program lets your employees do the legwork for you.
3. Become Consistent With Your Employer Branding Story:
If you've cultivated a buddy-buddy employer brand personality on Facebook, but your employer website sounds like corporate gobbledygook…you have a problem. It's called lack of consistency. An inconsistent employer brand is just going to confuse your candidates—which "voice" should they trust? Your employer brand should be present in every touchpoint that candidates encounter—not just with awareness/attraction marketing, like social media ads. For example, if honesty and openness are core ingredients of your employer brand, how is that reflected on your career website? A real-time chat function where candidates could have their questions answered—by an actual person!—would align with your employer brand. Programmatic media also plays a role in telling a consistent employer branding story. You can tailor specific employer brand messages to specific audiences, which helps ensure your employer brand is consistent with a particular audience's interests and values. Candidates are benefiting from this as they are being delivered tailored content and jobs that are right for them on the channels that work for them. Candidates get the information they want to see in a way that's meaningful.
4. Measure Your Effectiveness:
Too often, executing an employer brand story is relegated to a "nice-to-have," instead of an absolute must in talent acquisition. Why? Because it's hard to tie storytelling to hard numbers and thus your bottom line—or, at least, many recruiters think it is. You absolutely can measure the effectiveness of your brand—you just need the right tools to do so.
An end-to-end talent acquisition solution, driven by data, can provide you insights into how well candidates are responding to your employer branding story, the missing gaps in your recruiting approach, and where you should be channeling your spend to get the most bang for your branding buck. Software fueled by analytics makes your recruitment marketing more effective, and essentially puts huge swaths of your recruiting efforts on autopilot. That frees you up to do what you do best — nurture relationships that feed into your employer brand story. Your employer brand is the foundation of your entire talent acquisition approach, so data-driven insights are essential to ensuring your brand is attracting the right candidates.
What other strategies have you used to add a little oomph to your employer branding story?