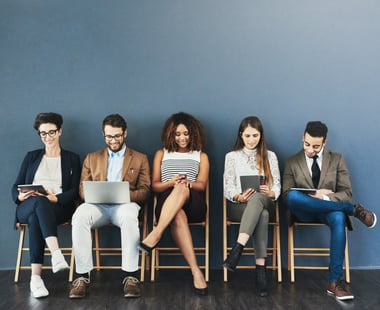 At Symphony Talent, we provide talent marketing solutions that free up recruiters to focus on what they do best – and let automated engagement tools deliver the personalized experience today's candidates expect.
It's been an exciting and highly productive year for all of us. And, in the spirit of sharing and engagement, I would like to highlight some of the blog entries which address the key opportunities (and yes, issues) you should be thinking about for the upcoming year.
I hope you find them an interesting read!
You have great talent onboard. How do you keep them? Research shows that nine out of ten new employees decide whether they will stay with an organization within their first six months. This entry covers some of the different systems and techniques you can use to navigate the delicate transition from candidate relationship to effective talent management. Included are processes for keeping new employees engaged and interacting with managers, colleagues and organizational leaders. It also speaks to the importance of knowledge transfer (about products, services or projects), a key factor in helping employees feel productive from day one.
Drip Campaigns are an effective marketing technique used constantly in the consumer realm to provide relevant information about products and services over time. They're equally well suited for getting the word out about professional opportunities, job fairs, and career events. This entry covers how AI and machine learning make utilizing drip campaigns simple, effective and easy for any recruiter to implement. And no, you don't have to put on your "marketer's hat," since AI creates a highly customized and engaging experience automatically - regardless of the size of your potential talent pool.
Digital transformation now makes it possible to provide candidates with highly targeted messages and information about your organization via recommendations, enhanced job descriptions, customized career home pages, drip campaigns and more.
This entry provides top-level insights into how AI and machine learning are being used to automatically deliver content that becomes more focused and relevant with each candidate interaction, speaks to their emotional triggers and nurture their interest in your organization at every step of their journey.


For HR teams dealing with a highly competitive employment market, data-driven analytics and digital, cognitive tools are being used increasingly to distinguish best-fit candidates from the also-rans.
Learn about how AI is fast becoming a necessity for HR departments, along with compelling evidence that companies that embrace AI, predictive data analytics and other technology tools gain a solid competitive advantage in bringing great candidates on board.
Technological breakthroughs are helping deliver data that is more precise than ever. And AI is becoming an essential tool for helping forward-thinking TA teams to use data to provide relevant, consistent and personalized candidate experiences.
This entry speaks to the way we can leverage previously silo-ed information to create a candidate experience on par with the best of the consumer sites. And at the same time free recruiters from mundane back office tasks to focus on what they do best: build relationships.
That's all for now. I'll be back very soon with a recap of the topics I'll be covering at the College Recruiting Bootcamp on December 10, 2018.