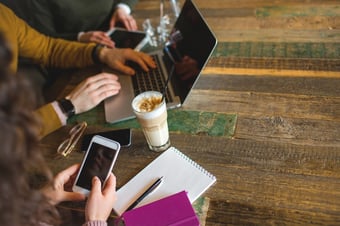 A millennial-driven workforce is here, but a ready-or-not attitude isn't why you should be recruiting this generation. Millennials bring passion and a willingness to fully engage with a new job if given the opportunity. The benefits to the business can be immense and set you apart from the competition—if you can find the talent and inspire them immediately. And though recruiting these younger workers requires an updated approach, the effort can yield benefits in terms of improved quality of hire—and in less time to hire.
Here are some mandates that companies must initiate in order to recruit millennials and position themselves ahead of the pack for the next decade and beyond:
Content and Creative
As previously noted, millennials are content-hungry and will want as much authentic information about employers as they can find. Make sure the right information is available to millennials via a wide array of appropriate channels—the omni-channel, which reaches job seekers in the preferred media and through the most logical technologies— so that they are fully knowledgeable of all you have to offer when considering your company.

In-Person Engagement
Onsite events, including career fairs and on-campus recruiting, remain a popular way for companies to connect with interested candidates. Companies should use best-in-class technology and have a strong game plan in order to maximize ROI of these recruiting activities.

Events, including on-campus recruiting. Sixty percent of business students indicate that they learn about employers at career fairs, and 45 percent say that they do so at employer presentations on campus.

⁶

According to the Talent Board's 2014 CandE Awards report, employers use in-person events to develop relationships directly with candidates including internship fairs (46 percent) and career fairs (27 percent). These in-person events are often themed and, therefore, allow companies the opportunity to connect with military, university, diversity, and industry candidates.

⁷



Mobile technology:

Advances in portable technology, including mobile phones and tablet computers, extend the opportunity to interact and collect vital information from candidates you encounter at events. Yet, this remains an area where employers are missing out on connecting with great candidates. When you have just moments to interact with candidates at events, make sure you have the means to quickly capture essential information, such as an email address, so that you can continue to interact with candidates over time. This increases your capture rate and will enable higher ROI for your event marketing investments.
Technology and Candidate Experience
Robust hiring technology not only creates a process that appeals to digitally savvy millennials, but also increases the volume and quality of applications received. After all, if job seekers can apply and communicate with you without hassle, they are more likely to stay engaged with the process; they may not immediately apply or accept a position but will be on your radar (and vice versa) for the future. Here are some examples of how technology enhances the candidate experience:

Ease of use: Millennials who have grown up alongside technology have the highest of expectations when it comes to digital experiences. Compared with other generations, they possess higher expectations of seamlessness in job search activities, with one-third stating that the ability to apply for a job using a mobile phone is important.

⁸

And 6 in 10 job seekers have started but failed to complete an online application due to how long or complex it was.

⁹

The candidate experience, from beginning a search to a click of the "Submit" button to the continuous engagement that enables you to keep in contact with your talent community, should be simple and easy, and it should be an extension of your employer brand and your employment value proposition.

Credentials and assessments:

You want to impress millennials, but they also want to bubble to the top of your list. In this digital age, technology offers a way to verify credentials and assess candidates' skills. This is a win-win for millennials and employers—candidates aren't jumping through hoops to prove their qualifications, and companies can identify the strengths and weaknesses of potential hires and place them appropriately.



Employee advocacy: The recruiting process with millennials doesn't end at hire. In fact, these new employees can become integral to promoting the company brand and attracting subsequent waves of job seekers. If the candidate experience is good, these hires won't hesitate to tell their networks about it on social media and via word of mouth. Technology is available to facilitate this, thus making the process easy for advocates and evangelists to spread the word with other millennials or the next generation of workers.

Referrals:

Word of mouth remains an important avenue of finding quality candidates, and technology encourages millennials to be part of this process. Referrals, whether formal and detailed or merely suggestions, can be made digitally and reach the recruiting department for further action.



Onboarding and engagement: A robust ATS and CRM guides candidates into employment—hires know exactly where they are in the process and are ready to be productive from day one. These systems and other onboarding solutions facilitate engagement by setting millennials up for success and building enthusiasm before they even put on a name tag or are assigned a cubicle. Engaged employees then are more apt to become advocates, refer others, and pump up your brand, thus strengthening the recruitment marketing lifecycle that is so critical—and effective—for this generation.
---
The millennial generation isn't the future of the American workforce—it's the present. Companies must adapt their recruitment marketing strategies to this reality or lose out on the best young talent. The omni-channel, employer brand, employee advocacy: These and other innovations are driving how organizations are finding, nurturing, and hiring millennial candidates.
Not sure where to start? Here are three tips to get you going:
Look at the social media accounts that your recruiting department maintains. Are you posting regularly? Are candidates liking and sharing your content? Is the content interesting or rather pedestrian? Taking a more active approach to your social media channels will provide an instant boost and capture the attention of millennial candidates.





What does your employer brand say about your company? If it's vague, confusing, or otherwise weak, take steps to strengthen your brand across the omni-channel, including social media outlets, email communication with candidates, and your career website. Tell candidates why they should work for you, and don't be afraid to brag!




If your department doesn't possess the resources to maximize a recruitment marketing strategy, consider partnering with a third-party expert to implement winning solutions and technology. Symphony Talent, for example, is a partner that companies across a wide range of industries have trusted to transform their talent acquisition programs. We offer cutting-edge sourcing, nurturing, engagement, and analytics solutions that are redefining the ways organizations hire millennial talent.
1. "56% of Professionals Rank Talent Brand as Top Factor When Picking a Job." LinkedIn Talent Blog, April 1, 2014.
2. Building a Global Employer Brand, Insights from the World's Most Attractive Employer Survey 2014, 20. Universum, 2014.
3. Candidate Experience 2014, 10. Talent Board, 2015.
4. Millennial Research Study 2015, 50. Principal Financial Group, 2015.
5. Candidate Experience 2014, 27.
6. Building a Global Employer Brand, 20.
7. Candidate Experience 2014, 11.
8. 2015 Job Seeker Nation Study, Inside the Mind of the Modern Job Seeker, 8. Jobvite, 2015.
9. How Candidate Experience is Transforming HR Technology, 56.