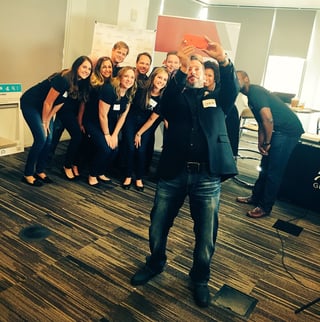 #TBT alert!
Last Friday, Whole Foods' flagship store and Global Office rolled out the red carpet for an impressive line-up of Talent Acquisition's finest. Whether attending, sponsoring, speaking, or paneling, we were all there to learn, glean, share, and take away something of value. That's how these things work. It's beautiful. TalentNet Live knocks another one out of the park.
I live tweeted many of the sessions I was able to catch. I broadcast Jessica Miller-Merrell's panel on the use of video for recruiting on Facebook Live. The video has been watched 822 times; many of you joined while we were live, some contributed questions and comments in the moment, most caught it shortly after, several of you shared. This is what the digital age looks like. Jessica opened her session with this astounding finding by a recent Cisco study: 80% of the world's internet traffic will be video by 2019. You were able to experience TalentNet without being there; we weren't live streaming, and content wasn't published publicly. Yet you were able to access sessions and content as if you were there.
We're consumers in every way, every walk of life, every medium. Goes for the talent we seek to attract, too. They expect instant gratification of and intimate access to your employer brand, your application experience, your outreach and engagement. 2019 isn't far off. Is your Recruitment Marketing strategy ready?