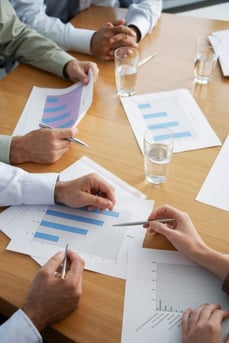 Smartphones have evolved from a novelty to a must-have device for Americans - in fact the majority of the time if you look around, people around you are consumed by the small device resting in their hands. Indeed, one 2015 survey discovered that 68 percent of adults own a smartphone.
While you may think "that isn't that high," but that means out of the 318 million people in America, that's 216 million folks with a phone or two even in their hands or pocket. Breaking down that statistic demographically, 86 of adults ages 18-29—the millennial generation—own a smartphone, as opposed to only 58 percent of people ages 50-64. Meaning the candidate rich environment for most brands need to be prioritizing and incorporating mobile initiatives into their recruitment strategies.
How does this disparity shift your employer branding opportunities? Would your sourcing strategy—one that might involve mobile and social media—be the same across the board? If your talent requirements mostly target one demographic or another, a universal approach might not make sense and will just cut into your overall hiring success.
The solution to this quandary would seem to be an all-encompassing talent acquisition platform. However, when attempting to maximize hiring processes, more isn't necessarily better. An a la carte approach to talent acquisition tools actually gives companies more versatility to pursue a strategy that makes the most sense for them both in the short term and the long run. Think about ordering from a menu when you may not exactly know what you truly crave. Would you prefer to have to order one item and hope that it satisfies your appetite or would you prefer to order the best-fit meal for the exact moment of hunger. The same concept can be applied to omni-channel recruitment marketing and here is why:
The Beauty of Omni-Channel
Recently introduced, the omni-channel allows companies enjoy a multitude of avenues to establish and promote their brand, market themselves to potential employees, source job prospects, facilitate the application process, track candidates, onboard new hires, and measure the results. And make no mistake—the omni-channel is a wonderful thing, transforming the hiring process into an overall talent acquisition strategy. However, many organizations can spread their efforts too thin if they try too broad an approach. A la carte tools give companies the means to focus on the omni-channel methodologies that will drive the most success and scale from there. Sometimes brands invest in a lean approach to recruitment which is can be the right, strategic move for their market positioning - while some dive all in. The beauty of the omni-channel is that there is fit that is right for every organization and customizable to meet your needs.
Options, Options, Options
Many companies (and not just HR and hiring departments) have encountered this situation: They invest in an all-encompassing software suite, then discover it's too much to understand, too much effort to implement or doesn't meet their needs or is simply put on the backburner due to low adoption. However, because they spent so much to purchase the solution, they are reluctant to abandon it or not use every feature, no matter how poorly it is performing. A la carte talent acquisition tools allow companies to purchase and use the options that work best for them at a specific moment in time. They can start small and scale as their business or needs grow and shift. Or should one day they realize that due to a variety of reasons -- market evolution, prioritized recruitment or employer branding needs -- they won't be stuck with their old solution and can shift course without breaking the budget.
Analyze This
Talent acquisition has never been about throwing the proverbial spaghetti against the wall and seeing what (or, more accurately, who) sticks—attracting, vetting, and hiring the best candidates has always been the goal. However, determining how well your efforts are actually progressing can be a challenge. Detailed analytics are not a luxury in 2016: They are essential to identifying successes, failures, and everything in between, and to staying competitive with other companies trying to hire from the same pool of workers. For example, is a greater percentage of applicants who drop out of the process the norm for your industry, or is it a symptom something is not right with your process? You won't know the answer unless you have hard data available—data that can be compiled via the talent acquisition tools available in a provider's a la carte offerings and sliced and diced in measurable way that meets the internal requirements set forth by your internal management.
Demographics
Going back to the original discussion about demographics, age groups aren't the only stratification potential employees can be divided into. Gender, geography, education level, salary, and so on, are additional applicant characteristics that your talent acquisition strategies must consider. Moreover, these demographics can change over time; for example, Generation Z—loosely classified as anyone born this century, and likely not to know newspapers were once the primary drivers of advertising job openings (if today's kids have even opened a newspaper …)—is beginning to enter the workforce. With an a la carte approach, you aren't locked into one solution strategy, which is important because your overall strategy will inevitably shift as well. You select the tools that work best with your talent acquisition goals, then add what you need as you need it.
How do you see a la carte talent acquisition tools benefiting your company?