Why Emplo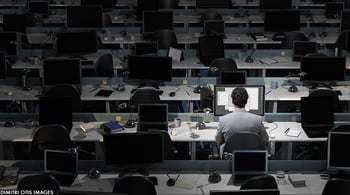 yers Need the Right Tools to Help
In today's fast-paced marketplace, employers don't have the time to recruit talent the "old-fashioned" way. Technology is moving fast, as is the need for quick turnarounds when filling open positions. Why? When employers spend time on recruitment and positions are left unfilled, productivity slows which results in lower profits for companies.
All of the pain points that came years ago, with merely matching a potential candidate to an open position, became outdated with the help of technology. However, with new technology developed to solve problems, the unfortunate reality is that it brought a whole new set of pain points.
For years, employers have spent countless dollars on new software promising to match them with the best candidates. The problem is that they're getting the same old results and experiencing a high employee turnover rate. Employers quickly discovered: it's one thing to collect tons of candidate data, but the real problem lies in how to use the data while making it digestible and actionable. Not to mention having the right interface and software to ensure the best talent is being attracted and nurtured in the first place.
As social recruitment, talent community marketing and employer branding began making their way into this landscape, talent acquisition ultimately flipped this concept on its head and brands were in need of a new approach. Companies have been investing in technology to alleviate the pains created by a competitive climate, such as the need for diversity hiring and hiring great seasonal workers, but there has yet to be a streamlined strategy supported by technology, driven by people, services and guidance to make the technology successful.
Today, forward-thinking employers understand that "investing in relationships" is the approach that their brands must take in order to attract, engage, and hire this modern and informed audience – as well as manage the performance and measure the results and impact. For this reason, Symphony Talent uses a cloud-based system that allows clients, AKA the employers, to sort through numerous modules, or the full suite, in order to choose the best personalized option for them. We live in a world that is not one-size fits all, especially when it comes to work environments and hiring. Companies need the flexibility of customizable, easy-to-use software to help them fill hiring needs quickly and effectively.
It all boils down to this: Technology is constantly evolving in today's work environment. New software promising higher productivity, apps, sentiment tools, and more are constantly being integrated into both new and existing companies and positions, but offering them in a disjointed manner makes them inefficient and ineffective. This rise of the technology-driven work environment must also trickle down into the recruitment process. Employers need client-trusted product sets within one integrated platform for employers invested in finding and hiring right-fit talent. In order to build a credible organization, you need integrity, you need positive market reputation, and you need the right set of tools to find the people that will make that happen!