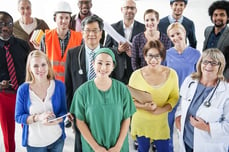 If you think about it, a huge portion of the workforce works in non-desk environments where they don't sit in front of a computer all day. Think healthcare, hospitality, transportation, retail – occupations where all-day, every-day access to social media, Google, Indeed and every other channel we use to reach and attract talent isn't a reality. How do you reach candidates when they aren't at a desk, let alone attract them with your amazing employer branding? How do you create a great candidate experience, not to mention an awesome and consistent post-hire experience (i.e. onboarding, knowledge sharing, training, etc.)?
It's one of those issues that is so obvious, and yet it hasn't received much air time. Non-desk candidates fuel a large swath of our economy, and we'll be talking to one of the best – George LaRocque – about the issues and challenges companies face in attracting, hiring and retaining them.
He's joining me on #TheRoadtoHRTech this Thursday, August 31st at 1pm CT to discuss how companies must approach attracting this unique group of candidates. Subscribe now and we'll send you the webinar link Thursday morning.