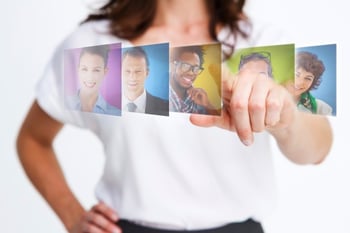 According to the Bureau of Labor Statistics, there were 5.5 million job openings in May 2016. Five million jobs were filled that month, but another 5 million jobs experienced "separation"—people quitting or fired, or positions eliminated. Companies competing for the best talent to fill openings face a daunting prospect: a highly congested environment of a multitude of businesses all hunting ind the best employees in hopes to build an employment army fueled by productivity and profitability.
Amid this challenge, employers are rediscovering the importance of recruitment marketing and the weight their employer brand carries across this shifting landscape - impacting the perception of this in-demand community of job hunters.Companies can no longer rely on standard avenues of sourcing -—they must emphasize the brand, invest in their market reputation, engage prospects in their familiar environments, target them with personalized and rich content and sell potential hires on the merits of the business. While this list may seem daunting on a page, the complication simply lies in the unknown. The businesses the invest in the overall strategy, align the right business partners - including top technology and services and develop a plan with a supporting process are placing themselves on a path towards success. Recruitment Marketing is currently undergoing a monumental revival - with leading organizations prioritizing effective and efficient, next-gen recruitment processes - the playing field is changing.
The Game Has Changed
With every mammoth moment in the history of American Economy, resolutions have been found and we have prevailed as a society. In the case of employment, The Great Recession of 2008 was instrumental in how recruitment as an industry evolved and more importantly how hiring strategies prevailed and our economy has recovered. Today, good jobs and steady opportunities are more readily available, and millennials, who are statistically more apt to be picky about their employment and switch jobs more often, are comprising more of the workforce. These trends represent the disruption within this industry. The competition for the best employees has become fierce and the desire to be the best brand in the eyes of your consumers and talent is grown exponentially; companies that fail to invest and activate recruitment marketing will inevitably lose out to more proactive organizations.
Moreover, companies thinking that the Internet will rescue them in adequately filling job openings are living in the past. Yes, the Web was a boon for both employers and applicants fifteen years ago, but the novelty has worn off—today's job-seekers expect nothing less than hiring information to be online. Companies must take their efforts to a dynamic next level and open a variety of new channels to source and engage top talent.
Omni-Channel Is Omnipotent
Talent leaders are beginning to look into this space with an end-to-end lens, recognizing that people, the future of our economy are changing the way they interact with brands and enter a candidate journey. An omni-channel approach to recruitment marketing is proving essential in 2016 to bringing in the talent necessary for success. This sophisticated and fresh strategy actively carries job prospects from start to finish, from attracting, finding, and informing potential applicants about the position, to interviewing, vetting, following up, and, hopefully, hiring the best people. In order to play in this new game of recruitment, brands have recognized that they must "tap into the eyes, ears and minds" of candidates to gain a significant advantage against the competition eying the same crop of talent.
Omni-channel covers every base—job boards, social media, your career website, display advertising, talent advocacy, content publishing and so on—so that you are leveraging all applicable and useful avenues to source a wide, yet targeted pool of candidates. With so many companies going after the best candidates, waiting for the right prospects to come to you might leave you waiting a long time. Omni-channel recruitment marketing puts your brand out there for applicants to see, digest, internalize and understand—and then keeps them educate, nurtured and involved as they move through their candidate journey.
Four Pillars
Modern omni-channel recruitment marketing should incorporate four base strategies—dynamic pillars that support your efforts and maximize your chances of hiring the right employees for your brand. These four pillars are:
Sourcing:

As already mentioned, sourcing in today's hiring environment requires an omni-channel plan of attack that promotes your brand across multiple outlets engaging key talent where they exist and interact.. One job board isn't enough when your competitors are posting to dozens.

Nurture:

Congratulations, a job seeker shows interest in your company via your omni-channel—but the real work is now just beginning. The prospect still must be nurtured into applying; his or her interest might not progress without your help. Measures such as targeted job alerts, personalized outreach, and candidate relationship management drive applications and show prospects that they are important to you—even if they aren't yet employed by you.

Engagement:

After a candidate has submitted an application, robust engagement with him or her is necessary to close the deal or determine that the person isn't the right fit for the job opening. Applicant tracking, skills assessments, and onboarding procedures make this process as smooth as possible for employer and applicant alike.

Analysis:

Some parts of the omni-channel are going to work better for your company and industry than others. And some parts of your nurturing and engagement will deliver better results. Analyzing what is working, via methods such as engagement metrics, talent demographics, and marketing channel performance, helps solidify the quality of your hiring and reallocates your efforts toward whatever is driving that success.
Historical recruitment trends tell us that a majority of organizations, across a vast list of industries were spending a lot of money, effort and resources targeting a large pool of candidates that were unfortunately, not ready to apply. This trend has helped drive and build this new methodology around the omni-channel and iterate to hiring organizations - that there is a bigger story here, a bigger opportunity to leverage a multitude of micoengagments to vet top talent and secure interest from top talent. Today, the trend aligns with finding the right ingredient list for your brand when it comes to sourcing candidates effectively. It's not about rebuilding things that aren't working, it's about approaching this space with a new lens - the omni-channel strategy to capitalize on every entry point a candidate could have with your brand.