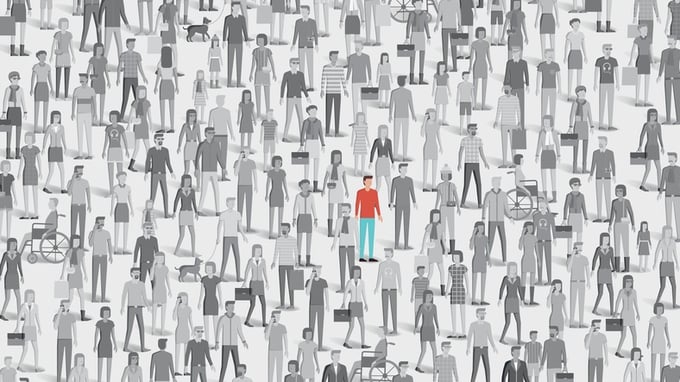 "What is the importance of the hiring process?" It's a question with no easy answer—or at least not a succinct one. In a previous blog post, we tackled the crucial touchpoints that should drive the first step in your hiring process (psst—the first step involves nailing the recruitment marketing phase).
In today's blog post, we're wrapping up by breaking down the final two keys in the hiring process: candidate engagement and the employee experience. Let's dive in:
Key 2: Easy, Breezy Candidate Engagement
When we think about "the importance of the hiring process," this is the part of the process that typically comes to mind—connecting with and ushering candidates through the application stage. Today, getting strategic about candidate engagement means making the application process as easy and intuitive as possible.
Perhaps the biggest shift in the past few years involving candidate engagement concerns mobile. If your application process isn't optimized for mobile, you're most likely leaving scores of qualified candidates on the table. According to a survey conducted by Censuswise, 65 percent of candidates are searching for jobs on their mobile devices.
But clearly, there's a disconnect—as of 2014, when the survey took place, only 10 percent of Fortune 500 companies offered a mobile-friendly application process. So getting your ducks in a row regarding mobile apply comes with a huge opportunity: Not only are you making it easier for the right candidates to apply, but you're outshining the competition in the process. Roopesh Nair, our President & CEO addressed this point on our latest webinar, Win the Hearts and Minds of the Candidates you Want by Mastering the Omni-channel stating, "When you think about creating an engaging candidate experience you need to understand the evolution of mobile and how it has changed the way employers and talent connect. All of us have a supercomputer sitting in our pocket which gives us power of information." Plus, if you're targeting mobile-savvy Millennials or even Generation Z—the generation younger than Millennials—mobile optimization becomes even more paramount.
Of course, mobile apply isn't the only way to make candidate engagement feel easy, breezy. Ideally, the application process will feel like a seamless extension of the recruitment marketing that the candidate has already encountered. For example, say an ad served up by automated programmatic media shows up in front of a candidate cruising Facebook. He clicks on the ad, which takes him to your (targeted!) career website. But…he has a question, and he sure as heck doesn't want to click through the entire website to find the answer.
How can you make the candidate management portion of the hiring process even, erm, easier and breezier? By investing and trusting in AI — artificial intelligence. AI relieves the administrative burden so recruiters can once again focus on 1:1 relationships. What's more, AI helps create a more personalized experience for candidates, so when recruiters step in during candidate management to continue the relationship, they feel more empowered knowing that AI has primed candidates for a more personal, rewarding recruitment experience. Recruiters can also use the data-driven insights that AI gleans about candidates and apply them to their interactions, resulting in more informed, confident encounters with candidates. Rather than replacing the human element during candidate management, AI enhances it — if you understand the powerful value AI provides.
Key 3: The Employee Experience After the Hire
No, contemplating the importance of the hiring process doesn't end with the hire! The hiring process still continues through to the employee experience. And for good reason, from a hiring perspective—treat your employees well and they may become your most powerful recruiters.
How? Through employee advocacy. With an employee advocacy program, you activate your employees into advocates by encouraging them to share employer brand messaging with their own social networks. Of course, the easier you make it to share, the more participation you'll get, so invest in software solutions that make employee advocacy as easy as pushing a button.
"But what really makes employee advocacy so great?" you ask. Well, not only does it amplify your message and expand your reach, but tapping into the power of your employee advocates makes your message more resonant. We trust people who resemble us more than we trust faceless brands or CEOs. So the messages that your employee advocates disseminate to their peer groups on social media are inherently more trustworthy than what comes through on your company's official Twitter handle, for example. And new employees are especially well-positioned to become trusted messengers, because they're still so close to the candidate experience. Candidates may look at what they're sharing and think, "She was just like me only a few months ago!"
If you want to make employee advocacy a part of your recruitment marketing plan (and you should!), it's crucial to nail every step of the hiring process—candidates who have positive experiences during the recruitment marketing and engagement stage start work as employees who are very enthusiastic about your company. You can then harness the power of that enthusiasm by channeling it into a formal employee advocacy program. Often, it's the newest recruits who evangelize the loudest. Turn enthusiastic new employees' propensity to "talk up" their new employer into your most powerful recruitment marketing tool. It's time to think about the long game: Being purposeful about the candidate experience from the moment you first make contact—during the recruitment marketing phase—will fuel a culture of advocates.
Key Takeaways
This two-part blog series served as a crash course in the key touchpoints that should be present in every company's hiring process. When you consider the importance of the hiring process—and how to get each step of the process right—keep this in mind:
Each piece of the hiring process impacts your bottom line. Save on costs by adopting an omni-channel approach that connects the dots for you and ensures you're getting in front of the right candidates (and

only

the right candidates).

The power of mobility. Just because today's candidates are in constant motion, it doesn't mean they aren't connected nor does it mean they aren't paying attention and interacting with content that appeals to them. Provide a consistent and positive experience via mobile devices will ensure you don't lose mindshare of those candidates that are busy. Nailing your hiring process can significantly cut down on time to hire. When you approach the process strategically and holistically, thinking about how each step in the process supports another, you'll be able to more easily

prime the talent pipeline

. While it may be easier to implement, an ad hoc approach to hiring leads to less-than-stellar hires—and an empty pipeline.

Not only can an integrated hiring process save you money, but it saves you time, freeing you up to focus on the relationship-building aspects of recruiting. Using the right software solution, powered by artificial intelligence, puts huge swaths of your process on autopilot.
Did you miss the first post in this series? Check it out here to discover the first key to understanding the importance of the hiring process—doing recruitment marketing right.