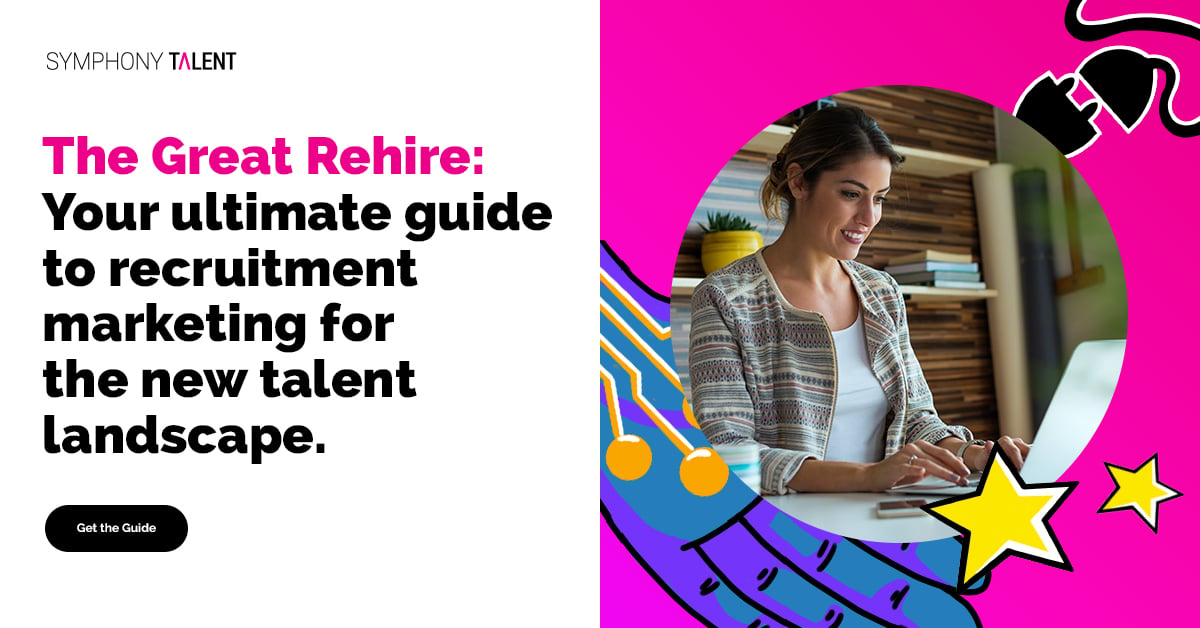 Yesterday we chatted with innovators and problem-solvers across multiple industries. We started the day with an opening from Roopesh Nair, Symphony Talent's CEO and President.
We also had the fantastic opportunity to engage with economists, practitioners, NYC local businesses, customers, and influencers who all took the time to provide thoughtful, actionable insights into the Great Resignation 2021 and the subsequent Great Rehire.
Overall, we had an action-packed day. Check out some of the highlights.
Welcome to NYC with Roopesh Nair
Roopesh kicked off the day with a candid conversation on how your recruitment marketing stack can help you rehire — even during today's worker economy. Roopesh explained that organizations must be ready to shake up their recruitment marketing strategies with a record-breaking 10 million open roles and 9.4 million unemployed.
Competition is everywhere — we know this to be true because we help some of the world's leading brands attract top talent. To stand out, make universal changes that meet the expectations of today and the future of work."

- Roopesh Nair, CEO & President, Symphony Talent
Roopesh's top takeaways:
Leverage recruitment marketing tools to attract candidates (

programmatic ads

and

career websites

can help)
Remain cognizant to the expectations of today's workers (this is possible with a

CRM

)
Automate workflows to lock in talent faster (

On-demand interviews

captures best-fit talent)
Check out more tips from Roopesh in "3 Steps to Ready your Recruitment Marketing for the Great Rehire: Tips form a CEO."
An Economist's Perspective with

Jacob Bastian

Jacob Bastian, Economics Professor at Rutgers University, joined our very own Theresia Hermes, Director of Client Success at Symphony Talent, to chat through the most significant changes they see in today's talent landscape.

Theresia moderated an insightful conversation with Jacob answering questions on how to tackle hiring.
We're living in a worker economy. That means you have options if you're a worker, and you have work to do if you're an employer."

- Jacob Bastian, Economics Professor, Rutgers University
Jacob's top takeaways:
Change up your schedules and location
Focus on employee well-being beyond the perks
Re-evaluate annual wages and hourly pay
Check out more tips from Jacob in "Not Your Mama's High-Volume Hiring: Tips from an Economist."
The JOY Podcast Featuring Extended Stay America
I had the pleasure of sitting down with Sid Levy, Vice President of Talent Management and Associate Engagement, Extended Stay America (ESA). In this episode of the JOY Podcast, we tackled high-volume hiring in the post-pandemic world.
I know, it's a lot to cover. But Sid and I were able to dig into how ESA prioritizes reskilling opportunities to hire faster and engage current employees. This then helps bolster their recruitment marketing and retention efforts.
Hiring managers must know how to reskill candidates from across industries."
- Sid Levy, VP of Talent Management and Associate Engagement, Extended Stay America
Sid's top takeaways:
Identify the skills your business depends on
Support working parents
Manage safety expectations
Local Business Spotlight: Greyston Bakery
First off, Greyston Bakery has AMAZING brownies. Like, unreal. Trust me, go order some now. You can thank me later. Secondly, they do some pretty fantastic recruitment marketing as well.
My friend Jennifer Harrigan, Chief Legal Officer, Symphony Talent, met up with Joe Kenner, President, and CEO, Greyston Bakery, to get the goods on how they differentiate their hiring practices and tap into a largely untapped talent pool.
Joe's top takeaways:
Apply open, inclusive hiring practices
Look at the potential of each person
Provide work support to encourage retention and lower turnover
Recruitment Marketing Bootcamp with Tim Sackett
Tim has been part of our JOY Roadshow for many stops this year. He's helped us to get up and move while learning recruitment marketing tips.
Honestly, his Recruitment Marketing Bootcamp is one of my highlights to get up and moving in this work from my home office lifestyle - my dog Reese (you might have caught a glimpse of her during my session with Sid) is grateful too - and Tim always has a way of making it enjoyable.
In this Bootcamp, Tim reviewed onboarding tips and how it can help support recruitment marketing and retention for the long run and ensure that the actual onboarding process supports individual teams and isn't just an HR checklist.
Tim's top takeaways:
Implement pre-boarding steps
Build calls to action in each communication
Implement 90-day check-ins


Want to learn more?
Check out "The Great Rehire and Beyond: Your ultimate guide to recruitment marketing for the new talent landscape."