We know all the terms "the future of work" and "the now of work," but have you been paying attention to the latest, more pointed direction for the future?
All signs point to the fact that the future of work is female.
The Current State of Women in the Workforce
A quick snapshot of the current state of women in the workforce:
3.5 million women left the workforce during the pandemic.

8% of CEO roles are held by women.

135 years to go before we meet gender pay parity.
While the pandemic has hampered progress with 865,000 women leaving the workforce in 2020 alone–the same year also spawned the highest Fortune 500 representation for women in the C-Suite (which is progress but women are still severely underrepresented at this level).
To bring women back to the workforce and bring the C-Suite level to where they should be, orgs must take specific actions to attract and retain women.
It's time to #BreaktheBias.
Why Add Women to Leadership Roles at Your Org?
While roles should be filled based on the best-fit person regardless of gender, race, age, etc., organizations must make conscious decisions to better appeal to and promote women.
Here are the top three reasons why women are the badasses you need to foster positive change and accelerate growth at your org.
When women are in leadership, organizations see improvements in the following areas;
Generate higher-quality customer experiences

Invest more in R&D

Create stronger financial responsibility
(Dig into these areas on HBR).
How Do You Attract & Retain Women?
Women make up nearly half of the labor force. In today's candidate-centric economy, orgs should lean into recruitment marketing strategies that narrow in on renewed candidate expectations (focusing on what women want).
So, what should you focus on to get women what they want?
Re-evaluate annual wages and hourly pay – women want parity
"In 2020, women earned 84% of what men earned, according to a Pew Research Center analysis of median hourly earnings of both full- and part-time workers. Based on this estimate, it would take an extra 42 days of work for women to earn what men did in 2020."
To appeal to women in today's worker-led economy, you must ensure your salary offerings are competitive–for both men and women. Once you've done an in-depth salary analysis, you should consider putting salary ranges on your job ads and postings. This is a law in states like New York, Colorado, and California. (Discover more job description tips here.)
Change up your schedules and locations – women want flexibility
Organizations should look to workplace flexibility to match candidate expectations and stay competitive in today's flooded market. After going remote through parts or all of the U.S. lockdown, workers have proven they can still get the job done. And this is especially true for women.
Women took the brunt of much of the shift to virtual life. Managing children at home and schoolwork landed most commonly on women who were expected to figure it out. And while the world is slowly picking back up to pre-covid norms, women are still working it all out.
Flexibility options of location and hours are no longer a nice to have but a must to even meet the radar of today's female job seekers.
Focus on employee well-being beyond the perks – women want self-care
Leadership must show support and role model self-care. Simple ways to do this are by ensuring leaders encourage direct reports to use PTO, take breaks, set working hour boundaries, support project overload by saying "no," etc.
A make it or break it program is maternity leave. We see new reports on orgs advancing their maternity and paternity programs every day. Women are coming to expect your org to go beyond state benefits. It's time to check in on your offerings.
Switch out old perks for new wellness programs – women want growth
Workers are looking to refocus on what matters most: growth. People are not simply looking for their next job. Today workers look at jobs as more than that. They are pieces of their lives and they expect their careers to have a purpose.
Women are shattering ceilings in all industries. And they are inspiring and raising a generation of women who except to take that to greater heights. To appeal to this ideal, look to ways to advertise your internal mobility programs.
The best course of action is to get those improvements on blast.
Programmatic ads that sell your brand, open roles and perks are the perfect way to get in front of workers and entice them to click through to a full job description (complete with salary expectations). These ads can also focus solely on growth to appeal to female workers.
Next, your recruitment marketing campaigns and career websites should include all those perks, benefits and work-life expectations. Don't keep the candidate guessing on what to expect from your internal mobility programs, or chances are you'll lose them.
(Check out more in CEOMonthly's "What Women Want in the Workplace in 2021.")
How Does Symphony Talent Celebrate and Promote Women in Leadership?
Symphony Talent added two women to the C-suite for 2022.
Promotion of

Lisa Bordinat

to Chief Customer Officer; Lisa joined the organization in 2011. The renewed focus on customer experience will be led by Lisa as she works to focus on training internal teams, optimizing customer implementations, and strengthening partner integrations.




Addition of

Sophie Leguillette

, in December 2021, as the new Chief Marketing Officer. For 2022, marketing will focus on growth and organizational alignment. Sophie will support the expansion of the team and a defined go-to-market plan that compliments product evolution and clear customer paths.
While adding two brilliant women to the C-Suite is a fantastic feat, we know that women are needed across all levels of leadership.
Thar's why Symphony Talent has created the Women's Emerging Leaders Program.
Last March, Symphony Talent launched an inaugural Women's Emerging Leaders Program in true #daretobedifferent spirit. Program members applied from across functional teams and regions and embarked on a year-long program that included participation in four live speaker events and self-led learning modules."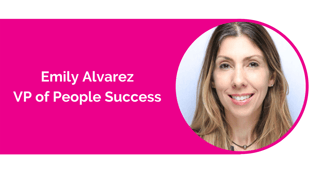 The mission is to nurture a community of belonging dedicated to growing, retaining and advocating for more women to become leaders at Symphony Talent.
Want to learn more about women in the workforce?
The COVID-19 pandemic dealt a disproportionate blow to women of color. As a direct response to the impact of the pandemic on mothers, particularly mothers of color, The Mom Project founded RISE, an equity-focused upskilling program.
Debbie joins Chandra Sanders, Director, RISE, and The Mom Project to discuss how we can take action to empower moms and women of color through transformative upskilling programs.
Listen in to learn more on how we can all work to "Break the Bias for Women of Color in Today's Workforce."