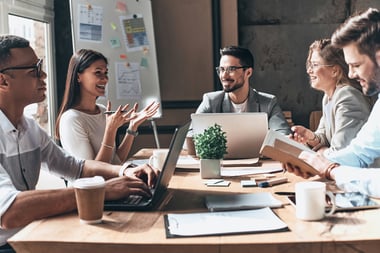 Technology is key for activating and automating your recruitment marketing initiatives. However, we know if you don't have the right approach or the right strategy, technology falls flat. It simply can't be as impactful or powerful as it has the ability to be.
Why it's important
In my previous blog, I talked about the importance of recruitment marketing technology and the programmatic media strategy behind it. I also zeroed in on the importance of honing your employer brand story, and I stressed the intrinsic value in effectively conveying it. Your career site experience is key to expressing that message. It's why organizations across industries are investing time and money in creating a best-in class experience that candidates have come to expect. And programmatic media? It's a driver and strategic tool for getting candidates in to your experience.
Using Technology to Achieve Your Goals
Not only does media drive passive leads — it also compliments and supports your outbound efforts, provided your audience is already familiar with, and receptive to, your brand.
Of course, every brand is different and therefore requires a custom approach. Whether an organization is unique from an employer branding perspective, the types of roles they have or their business requirements, the reality is those goals can change on a daily basis. You may need to dial up or down aspects of your media strategy, and you may need to adjust your strategy on the fly. Without question, a programmatic media strategy can demand variations year over year — even within the same year.
Overcoming Hiring Obstacles
You may find there are not enough candidates, or you may discover there's a limited talent pool for the jobs you need to fill. Perhaps you're experiencing high volume hiring needs or encounter an influx of quick quits. Then again, you may need quality hires for a specialty skill set. In each of those cases, having a solidified, compelling employer brand — and the technology to express it — lets you get that message out. It's how you let job-seekers know they should work for you, and it gives them a compelling reason why. Technology takes that brand message and puts it to work — in the right places, at the right time, and in the right way.
A Step Towards the Future
Often, organizations need a Sherpa to guide them along the way. It's okay. Whether you want tech to take care of itself, prefer a co-pilot, or seek the perfect blend of hands on and off, we've been there and done that. And we treat every client and each story — not to mention every media strategy — as the unique entity that it is.
Recruitment marketing technology lets you track what you're spending on media and know beyond a shadow of a doubt how successful it is. Then, it lets you adjust that strategy based on performance and goals. Without the power of analytics, you're unable to track your hiring spend, and you can't identify whether or not it makes sense. That leads to end-of-year chaos; a lack of budget for necessary efforts; and the failure to adequately attract, engage, and nurture the talent you need.
Conclusion
The good news is, you don't have to run around with your head on fire. You can tackle your 2019 recruitment media strategy calmly and methodically to great effect. You can bring talent into your experience, nurture them to hire and free up recruiters to close the deal. At the end of the day, recruiters are not marketers and you shouldn't expect them to be. So let a tech-fueled media strategy do the heavy lifting for you. Let it adjust your spend as the market and situation dictates. And let it nurture quality candidates and passive job-seekers on your behalf.