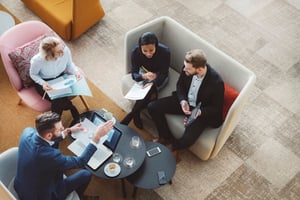 Around this time of year a lot of people ask me, "What is the biggest trend in recruitment marketing?". It's not an easy question to answer and it never has been. What may seem like an exciting trend is not always something that drives efficiency and success, and most of the time, these trends fade away.
Instead of blindly following the latest recruitment marketing trends, employers need to think about what brings value to their talent acquisition strategies and what will improve how they engage with candidates and improve the overall experience of candidates, recruiters and hiring managers.
Talent acquisition buyers are making more strategic decisions around recruitment marketing and candidate experience technology than ever before. Talent leaders are listening to their peers, questioning their existing solutions providers and looking for partners. The trends influencing this market are shifting to what TA buyers actually want from technology providers. I recently joined Shannon Seery, Senior Vice President at Symphony Talent, and Susan Russell, Senior Manager, Talent Acquisition at Nestlé Waters North America, to discuss what trends will influence next year.
Here are some of the top recruitment marketing trends we covered:
Programmatic Advertising: Programmatic advertising is not a new phenomenon. It is the automatic buying and placing of recruitment ads through software in real-time. As companies look at their recruitment marketing providers, 1 in 5 companies are investing in programmatic advertising this year.
Automation: Companies in Aptitude's 2019 talent survey identified automation as a top area of investment in 2019. Yet, companies are still confused by what should be automated and what should be handled by recruiters. During this webinar, we will talk about the future of automation in recruitment marketing and where organizations should focus their efforts first.
Recruitment Marketing Platforms: Recruitment marketing has experienced tremendous change over the past year. With 70% of companies increasing their investment, we will discuss what companies should look for in a provider.
Internal Mobility: Internal mobility is a strategic part of talent acquisition. But what capabilities should companies invest in and what role does internal mobility play in recruitment marketing? We will discuss the importance of internal mobility in the next year and beyond.
Transformation: As companies consider what needs to change in the next year, preparing for transformation is critical. Companies need partners that can support them and provide flexibility to their recruiting teams, strategies and change management.
Want to learn more? View the full webinar on demand to hear our discussions, recommendations, and real experience from industry practitioners - Download now.