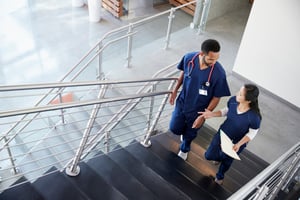 Talent Board research says that career sites are the first place that candidates go to research a company. Understandably, you have to deliver a personalized career site experience in order to convert website visitors into applicants.
Alright, so how do you use your career site to speak directly to talent for your hard-to-fill roles?
Start with the basics
Make sure each and every candidate has a clear, simple path to find what they're looking for, whether it's to learn about residency programs or to locate straightforward search capabilities. You also need:
A closer look at a personalized experience at work
We'll use a well-known healthcare facility as an example. The organization hired much-needed, skilled specialty nurses by building its brand and showcasing its facilities as great places to work. Realizing nurses have ample employer options, it appealed to candidates who appreciate a supportive working environment, crave flexibility and seek career advancement opportunities. It enlisted creative and branding experts to craft its message compellingly, invested in a photo shoot and staged caregivers in real their real workplace environment.
While conveying its employer value proposition (EVP) consistently across all channels, the organization ensured its job search was front and center on its career website. Enlisting AI and machine learning to cull data from visitors, it then personalized the candidate experience, delivering relevant content and right-fit jobs in a way that was intuitive, easy, fast and constantly improving.
That personalized experience is what got them — and will get you — hires. It'll also help keep passive job seekers warm to your brand, help build your talent community and pave the way for data-fueled decision-making that — in the end — benefits your bottom line.
Our guide, "Hard to Fill" Made Easier, provides great insights into the current challenges facing the healthcare industry, along with useful tips on how to leverage AI technologies and a strong employer brand to put your organization top-of-mind with today's most sought-after candidates. Get your free copy here: