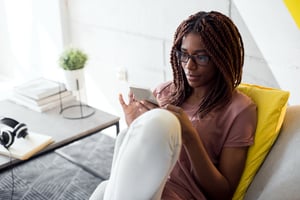 Ever shop on a site like Amazon and notice that their "you might also like" recommendations seem a bit off the wall? Depending upon where you've been online – or who/what you recently Googled – you might find these recommendations amusing, eye-opening or even off-putting.
Of course, nobody's forcing you to buy the Hello Kitty potholders or chartreuse UGGs the site recommended. But if you were doing a job search and truly relevant recommendations weren't part of the experience, you might have just missed out on the opportunity of your dreams.
Why does this happen?
As we all know, AI-powered personalization is quickly becoming the standard for a great candidate experience. It's based largely on a profile created by candidates from their available public data, any additional information they've already provided to an organization, and their search history. However, the process of capturing candidate profile updates is almost always done according to a specific schedule. This means that for the first several days (when candidates are most likely to be searching) the recommendations might not be completely current, or accurately reflect all of the best-fit jobs.
Real-time Recommendations Take Candidate Experience Up a Notch
Many forward-thinking organizations are looking for solutions that ensure relevant recommendations appear immediately after a candidate profile is created - and real-time recommendation capability is poised to be the next "big thing." No wonder: in a real-time scenario, the job-seeker is served with a personalized experience and up-to-the-minute career opportunities that are not only more timely and accurate but encourage them to apply right away.
They Also Boost the Impact of an Omnichannel Strategy
This real-time advantage also carries over into just about every other channel with which a potential candidate could engage.
Say for example a job-seeker is already feeling positive about the level of personalization they're enjoying on the careers home page or personalized job description. They see a link to a relevant talent community and join. Now there's an entirely new channel for showing them what the employer brand is all about, how they would fit into the culture and moving them from interest to excitement in the opportunities they're exploring.
At every subsequent touchpoint, AI technology is ensuring the experience – and job matches – get more refined, which encourages candidates to expand their profiles. The result is even better real-time matches going forward, along with even more content of interest to them, including videos, text messaging and even invitations to local hiring events. In short, the candidate experience has been broadened with multiple conversion points, all driving candidates toward the application process.
Want to learn more ways to engage quality job seekers and create a top level candidate experience? View our webinar on demand discussing the top 5 HR technology trends on the horizon for 2020 featuring Madeline Laurano, Founder of Aptitude Research, and Susan Russell, Senior Manager, Talent Acquisition at Nestlé Waters North America, and Symphony Talent's Shannon Seery - Download now!