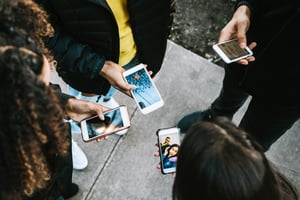 The number of mobile phone users is expected to pass the five billion mark by year's end. Although email averages an open rate of just 23%, that number leaps to an impressive 56% on mobile devices. As for straight-up text message open rates, they're an impressive 97%, supporting smartphones as a rapidly growing channel and valid recruitment marketing resource.
After all, people — candidates included —have their phones in their hands or in their pockets most of the time. It's a direct link.
The rise of SMS
For better or worse, stats show that text messaging and mobile usage won't slow down any time soon. In fact, reports project it will keep growing at a strong pace until at least 2025. Globally, the amount of people who send and receive text messages is predicted to rise to 5.9 billion by 2025, with smartphone usage expected to increase to 77% of the global population by 2025.
That said, here's a sobering statistic. Microsoft says the average reader has an attention span of just eight seconds — that's one second less than a goldfish. You're probably thinking, "yikes" or "seriously?" That's fair. But remember this is valuable information to have. If you're going to grab the attention of job seekers and make your talent marketing efforts stick, texting/SMS communications demand that you:
Know — and successfully express — your value proposition
Keep it personal
Be consistent, reliable and clear
Remember than an SMS campaign doesn't exist in isolation from other mobile and general marketing initiatives and therefore must be omnichannel in approach
Create a sense of urgency
Leveraging SMS campaigns in recruitment marketing
When enacting an SMS campaign as part of your talent marketing strategy, there are three approaches to consider. Each has its own set of pros and cons.
Traditional text messaging
Traditional text messaging is direct and personal — one-on-one, much like a phone call. That said, it's time-consuming, doesn't work in bulk and requires a recruiter to give out their personal number. If you go this route, do so in unique circumstances with top candidates.
Automation
Automation lets recruiters communicate to a list of candidates en masse. It's quick and, when done right, has the potential to feel personalized. Add that to the fact no one has to monitor the campaign or respond in real time. However, you need to watch your language lest it feel false and spammy. Use this to promote an event or reach a wide, varied swath of job-seekers.
Enlisting a partner
Finally, you can work with a company that specializes in SMS text recruiting and utilize a dashboard, where recruiters can initiate real, immediate conversations and manage responses in real time. By utilizing a standard script, you can expedite the process. And while manpower is required for this approach, it works well in the case of high-demand positions when a number of skilled candidates — think technology, finance and healthcare — are required.
Don't limit yourself
Of course, a combination of these approaches is likely best since the most successful campaigns are agile. First and foremost, you need to create an effective text marketing plan that takes into account your audience, the jobs you wish to fill and the resources you have. Then, you need to be prepared to review and adapt your strategy regularly, while embracing — and being realistic about — mobile advantages and disadvantages. Ultimately, even if you incorporate one-on-one messaging into your strategy, you will want to automate text messages. Why? Because an overall, turn-key solution that creates text campaigns saves time.
Using real-time data to simplify and optimize recruitment marketing in a single, easy-to-use system, our self-service talent marketing automation suite makes a strong case for letting technology do the heavy lifting. It drives qualified applicants to right-fit jobs, when and where they're needed. Offering a tailored, personalized experience driven by user behavior, AI and machine learning, the platform streamlines and automates media spend while providing a templated career site experience. It also lets you track every touchpoint from media through application, while benefiting from goal-based media optimization. Proven to double performance, you gain complete visibility, backed by flexible programmatic media, lead capture and talent community capabilities.
A final thought
In the end, it's fair to have questions about what happens next, how to respond and how to prepare for it. Technology feels like a moving target because — in a lot of ways — it is. But it's essential to have technology on your side, making you talent marketing efforts easier and more effective. As long as that technology is adaptive and you have a knowledgeable partner lighting the way, you'll be ready to tackle recruitment marketing challenges head-on — and use SMS as the valuable tool that it is.
Want to learn more ways to engage quality job seekers with recruitment marketing technology create a top level candidate experience? View our free webinar on demand featuring Madeline Laurano, Founder of Aptitude Research, Susan Russell, Senior Manager, Talent Acquisition at Nestlé Waters North America, and Symphony Talent's Shannon Seery - Download now.