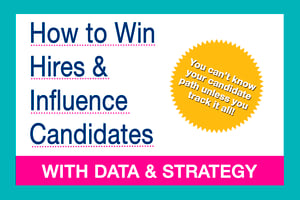 Self-improvement books always get at least one thing right: change is possible and improvement is possible. There's always hope for a better tomorrow if you care enough to try. This goes for your personal life as well as your professional life.

This is no small idea either, the entirety of our modern technological human civilization is based on it. Every advancement in modern times is a result of The Enlightenment and the emergence of the scientific method. Most people think that Greek philosophy was great, but if you really look back at Plato it was actually pretty terrible, it was all about pure reasoning and what "seemed" right to you rather than actual observation and verifiable evidence. Yet here we are in 2019 and as a species, we all finally know what all babies have already known for millennia: test and learn!
Navigating the Talent Marketing Environment
But so what? Well, let's just say for a totally random example, that you're responsible for talent marketing and talent acquisition in your organization. We now know that "gut opinions" matter very little in the grand scheme of things and that there really is only one true path to continuous improvement. If you would like to attain a mythological aura of competence with your executive leadership, you now know what you need to do and at its heart, it's actually very simple: get as much data as possible, and learn as much from it as you possibly can, and then keep doing it every day.

Now for my self-serving portion of this blog, that can also help you: a true win-win situation. Here at Symphony Talent, we track, store, and utilize far greater quantities of relevant data than any other player in the talent marketing space.
Driving Success With Automation
All of this data drives our automation, so that the test and learn process is always running on it's own, wherever possible. We operate under the mantra, "if based on data, something should obviously be happening, then make that thing happen immediately and automatically." This means when we run many creative ad units, search ads, job title tests, banner ads, Facebook ads, video ads, and career website microsites --- no matter what, we're always turning on "automatic goal based optimization" so that the creative that is driving the best results is automatically getting more and more of the inventory over time so that your end-results are always maximized. You have access to the data as a proof point and for showing it off to your internal stakeholders - but, you don't have to be stressed out about having to constantly look at data, or about having to constantly use your team's valuable time having to do all these sorts of common sense adjustments manually.

For our data-powered marketing automation, we proportionally focus on the jobs that mean the most to you and that need the most help, automatically and every day. For each of your talent goals we auto-optimize the ratio of spend between your media purchases, adjusting them accordingly every day of the week for every campaign.
How It Works
We can do all of these things for you only because we have all of the data, and by all of the data I do mean all. Our conversion window is a full 90-days, standard for all clients, instead of the limited 30-day windows that are common in the recruitment marketing industry. Also, we don't just only track and credit the "last click" prior to an application. Candidates are interacting with an average of 20 marketing touchpoints prior to the apply and hire stages, and so we track and store 100% of every candidate's journey, and not just from paid media buys either. Our job-level, full path, 90-day window datasets include: Job PPC, Duration Job Boards, Organic Indeed, Organic Google, Facebook, Instagram, Video Ads, Linkedin, Talent Community Messaging like emails and SMS, and crucially, every single part of your candidate-marketing oriented Careers Website Experience - and all of this within one unified relational database and corresponding analytics dashboard.
Conclusion
To improve results along every single part of your recruitment marketing funnel, you're of course going to need data that relates to every single part of your talent acquisition funnel. We've got you fully covered on that - standard for all clients, and we are alone in that capability. So if you'd like to control your own destiny and become your organization's talent marketing superstar, please reach out and let us help you to make it happen.
Want to know the top 5 HR technology trends on the horizon for the year ahead? View our free webinar on demand featuring Madeline Laurano, Founder of Aptitude Research, Susan Russell, Senior Manager, Talent Acquisition at Nestlé Waters North America, and Symphony Talent's Shannon Seery - Download now.