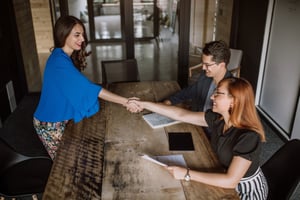 Thanks to new enhanced search capabilities, locating profiles and engaging with passive and active job seekers has become easier — and more accurate — than ever before.
In the past, you'd enter a keyword or keywords and get results. With the addition of custom search capabilities, however, recruiters are able to create and save filters. That way, they can quickly locate specific profiles that meet certain parameters. Simplifying things further, you no longer need the help of a solutions team to add or change custom fields.
There are other benefits, too. Now, recruiters can find candidates based on everything from eligibility status to level of education, state and country. If you select the U.S. as your country and your required level of education as bachelors, all talent profiles displayed will be U.S.-based, and all potential candidates will hold a bachelor's degree. In short, it's much easier to zero in on right-fit talent.
New advanced search capabilities also let you locate prospective candidates by contact details, education history and work history. On the flipside, you can omit results utilizing the tool's "must not have" feature.
Making searches even more precise, you can search for variable spellings of a root word all at once. Plus, you can use symbols when you don't know exactly what you're looking for but feel you can make an educated guess.
When combined with a platform like Experience Cloud, advanced search lets you effortlessly send campaigns for special hiring, say for students or veterans. Perhaps you have hard-to fill-roles and want to give out a bonus as a hiring incentive — you're covered on that front as well. Before, a recruiter had to proactively source passive candidates in order to hire for such a position, and they couldn't easily search within a talent community to locate candidates by work history or job title. That's a thing of the past.
All told, you can now:
Search for contacts by their name, email or phone number.
Search by skill using work history or title, such as "registered NICU nurse."
Search by education, typing in the university, institution or school by name.
Search by eligibility status using custom filters, such as "veteran," to target specific candidates.
Use custom fields to help you find candidates with a particular certification.
With these valuable, baked-in capabilities, recruiters save time that was previously spent on manual tasks. And they're able to more precisely engage candidates that speak to their organization's needs, work culture and aspirations.
So what will recruiters do with the extra time? Interact one-on-one with quality talent, hire them more quickly and welcome them into the fold. It's what a "people person" is meant to do. Now, it's a reality thanks to technology.