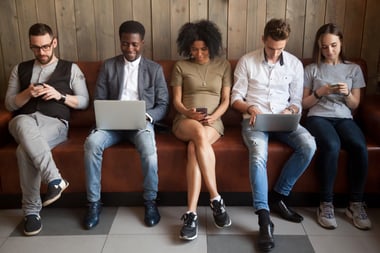 There was a time when posting a job on a job board or sending out an email blast to talent was enough, but those days are long gone. Today's job market demands that you go where talent is at and interact with them on their terms. It's called conversational talent marketing, and it's here to stay.
The talent acquisition landscape is changing
It's no longer about simply advertising to a candidate — that just won't cut it anymore. Conversational talent marketing, by virtue, takes into account the entire talent lifecycle using consistent omnichannel communications that reinforce your employer brand at every touchpoint along the way. It converts passive job seekers, nurtures those who need nurturing and turns employees — both present and past — into brand ambassadors that help you secure the right-fit talent you need.
Make no mistake: there was an evolution. Talent marketing 1.0 meant posting a job and waiting for the applications to roll in. Then, 2.0 saw the introduction of social media, as well as the prominence of the career website as a main entry point to your brand and hiring efforts.
The new wave of conversational talent marketing
Much broader and far more effective in nature, conversational talent marketing 3.0 caters to a wide, diverse range of active and passive job seekers across generations, taking a one-to-one, personalized approach to communications. Whether a job seeker is about to enter the job market for the first time or preparing to exit it at 65 years of age, conversational talent marketing puts the power in the hands of talent, letting them engage with your brand when, where and how they want. That could be anything from a personalized Facebook Messenger post; subscribing to SMS for quick, automated job application updates and nurture communications; or following your company on LinkedIn. It can mean interacting with them via Instagram, Twitter — even email — as well as the ability to send relevant, personalized content from your company blog. Whatever they prefer, conversational talent marketing employs a holistic, omnichannel strategy. It meets them where they're at, in a way that feels tailored to them.
Naturally, though, you first have to obtain their data. So you can customize — personalize — your interactions so that every communication counts. Social media and aggregators — like Google for Jobs and Indeed — often send candidates right to the job description page, so you can't just count on your career website to do the trick. A new or potential candidate may have limited knowledge of your employer brand, company culture or the career and advancement opportunities, so you need to do your part to drive them down the funnel — to obtain the information you need in order to personalize those interactions.
AI is changing the game
Sound daunting? It'd be understandable if it felt that way. However, Artificial Intelligence (AI) is changing the game in an era where there is a shortage of talent and low unemployment. Companies that embrace AI, predictive data analytics and other technology tools are more successful in securing not just talent, but the right talent.
Let's take the chatbot experience as one such example. A candidate who subscribed to SMS communications or visits your career website may have questions. Those questions — at least in their initial stage — can often be handled with AI to the point the candidate never knows they're talking to a trained machine. Say they have a question about a job they applied for or want a status update. A bot can step in, offering an immediate, helpful response, one that layers in your employer brand while ensuring the candidate has a positive experience and receives a timely, applicable response that becomes all the more personalized the more the candidate engages (and reveals data en route). Because technology takes care of it on your behalf, your HR department is free to tackle their area of expertise: the face-to-face art of closing the deal — or getting the hire.
Don't feel overwhelmed
Despite all the channels out their — and all the touchpoints required — it's way less overwhelming than it seems. Experience Cloud, for example, tackles it all in the blink of an eye. It builds a candidate's profile on your behalf, all the while making the candidate stickier to your brand.
So, really, the question of the hour is once you have all the available profile enrichment, what do you do with it? It goes back to conversational talent marketing — to interacting with talent in a way that's convenient to them so you can convert them at a higher rate. It's no longer about tedious, manual, ineffective communications. It's about meaningful, fast communications that meet candidates' needs, with a series of built-in triggers to obtain more data, drive personalization and reinforce — adhere them — to your brand.
Conversational Talent Marketing is just one example of meeting candidates when and where they prefer. Here's a sneak peek at our webinar on demand to see how this fits into the larger talent marketing strategy:
Want to know the top 5 HR technology trends on the horizon for 2020? View our free webinar on demand featuring Madeline Laurano, Founder of Aptitude Research, Susan Russell, Senior Manager, Talent Acquisition at Nestlé Waters North America, and Symphony Talent's Shannon Seery - Download now.