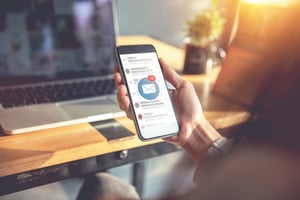 How does your organization recruit candidates? The current process probably goes something like this:
Recruiters go into the ATS, CRM or similar tool and search within the talent community. Then they
Look for peo
ple to contact
Select them manually
Set up a campaign manually
Pore through as many responses as time allows
Wait and hope
If ATS and CRM data aren't integrated, it's more than likely the recruiter can't determine who has already applied - and since everything is done manually, won't get around to thanking the candidates who did.
The above scenario is an intensely cumbersome process (and let's face it, these hard-working recruiters are doing the best they can). But with only so much time and resources available it's an ongoing challenge to handle everything efficiently or effectively.
Fortunately, there are AI-enabled solutions available to help the TA team engage and nurture candidates without a lot of extra work. By incorporating AI into the process, almost all of the above-mentioned steps can be done automatically (yes, even the wait and hope!).
It's thoroughly automatic
Candidates are consumers, too. They're used to searching for products and seeing recommendations, customer reviews and targeted messaging to drive them toward a purchase. Now they're career shopping. And they expect to be nurtured throughout their decision-making process in exactly the same consumer-centric fashion.
Say the recruiting team is putting together a talent recruitment initiative that includes an email component. AI can deliver data that helps direct the strategy behind it - as well as other relevant channels for promoting it. The "open call" email blitz is transformed into a targeted, omnichannel recruiting effort delivered through Automated Marketing (see our blog on drip campaigns).
Automated, smart, efficient
For example, if a recruiter sends candidates an email which they don't open, the candidate will automatically receive another one that encourages further action. If they looked at the email but didn't follow up, they can get more relevant information (like employee videos/testimonials) to further influence their decision to apply.
All the while the AI engine is hard at work determining a framework and logic based on the candidate's response and determining who sees what. It's also generating candidate profiles based on information already captured - and putting candidates into a "star" ranking system. It can determine whether they visited your microsite, joined a talent community, updated their profiles or accepted an interview – all of which helps you further personalize their experience.
The apply process can be just as seamless and automated. If a candidate starts but doesn't complete your online application, the recruiter can follow up with a message encouraging them to finish (the technology even provides an estimate of how long this should take).
Even "thank you's" are automated. And by this time, the recruiter and candidate have formed a relationship and both have a good idea of how well the candidate fits into the role.
Heard this all before?
Not exactly. You might be thinking that marketing automation sounds a lot like automated emails or job alerts. The difference? These approaches don't factor in or gauge candidate interest. In short, without AI it is almost impossible to customize the response. And let's face it, it's tough to make a personal impression with one-size-fits-all messaging!
A Fair advantage
Another advantage of Marketing Automation is that it's perfect for getting the word out about upcoming job fairs and career events. And because the whole approach is easily (and automatically) scalable, it's simple to achieve a level of mass customization that's never been possible before.
Recruiters simply need to set up a date, time and location and market the event using email or social media. Then let the countdown begin!
Candidates who haven't opened or accepted an invite by a certain date automatically get a reminder
If or when they do accept, they get a "thank you"
And as the date for the event draws near, those who've accepted get final details and instructions a few days in advance – again automatically
Also keep in mind that by the time candidates meet face-to-face with the recruiter, AI and machine learning have created profiles for every attendee and ranked them accordingly.
Scalability works both ways
The use of Marketing Automation doesn't have to be tied into an immediate need or specific event. The TA team might be tasked with filling a very specialized or niche role (the proverbial needle in a haystack), someone with a very defined skill set. This type of candidate requires extra nurturing, particularly if it's a specialist role like a physician, scientist or C-suiter (or, when it comes down to it, anyone who isn't actively looking for a new position).
In these cases, the automated approach would work differently. Instead of a job fair, recruiters might provide information about an upcoming conference in the local area, invite the candidate to be part of their organization's online talent community, or even recommend articles or blogs relevant to their professional interests. The goal is to deliver relevant information over time – with content that's very specific about your industry, your facility, or anything in which they might be interested. By initially going "small," this type of automated strategy can ultimately deliver BIG.
Email isn't the end-all
To be truly candidate-centric implies reaching out to your audience when and where they want to hear your message. The key element here is thinking omnichannel (in other words across everything from banners to websites, job descriptions and beyond) to engage candidates with your organization and your people and motivate them to apply.
For instance, SMS (more commonly known as phone texts and chatbots) is quickly overtaking email as the preferred communication channel for the majority of job-seekers. For starters, it's a real attention-grabber and its potential for immediate, two-way conversation can be leveraged to create a more compelling back and forth between recruiter and candidate (again, automatically).
There's a lot to be gained by looking past the tried and true talent recruitment techniques - and AI is definitely helping to up the game. However, the "right" approach is constantly shifting and it's smart to keep as up to date as possible with new technologies, channels, and techniques that are capturing the target audience's attention. Speak with an expert to learn more about Symphony Talent's data-driven tools and technologies.