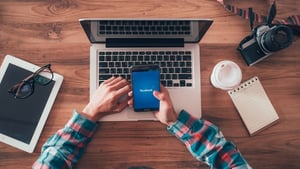 We wanted to share with you a new Facebook feature that has been rolled out to a few Symphony Talent clients over the past few weeks. Facebook is now enabling pages to import jobs from a website for the Jobs tab.
What really excites us about this new feature is that the Apply button links the user to the website of the page owner's choosing (i.e. your Career Website).
In the past, the Facebook Jobs tab forced all job listings on that tab to include an Apply Now button that automatically populated fields from the applicant's profile and then delivered the applications via the Facebook Inbox. This was a problem for most of our clients, as they want and need to have applications completed in their Applicant Tracking System.
What we know:
This seems to be a feature that is slowly getting rolled out. Two of our clients have had this option made available to them. With one client, this feature automatically appeared on their Facebook Careers page. With the other client, they received a notification stating "Jobs from your company's website will be linked to your Page" and then it gives a specific date the feature will become available.
If the feature has not been pushed to your page, we don't currently see a way to turn it on, as the old Jobs functionality remains on our other clients' pages.
What the Symphony Talent Strategists have to say:
Facebook's first iteration of the Jobs tab wasn't ideal for larger companies, so we're glad to see this improvement. The first iteration really worked best for small businesses with entry-level roles.
However, we find that users tend not to look at all of the tabs available on a Facebook page, so we believe that the organic reach from the Jobs tab will be limited.
Should you keep the Jobs tab with this feature if it's offered to your page? Our opinion is that it can't hurt, so you might as well enable it!
We'll keep you posted as we learn more about this feature!
If you'd like to find out how Symphony Talent can help you with your recruitment marketing, please contact us. For our current clients, please reach out to your strategist if you have any questions about Facebook Jobs!