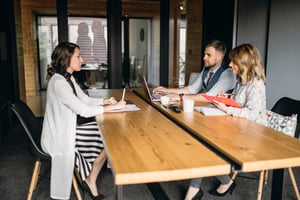 We spend a lot of time talking about — and trying to perfect — the candidate experience. Remember, though, that the recruiter experience is equally important — after all, it's their job to create an impactful experience for job-seekers. Let's remember, too, that in a competitive job market, recruiters' jobs have become increasingly difficult. For one thing, engaging quality candidates is harder. That's harder still if your employer brand fails to compel, or if your talent marketing technology isn't up to par with your competitors.
Drive efficiency with analytics
So, how can you help recruiters do their jobs as efficiently and effortlessly as possible? It starts with analytics. By harnessing the power of machine learning, a recruiter's job is easier (and faster). Plus, they have data to power their decision making, personalize interactions across all touchpoints and drive conversions.
Advances in talent marketing technology now provide talent acquisition leaders and recruiters with the ability to dig into their data at the campaign level. Having analytics data available in the context of the actual works journeys creates efficiencies in the recruiter experience, allowing them to make decisions on marketing campaigns without switching to separate analytics pages.
Create and agile strategy
When a recruiter knows valuable candidate information — such as how long they spend on your career site and what they interact with while there — they know what's working and what's not. They can in turn be nimble and pivot their approach to get better results.
Looking at your recruiting funnel to learn what makes people interact also enables recruiters to better source from small talent pools, find skilled, specialized applicants, be more efficient, hire faster, and shorten the time to hire gap. With analytics, machine learning, and predictive, AI-fueled talent marketing technology combined, recruiters can focus on the top candidates. These tools whittle down the number of job-seekers put in front of them, while ensuring the ones that arrive are the right fit.
Automation saves time
Furthermore, when automation kicks in, it can tackle a lot of time-consuming manual tasks, such as reaching out to candidates, setting up media and enacting email campaigns. It handles automated job alerts via email or SMS, too.
For candidates, that adds up to a personalized experience that feels tailored to them. Today's candidates are extremely connected, and they're in charge of how and when you interact with them. So, taking an omnichannel approach across multiple channels — whether it's your mobile career site, via chatbot or during a live person interaction is essential to hiring success. Meanwhile, recruiters get to focus on the area where they excel — relationship building. All told, utilizing analytics and automation makes your hiring department a strategic business partner, one who finds quality talent with a reason to stay put.
Do you ever feel like you're missing out on great candidates and losing top talent to a broken career site or an inefficient CRM or ATS process? Let us give you a free evaluation, so that you can achieve an optimal candidate experience, attract the right fit talent when and where you need it, and make a positive impact on your business goals.