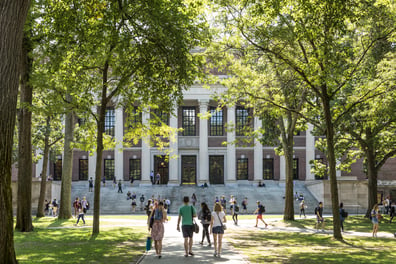 College Recruiter brought together the best and brightest in hiring managers, college relations professionals, and other human resource and talent acquisition leaders for the 16th College Recruiting Bootcamp at Google headquarters. Attendees left with a roadmap for how organizations can not only survive, but also thrive by using AI to enhance existing talent acquisition tactics and strategies.
Roopesh Nair, President and CEO of Symphony Talent, was a featured panelist discussing how AI can improve education, careers, and businesses. It was a highly informative session where HR Technology professionals from different disciplines talked about the sweeping changes brought about by digital transformation – and how forward-thinking organizations can best use new technologies and media trends to compete effectively for the best new grads.
The audience of recruiters and TA leadership had questions of their own, including,
How to bring AI into their campus recruiting strategy
AI's impact on the recruiter's role
Sourcing candidates by job title or aptitude
Tailoring an engagement strategy for a live vs. an online event
Here are a few of the key takeaways, which I hope you'll find helpful.
Finding the Right AI Solutions
The panel agreed that choosing the right AI and programmatic media solutions really depends upon a particular organization's recruiting strengths and/or gaps. Every organization is different; therefore, it's not about AI solutions in search of a challenge, but about using AI to solve the challenges you already have. It takes an honest assessment of your existing technologies and areas that need improvement to choose and leverage the right AI tools effectively.
Skills vs. Aptitude
For the most part, recent college grads don't have a lot of job experience. As such, they may not have the established skill sets you'd typically be looking for when sourcing more experienced candidates. Ideally, you'll want to cast a wider net that looks at qualities recent grads possess beyond specific job requirements, titles or even campuses.
It's wise to think more in terms of aptitude and potential - and use the candidate information you've already captured to "sell" (vs. source) the role and your organization. Also, many (if not most) recent grads probably don't know exactly which jobs – or job titles - are a good match for their talents and interests. A strategy incorporating AI and programmatic media can help both of you "find" each other.
Always keep in mind that if you're using AI to identify strong candidates, you'll need to make certain you're not accidentally screening out best-fit talent from consideration. Be sure you have the right criteria in place - and monitor/adjust it as needed.
AI and The Recruiter's Role
It's safe to say that no one misses the piles of paperwork and time-intensive backend tasks that characterized much of the recruiter's role in years past. Still, some may feel that hiring technology is turning recruiters into marketers at the expense of the "people" side of the equation.
So, do you have to be a marketing whiz – or a data analyst – to succeed at college recruiting in 2019? Take a deep breath. And relax.
AI isn't limiting the recruiter's role, nor is it asking them to acquire new skills outside of their interests and comfort zones. When leveraged correctly, it's helping recruiters do what they already do well: establish and nurture strong candidate relationships.
Think of it this way: AI and programmatic media aren't replacing the human element. They're simply tools that – along with a powerful and differentiating employer brand – ensure your message gets to the right candidates when and where they're ready to see it. Once top candidates have been identified and engaged, recruiters are free to reach out at any time on a personal, one-to-one level.
Considering the Situation, Too
How you leverage AI for college recruiting also depends on how well you incorporate it into your overall strategy. For example, if you're planning a significant on-campus push, the implementation will be substantially different vs. an online event. A well-timed automated campaign could be a strong lead-in to an upcoming campus visit, whereas geo targeted social media might work better if you're focusing less on live events.
Because candidate expectations have raised the bar significantly, recruiting recent college grads is more competitive than ever. AI can definitely put the odds in your favor - and at the same time make both new grads and seasoned recruiters feel more empowered throughout the whole process. Speak with an expert to learn more about leveraging talent marketing technology in your campus hiring strategy.