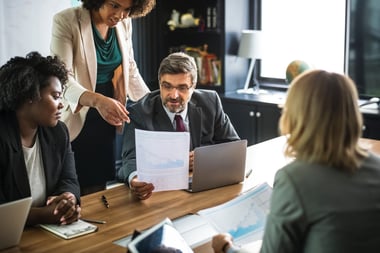 Not long ago, companies relied solely on their ATS providers or their job boards to manage recruitment. Today, the choices seem endless. As a result, many companies are making uninformed or impulsive decisions that could prove to be costly and damaging to their overall talent acquisition strategy. This confusion is leading to dissatisfaction, as organizations struggle to create a seamless candidate experience using disparate solutions. In fact, two out of five companies are either dissatisfied or indifferent to their current provider.
So, how can employers make better decisions around technology? How can they figure out what trends are shaping talent acquisition technology? As 2018 comes to an end, we are excited to share with you some of the key trends and success stories that have characterized the past year. We will provide practical examples and recommendations to help you stay prepared and achieve results in the next year. Watch Symphony Talent's Shannon Seery and industry analyst Madeline Laurano on our webinar on demand where they discuss some of the following trends:
What are the Characteristics of Great Technology:
Experience: Recruiters need an easy way to attract, recruit and hire talent. If a technology provider is not solving for this, they do not have a viable solution. In order to give recruiters and candidates what they need, technology providers need to make it simple.
Expertise: Solution providers are building expertise into their technologies. This could come in the form of AI, guiding companies to make better decisions; however, it can also be found in a provider's commitment to talent acquisition. Some providers are also helping companies improve diversity and inclusion, offering organization's capabilities such as anonymous screening, job description checkers, and bias detection initiatives.

Adoption: Only 43% of companies view their provider as a partner once a solution has been implemented. Companies need to look at not only how their provider will partner with them during implementation but also how they will make that relationship stick after year 1, year 2, and ongoing. Adoption is a true test of a provider's impact on talent acquisition efforts.
What Trends are Driving Decision-Making?
Personalization: To attract talent, companies need to personalize the candidate experience and provide targeted messaging. This is where having a strong employer brand and value proposition come into play. After all, even the best technology solutions can only work as well as the messages they carry. This webinar will discuss how the combination of technology, media, and creative services delivers a relevant, personalized experience to candidates at every touchpoint.
Communication: With all of the buzz around AI and machine learning, this webinar will discuss how different methods of communication can attract candidates throughout the hiring process from before they apply to the day they receive an offer. We'll look at enhanced job descriptions, a mobile-friendly apply process, drip marketing campaigns - in short, all the ways you can nurture a candidate through their journey.
Analytics: The metrics used to measure talent acquisition success have shifted and today's recruitment leaders need to think more strategically when tracking advocacy effectiveness, conversion rates, and candidate engagement. This webinar will cover the role of analytics in talent acquisition.
Recruitment Marketing Capabilities: As companies evolve in the way they engage with talent, questions around building, buying or borrowing the right skills for your talent acquisition team are becoming more relevant. This webinar will discuss the ways that talent acquisition teams can enhance their recruitment marketing capabilities without having to overhaul their entire function.
If you are struggling with understanding the technology landscape and how to make the best decisions, watch our webinar on demand where we discuss some strategies for driving success.