Spring Break! While the "fun" activities we participate in may have changed over the years, we agree that Spring Break is the perfect time to reset, organize and take a break.
And while we get that we all are feeling like this…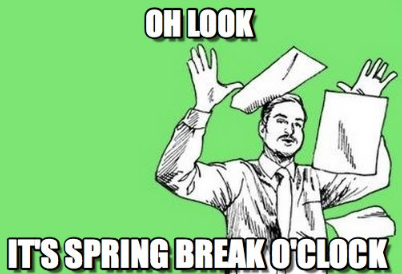 We live in the real world where responsibilities lurk behind every corner, and our to-do lists magically multiply overnight.
So to prevent this…
Debbie Tuel presents our Spring Break mash-up episode with clips from our favorite RM Podcast episodes to date. It's a perfect, quick refresher on recruitment marketing tactics you'll want to check out.
So dive in and check out tips from Gerry Crispin, Julia Levy, Chandra Sanders, Jess Von Bank and Sean Quigley.
Debbie Tuel:
Hi, everyone. Welcome to the RM Podcast. I'm your host Debbie Tuel, and I hope that you are ready for an all new lineup of experts who are itching to step out of the parameters of traditional recruitment and talent acquisition speak and get real on what it means to recruit on a worker economy and quite frankly, an upside down world. Let's dig in together. You all, how is it already spring break? For some of you that might have happened back in March, but for us here in the Northeast, it is April break, Q2. The corner turned to summer and it is finally here. If you are one of our loyal RM Podcast subscribers, then you are tuning in this week. Well, I am sailing away to the Virgin islands on my family's very first Disney Cruise. Only two years delayed, but who's counting. We finally made it and I cannot wait for all the magic my three boys are going to experience this week.
Debbie Tuel:
It's also a perfect time for me personally, to take a break, reset, focus on quality time with my family and come back ready to tackle work priorities when I return to the office. Now at the end of last year, we did a recap of our first season and it quickly took off as a listener favorite. So we are bringing you more of what you love. Look back at the season so far, some of our favorite takeaways from the RM Podcast to remember and a look forward to where we want to shine a light in the upcoming months. It's a perfect quick refresher on all things recruitment marketing, so let's dive in. And we'll kick things off with a clip from our very first RM Podcast episode of the second season. This episode, we featured Gerry Crispin principal and co-founder of Career Crossroads. Gerry and I got a chance to sit down and talk about how you can hire to grow, not go.
Debbie Tuel:
A key takeaway to listen for here, we focus on the big gap between a job for now and a job that moves your career forward. Let's listen in. We are still as an industry continuing to educate ourselves. In fact, we started at the very beginning that you're a lifelong learner and student of what is happening and the shifts that are happening. You and I first got to connect a couple of years back. We were working on the A TAP Report with Mary Grace and Tyler Wicks and Allen Bailey and a couple of others. As we were looking at this fact that we have had a lot of transformation, we have been digital now for 20 plus years and yet we still have a big gap within recruiting on how to establish common language and how to attract source effectiveness and you've gotten to watch this be pieced together. Why do you think, and how did this become so broken and why is it so important for us to establish that common language?
Gerry Crispin:
Part of it is context. Very few people have a sense of how recruiting evolved and it's really in a modern day point of view. It's evolved in over 100 years. As the second industrial revolution began towards the latter part of the 1800s into the early part of the 1900s, we established, if you will, an approach to workflow that we still are using and using way too much, obviously. And it's only now that we're really starting to rethink that workflow in a way that from a technology point of view can be supported, but if people aren't willing to do things differently, the technology's not going to follow. The technology helps you do what you know how to do, not reinventing the way you do it even though with all of the claims. It really isn't. It's really helping you to do what you think are the sequence of events that gets you to engage people.
Gerry Crispin:
And so I'm convinced that there's so much more that we need to do from a decision point of view that involves how we help candidates make better decisions about being found, about being selected, about what they need to do with that offer and then what they need to do as they engage a corporation and become part of that corporation and whether or not they're looking at it just as a job that puts food on the table or whether they're looking at it as a community that actually they make a difference in. And that is a big gap between those two things, big, big gap.
Gerry Crispin:
And I think that our society is shifting the attitudes of many workers toward, especially as they get enough money, that they're able to put food on the table, but at the same time, there are millions of people who are working week to week and barely able to still put food on the table and shelter for their children. So we need to be able to understand the differences in what's going on and we need to try to influence our corporations to do things in ways that make us satisfied with what we do in our career.
Debbie Tuel:
And the second episode of the RM podcast season two, I had the pleasure of chatting with a long time friend in the industry, Julia Levy, head of Global Talent Acquisition over at CommScope. Julia and I discussed the importance of understanding market shifts and keeping pace with the candidate, employee, and technology needs as those shifts arise. One of my favorite takeaways from the episode is when Julia opened up about internal mobility opportunities and shifting your employee value proposition in our post COVID world to adapt to the new expectations of today's workers. Let's check it out.
Debbie Tuel:
So, Julia, we also have, as you're making this shift and you're listening, and I love that you guys are operationalizing it and formalizing it and recognizing that this is new work moving forward. This isn't like let's fix a temporary bandaid. We're two years in. We don't know how long this is going to last. This is the new normal and guess what? You're still productive. Your teams are still productive, so let's give that flexibility. But with that comes a different challenge, which is employee engagement. And especially for new hires, as you guys are recruiting new people that are coming on that have never met teams in person before. And I know this is outside of employment, branding and recruitment marketing, but I think those go hand in hand with retention and employee satisfaction. What are you guys seeing and doing to address that employee engagement in this flex remote workforce?
Julia Levy:
So couple things. So I don't own our onboarding process, but I talk a lot to the person that does, the team that does. And so we will collaborate a lot to offer suggestions and ideas on things that we can do to try and help improve that. One of the big projects that we have for 2022 is to really dig in around internal mobility and talent marketplace and what that looks like. We did hear when we've done our EVP, our employer value proposition surveys, career growth development is really important to people. And so we are trying to research what... There's a lot in the marketplace around here, and a lot of newcomers, so really to understand the marketplace around internal mobility, how can you connect if someone's interested in an opportunity, how do you connect it to your learning system so that if they're not qualified for it, you can say, hey, here's these classes that you could take in our global learning solution to offer people opportunities to grow.
Julia Levy:
If someone has a project that they're managing and they need a certain skill set that's not on their team, how do you borrow those skills from someone else within the organization for a shorter period of time? How do you make one per part of the organization aware of someone's skills in the other part of the organization? So for 2022, our project is really to research and it's something that I'm heading up is research and understanding what's out there, what should internal mobility look like for CommScope and then develop a recommendation that we can bring to our executive leadership to get their buy-in and potentially budget to implement something hopefully in 2023, but with the way the world is today, it could be 2024, but that is something that we are really focusing on this year, exploring and making a recommendation for a future implementation.
Debbie Tuel:
And I love that you're involved in that process. We're hearing a lot about internal mobility and a lot of people are in looking into what technology out there, what processes out there. We're not seeing a lot of doing though, because everybody's like, where do I start? Who owns this? And as we're talking to employers, I'm seeing a shift and a kind of a click happen where people are realizing that we need to take the same time and attention and focus that we're spending on building those external EVPs into doing that internally. What is our value proposition to retain talent? How do we recruit talent? How do we make them visible to our TA team that's looking to fill these growth roles for the organization? And how do we bring those hiring managers along for the journey in developing their people and really advocating for them to take that next step in their career even if that means outside of their little umbrella of employee base? Is that something that you guys are taking into consideration as you're doing all of this research?
Julia Levy:
Yeah. All of it.
Debbie Tuel:
I know we're not supposed to play favorites but I have to admit that I enjoyed these next two episodes. For March, we focused our content on Women's History Month. We put out blogs, emails and these two podcasts on what the workforce for when is like today and how we can make it better for the future. In episode five, I had the unique pleasure to speak with Chandra Sanders, director of Rise and the Mom Project. If you're not familiar with Rise, it is the inaugural initiative from the Mom Projects non for profit arm. And their goal is to empower moms and more specifically, women of color through transformative upskilling programs. Chandra is a diversity equity and inclusion champion, and they are on this mission to create economic opportunities, unlike anything at else I'm seeing in the market. Listen to one of my favorite clips, then go back, listen to the whole episode. I promise it will become one of your favorites too.
Chandra Sanders:
I feel like we may put too much pressure on ourselves as women but there is a balancing act. I have not worked in an office since 2017 and that has not stopped me from growing because my companies that I've worked for has allowed me to make connections and build relationships and they cared about my trajectory and they've connected me and provided me with opportunities. So we need these companies to understand and build programming around keeping women in the workforce. Yes, we can't always pack our bags and go to the office or go to an onsite meeting or all these things but there still should be some type of cultivation, some type of resource for women so that we are not left out. I mean, this has caused a huge backslide in workplace equality.
Debbie Tuel:
Absolutely.
Chandra Sanders:
And so we have the potential, now we have the opportunity now to shape the future stay of the workplace. And we have to do it right like I say it all the time. I say all these things all the time. It's like you can't put new wine in old wine skins, like everything's new. Now we can't go back. We won't be going back to what it used to be. So we have a chance.
Debbie Tuel:
You're speaking wine. You're speaking my language. Yes, good analogy.
Chandra Sanders:
We have a chance. We have an amazing opportunity in our hands right now to truly make the future of the workplace inclusive for women inclusive for women of color and flexible and bring the human experience back to work. We can't, we are not in a place where we can separate being human and being at work anymore. We has to work together.
Debbie Tuel:
Empathy 100%. And I think flexibility is the key there. We're not saying that women don't want to be in the workplace, they just need to have the flexibility to where if they have a kid at home that they don't have to be in two days a week, so this hybrid model concept is not going to work for them. It needs to be that flexible, ebb and flow of this is what's happening right now in my life. And I can't be in the office, but I can still 100% be effective and an over producer and giving that empowerment, having the empathy for the situations that they're in and really being able to lift them up and support them in those flexible models, I think is key for organizations who really want to have an impact with their workforce.
Chandra Sanders:
Yeah, exactly. And we say it all the time about women and moms and our allies may not like that so much, but honestly it's for everyone. Everyone needs flexibility. We have been through so much mentally in the last few years. Everyone needs some time.
Debbie Tuel:
Yeah.
Chandra Sanders:
Everyone needs to be able to have a little control over their schedule...
Debbie Tuel:
Yeah.
Chandra Sanders:
... just for your mental health.
Debbie Tuel:
Yes, absolutely. Chandra, we could keep going on and on. I'm loving this conversation. I think that our listeners are going to get so much value out of listening to this. We were also talking to of the fact that our audiences primarily recruiters and acquisition professionals, and they are majority women as well. And we are seeing these stats that are coming out of how hard it is to even recruit recruiters right now and that recruiters don't want to do recruiting. And I think we're forgetting the shortsightedness of, hey, look, all of this comes together and we're talking today about women in the workforce. We're talking today about how it's disproportionately affected women of color. But I think we need to take our lenses off and say, hey, look, this is a broader issue and it is something that we need to see the nuances to but we need to address all aspects of this and really be able to put plans in place that are going to sustain us beyond the pandemic, that are going to sustain us in this new workforce that is happening right now.
Debbie Tuel:
This isn't going away. This is going to be an ongoing need. And we've also realized that guess what? We can be productive in this model. So we don't have to go back.
Chandra Sanders:
No, we don't. That's just almost like abuse to make someone go back.
Debbie Tuel:
Yes, it is. I didn't lie. It's so good. And the second women's month podcast, following it up with my friend Jess Von Bank was just as good. I mean, I knew it would be. She is the head of brand strategy at Leapgen and the Now of Work Podcast host. So I've had the pleasure of joining just Jess in the past and it's always good conversation. And we continued from the week before with Chandra on how we can make work better for women. Jess lays down some hard truths on where we need to do better to support our female workers. She says it honestly like always, which makes her sad and mad and I'll bet you'll feel all the same feelings after hearing this clip. Let's listen.
Debbie Tuel:
What I really want to spend some time on Jess is talking about the women that are doing the work right now. Like we know that we have lost women and that is because we haven't made work work for them, as you mentioned. And so what can we do to make work work for women? Work for working moms? Work for women that are supporting other family members and that have these dual roles. And this is something that you are super passionate about that you advocate for women on a daily basis. So I would love for you to share some of the research that you found in digging up, hey, we can do better, because I know you've done the work, you've done the research, you're super well versed on this subject.
Jess Von Bank:
Yeah. I mean, I think the first place to start is awareness. Educate yourself and build awareness around the fact that the system is broken. If we don't start with that acknowledgement, then what are we fixing? And so we do have to understand that women participating in the labor market, actively participating in the workforce in the way they want to and can relies on, over relies on other systems. It relies on school and childcare. If those two things aren't in place, women do not and cannot participate in the same way as their male counterparts. And that's just a statement of fact. And the pandemic proved that when schools and childcare systems broke down, work broke down for working women. That's why 5.4 million women lost their jobs over the course of the pandemic. 2.1 million women left the labor market entirely. They didn't just change jobs, find another situation that better suited them, went where the grass is greener. They fell out of the labor market all together. And two and five of those may never return.
Jess Von Bank:
So we have to ask ourselves why? What happened? Why did it break so drastically? And again, we know there are systemic reasons. We have not built the system of work in a way that accommodates anyone and everyone who can participate in it. And right now, we're talking about women and working moms. But think about all of the groups that is true for. Think about diverse populations of the workforce who can't approach work in the same way that you and I can, who have difficulty participating in the same way without flexibility, creativity, basic accommodation. And I'm talking about such basic accommodation. It's sad. It makes me so mad.
Jess Von Bank:
When I think about all of the easy things we can do to make work work better for people. And so that's literally where we need to start. Then there are bigger, there's harder work to be done. There are bigger changes that need to be made because this is really systemic. This is a systemic problem. One of one example is leave, paid leave, so that other caregivers can step out of the workforce and step back in when it makes sense and not put all of that burden just on mothers and women caregivers. And so those things like leave policies, of course, that's harder work. That's policy work, that system change, but we have to do that too.
Debbie Tuel:
Yeah. And you know, it's not just about putting the leave policies in place. I think that is step one, but I think the harder thing to do is the bias that happens when somebody takes leave. For some reason in our society, we have looked negatively upon people who take breaks in their careers that take, leave in their careers. We want to celebrate them on one hand, we're like, oh, that's amazing that you were able to take a step back in your career to take care of your mom and spend time with your mom towards the end of her life or whatever the situation is. Right. I'm using that as an example. But on the flip side, when they come back to work, we look at it negatively. And so I, there has to be this, yes, we need the systems in place, but the bigger challenge is how do we change the perception of some of these policies that we're going to put in place so that people do take advantage of them and don't feel guilty for doing it.
Jess Von Bank:
Yeah. Again, I think it's really important to lay, to lay down straight fact.
Debbie Tuel:
Our final clip is from our latest podcast episode with my colleague, Sean Quigley. He and I chat about programmatic advertising and we dig into what programmatic ads are, why they matter, and we do it in a fun myth busting game. Today I will give you a piece of those questions here, but if you want to learn more, you know what to do. Go back, subscribe, just listen and take a listen to the full episode. This episode has a ton of specific tips and need to knows all about the history and the future of programmatic job ads.
Debbie Tuel:
So I you're blowing my mind. I'm learning a ton. I thought it might be fun for our listeners if we did a little bit of a myth versus fact. So I'm going to ask you a question that I have heard about programmatic advertising and you get to either debunk what I'm saying or say, yeah, that is actually true. All right. So very first one, in doing my research, I read that the precursor to programmatic advertising was a banner or in the recruiting world, a job ad on monster or career builder. Is that true?
Sean Quigley:
I would say that is true. I'd say they're both true, because banners are really how programmatics started. The demand side platform, that really arose out of the need to aggregate all of the supply for banner advertising, which was all of the different ad exchanges in the marketplace. And ad exchanges are just groups of publishers. So unlike Google that has a monopoly basically over search, the banner ad space has been really fragmented. So it's been difficult to buy all of that and to target specific audiences and to bid on specific audiences against other.
Sean Quigley:
So it's basically about setting up a marketplace where if that inventory is worth more to you than some other buyer, you're basically getting it and then if it's worth more to some other buyer, they're getting it. So that's actually an auction model that happens in real time. That sort of programmatic doesn't actually happen in the job space so that's extreme programmatic that still hasn't been replicated. Programmatic actually means something different when we talk about it in the job space. So we took that word from the banner space and just used it and it means something completely different. So that's actually where it came from. And then we took it and what it's actually doing, we're not doing real time bidding in the same way for banners. We're not bidding on indeed and then it's a live auction that happens.
Debbie Tuel:
And then it's spreading on 20 different places. It's more-
Sean Quigley:
Yeah. It's not like with banners, that's sort of happening in a nanosecond and lots of bitters are going and then we're making a determination in that time. If someone else is bidding more, they get it, and if we're bidding more, we get it based on lots of factors and things like that. And that's how Google auctions work also, it's basically an auction if you're bidding more for the inventory and if you're more likely to click, Google will just serve it to you. So that's a real auction with programmatic in our space, it's really more about rules that you can set up to shut off jobs to auto optimize. So if you have a campaign budget running across lots of sites to evenly distribute that money across sites and to have that have an algorithm shift the money to the better performing sites, so there's different things that we mean when we say programmatic. It's mostly about things that happen automatically that would be in possible for a person to do. Like there's-
Debbie Tuel:
To be able to shut it off once I've hit my max applications or what we think is the number of applications that we need, or be able to shift the spend based on easy to fill jobs or hard to fill jobs or well performing sites or less performing sites.
Sean Quigley:
Exactly. And even more granular things like if there's a thousand jobs in a campaign to shut off some of the jobs. And if some of the jobs are pacing really well, spend a little less on those. And if some are pacing a little slower, spend a little more on those. If some are brand new, spike those up because new jobs should get a spike up. So sort of sub rules within a campaign and to have that happen every day, all these, all these micro changes, that would be an enormous amount of work for anyone to try to manage by hand.
Debbie Tuel:
All right. We'll, you use the tech to do it. All right. Thank you all so much for tuning in while you have your head down working on a project or maybe working out or simply verging out. We love speaking with practitioners across industries to understand what work looks like on the front lines. We are all in this to together, and we truly want to make work better for all of us. If you want to continue listening, please remember to subscribe to the RM Podcast for the latest and greatest in recruitment marketing trends. Drop us a note if you have any hot topics you'd like to hear more about, and as always happy listening.
Want to sign up for the RM Podcast?

Want to learn more about the topics discussed today?
Check out "Your Guide to Accelerating Candidate Connection."