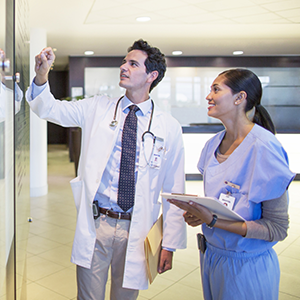 Last week, I hosted Kelly Piccininni of Northside Hospital on the first webinar of the #BeYourBrand series - a great conversation full of useful tips. I thank Kelly for sharing Northside's story about changing their whole approach to branding and recruiting. It was great to hear this from a recruiter who has learned and adopted digital marketing tactics while still being responsible for getting medical staff hired.
Northside's story is very much about their transition from Web 1.0 to the current digital age, and making that shift at breakneck speed. Their career site, for example, went from concept to launch in just 60 days.
As with all of the #BeYourBrand series, we were also joined by Symphony Talent's Maren Candelero, who provided data insights into what was working, and the differences between the channels. The numbers tell a fascinating story.
While there was much to take away, five things stood out for me:
1. You can do it in any environment
Probably the most common question I get asked post-project is "How did you get permission to do that?" Companies are beginning to understand that employee-generated content (vs. blanket marketing statements) resonates with people. However, fear of what people might say if given the freedom to speak causes an extreme rattling of the tea cups around the table. In regulated environments such as banks, insurance companies or hospitals, control is needed to ensure compliance with regulation. But how do you apply control over content and still be seen as authentic (and by authentic, I really mean truthful)?
I was keen to quiz Kelly on this.
In Northside's case, the starting point was an urgent need to change because traditional attraction efforts just weren't working. In a hospital, there are - literally - life and death consequences if you can't make hires. And, outside the world of medicine, there is usually at least one critical area where organizations struggle most. Concentrating on this one area is the best starting point for change.
To address issues of compliance, Northside introduced a layer for content between authorization and submission, with employees submitting updates and content for the recruiting team to sign off on and share. Over time, this requires much less scrutiny, but gives the legal team the confidence to sleep at night. If you are experiencing this barrier to introducing employee content and social media, this approach might be the solution you're looking for.
2. People share emotions rather than stories
Prior to the webinar, I had asked Maren to gather data on how different posts and different channels were performing. This proved to be super interesting, particularly when comparing channel to channel. Some of the points I see as being worth noting are:
Because the stories focused on emotions, "people" content outperformed factual or corporate content by six times in terms of engagement. Engagement is important because likes, shares and comments increase visibility among like-minded people. This supports my belief that it's not the story that's important so much as it is the teller. When you focus on emotion over detail, the story resonates

Different types of content performed better from channel to channel. On Facebook, video worked best (always short and the iPhone amateur video type rather vs. blockbuster productions. This is also great for budget). On LinkedIn, photos performed better than words - in particular, employee recognition images. On Twitter, event stories like voluntary service or individual profiles.garnered the most interaction. On Glassdoor, it was images of Northside's new facility and environment.

Visitors coming to the career site from social (rather than search) visited more pages, did more research on a wider range of topics, were better prepared applicants, and were more likely to be hired. The average number of pages visited by a candidate from social media was eight, compared to search, which generally goes directly to a job.

Applicants were most likely to visit Glassdoor from the career site prior to applying. There is a logic to this, and it's good to understand where Glassdoor fits into the ecosystem. Applicants coming from Glassdoor had a greater probability of converting to hires because they see Glassdoor as a validation check before they apply. This highlights the importance of paying attention to your profile. It's interesting that the best performing posts on Glassdoor were about Northside's facilities and new building, whereas with other channels, it was "people" posts. My take on this is that the emotional people stories draw the attention; however, the practical posts about work environment create the confidence to apply (when people can see themselves potentially working in a place).
This difference in engagement from channel to channel demonstrates the need to establish a presence across all channels and track what works best where. Each channel needs its own approach, and it is not enough to simply share all content in all channels. Testing, tracking and continually refining is the route to success.
The challenge was not to increase volume of applications, but to improve the relevance of those applications. While the total number of applicants might drop, recruiters had more time to screen and nurture relationships with candidates who are a better fit. Giving potential applicants a greater understanding of the culture of Northside and their specific needs was critical. The data demonstrates that this has been achieved.
3. The future is making it personal
I was particularly interested in where Northside is going next. Was their current success enough to assume everything's working? Kelly sees tracking, analysis, and improvement a constant process. The near future for them will see moves toward increasingly tracking visitors to their career site and making the experience personal and unique - and delivering relevant content according to the stage of interest to application.
Recently, there's been a lot of talk about "nurture" being key to converting curiosity to interest to action. This typically boils down to creating lists of people by fields (such as job title and email) and sending them a series of enticing emails to try to hook them in. While I recognize this has some value, I don't think it really is nurture. Taking a data-driven approach to delivering only the most relevant and personal experience is what really counts. It could best be described as marketing to an audience of one, something I see as the true definition of social recruiting.
4. Change is holistic
When companies decide to take the plunge into a social approach for their hiring efforts, they often think it's as simple as setting up a few social media accounts and encouraging employees to post content. It's a start, but it often leads to failure.
Social recruiting is not about channels or accounts. You need to think much bigger. In Northside's case, it started with their career site. To get people's attention, you need somewhere to point them that continues the social experience. This means incorporating a consistent look and feel, whether you're speaking to a curious visitor or a committed applicant. The site itself needs to offer a navigation and look (UI), that matches the experience they had in the channel they came from, and the content and images featured need to continue the social feel.
The data shows that visitors coming from social media will almost definitely be on a mobile device, which means full mobile optimization. This is not just about load time or navigation. It means creating a completely new mobile experience with content delivered and organized very differently from a desktop experience.
For visitors interested enough to want to hit apply, the experience needs to be seamless. In the case of Northside, this went well beyond the usual pointing to the ATS. Before they started the redesign process, it took around 45 minutes to apply, requiring the applicant to submit lots of information, form-style.
I have seen this lots of times: Organizations who recognized that they needed to invest in a fancy new website only to dump them back into a web 1.0 nightmare when it comes to applying. I compared this on the webinar to a hotel investing heavily in a new lobby and doing nothing with the rooms.
Kelly talked of reviewing the whole apply process - not just the mobile bit - and stripping out any unnecessary processes or questions at the first stage. In Northside's case, doing this reduced the apply time to around three minutes. This has made a massive difference to their abandonment rate during apply, and significantly improved the applicant experience.
On top of this, Kelly and her team reassured management that there would be no branding or compliance issues by introducing the process for submission (outlined earlier in this post), and dispatching the recruiting team to go out and encourage employees to contribute. Whenever you do this, you always find that the interesting stories are already there in the workplace, around the people, the work they do to make a difference, and how they co-exist on a day to day basis. Judging by the results and the content they are now regularly creating for each channel, this seems to be paying off for Northside,
Finding out what works - and what doesn't - really is "test practice" rather than best practice. As we have seen, each channel, and each job audience are different, which requires constant testing, trying things, and tracking to enable the content plan to continually evolve rather than become static. The plan is never finished; things can always get better.
Finally, Northside needed to look at how they engaged and interacted with people throughout the attraction and hiring process to make sure that how they worked was aligned with how people were attracted. People expect consistency in how you work, and experience reflects on brand.
5. Small steps lead to giant leaps
For those webinar listeners just starting to take a good look at what they do, remember: change doesn't happen overnight, and gaining confidence from the C-suite takes time and reassurance. Northside started with a Facebook page and worked from there - building on wins, providing reassurance that the results were coming from this new approach, and trusting their people to do the right thing. In high compliance environments, this doesn't happen overnight, and the architects of change need to be patient, proposing one step at a time, and winning confidence and permissions to broaden the field and try something new.
If you haven't listened to this webinar, I recommend you take the time to catch up on it. It's well worth your time. Sign up for more content and the next webinar in the series, where we will be looking at another hospital that faced a very different set of challenges.
Thanks, Kelly - and everyone at Northside - for sharing your story.
On September 12th, I sit down with Steven Walesch, Associate Director Talent Acquisition, Florida Hospital for a live discussion on Florida Hospital's mission to hire smart -- how to unite brand, faith & technology to create an experience that draws the right attention from the right candidates.
Bill