In my last blog, I touched on some of the headaches and frustrations healthcare recruiters face when trying to attract and engage great candidates. A lot of it comes down to time and resources – and how to free them up so recruiters spend less time on the back end of things and more time attracting great candidates and developing/motivating current employees.
Until recently, most technologies used for talent acquisition (including the ATS) functioned more or less independently from each other. And while each might capture reams of data, the information is siloed. There's no holistic perspective or meaningful way to manage and interpret the information – or use it strategically.
At Symphony Talent, we've recently launched a brand-new platform – ST Health – that brings it all together – with a fully featured, end-to-end talent acquisition experience that simplifies and increases the effectiveness of all acquisition, nurturing and hiring processes.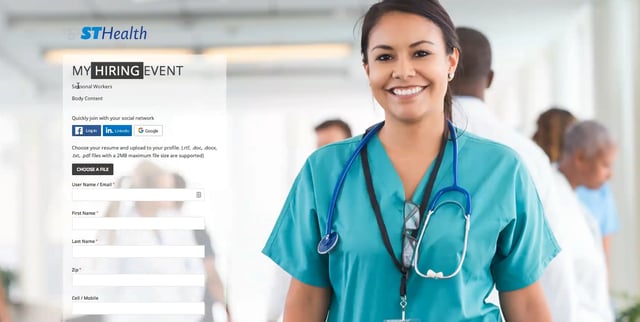 At this point you might be thinking, "Okay, this sounds fantastic in theory, but how will it improve the recruiter experience from an everyday, practical standpoint?"
Fair enough.
So rather than my trying to explain all the features and advantages of the ST Health platform, soup to nuts, let's focus on a specific example relevant to healthcare recruiting in the real world:
Let's say your hospital wants to hold a hiring event for Registered Nurses (RNs) within your local market.
For a talent acquisition team, this can be a tall order. There are candidates already in your ATS who you need to sort through and flag. Not to mention a microsite or email campaign to develop and launch. Even the job description itself needs to be thought through and personalized so that it speaks directly to your candidates' interests and aspirations.
In this "hiring event" example, the core audience is local, so you'll first want to identify candidates already in your existing talent community. The ST Health platform allows you to do this with a minimum of fuss – and without having to worry about the job titles that were originally entered into your ATS (saving you the trouble of performing multiple searches).
ST Health automatically filters candidate profiles by relevant keywords and even lets you identify top candidates within a specific geographic radius. What's more, ST Health leverages machine learning and artificial intelligence (in a fashion much like a Google search) to rank candidates on a five-star system based on their specific skills set, professional certifications, and fit with your organization's mission, employer value proposition and values.
So, what happens with this pool of pre-qualified talent? The ST Health platform provides you with the option of putting candidates into a "smart folder" that automatically makes them part of any marketing strategy or campaign you want to activate. And, as other candidates with similar qualities are entered into your ATS, their profiles are automatically added (that's the "smart" part of the folder approach). This way, you're capturing every strong candidate - and nobody winds up in the ATS "black hole."
How do you market to them? There are a several things you can do. Since our example uses an on-site event at a specific time and location, you'll probably want to consider an email drip campaign that creates awareness and automatically sends out strategically timed follow-ups that grow more relevant with each candidate interaction (right up to the day of the event). Here's your chance to feature RN "hero" stories, walk candidates through a "day in the life" at your hospital or deliver other candidate-centric content that nurtures and informs at every touchpoint. You may also want to create an event-specific microsite or social media campaign to attract nurses who are not already in your talent community. And let's not forget a robust job description page that leverages videos, testimonials from your current RNs and links to other content and events that "sells" them on your organization.
Does this seem like a lot of work? No worries: the ST Health platform uses machine learning to take care of all of this swiftly, seamlessly - and automatically.
Imagine putting together a microsite in a matter of minutes, or an email campaign just as quickly. With pre-loaded healthcare templates for everything from events to emails to job descriptions, you can have a best-in-class candidate experience up and running with less time and effort than you're probably spending right now just combing through your ATS.
This is just one example of how the ST Health platform can make a recruiter's day more efficient, productive – and happier. I'll be following up shortly with other examples of how this exciting platform can be used to recruit candidates outside the local market – as well as those who don't fall under traditional healthcare roles.

Join us on Wednesday, June 13th at 2pm ET for a virtual event on how Memorial Healthcare System is bringing digital to the core of their talent acquisition strategy and redefining how they attract, hire and engage quality CVICU (Cardiovascular Intensive Care Unit) and CVOR (Cardiovascular Operating Room) nurses in this competitive landscape.