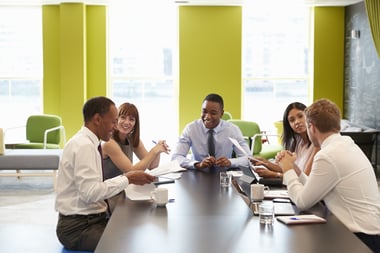 If you've ever worked in the consumer realm (or taken an "Intro to Marketing" survey course), you've probably heard about the traditional elements of a marketing mix, known as the "Four P's" - Product, Price, Place, and Promotion.
I thought it might be interesting to look at the "Four P's" through a recruitment marketing lens and develop our own guiding principles. Though the basic concept is the same, the the Four P's of recruitment marketing would look more like this:
Personalization
Profile building
Predictive Analytics
Productivity
In recruitment marketing, the Four P's focus not only on marketing and selling a product (or in our case, a career opportunity), but also on communicating regularly with the target audience and measuring the effectiveness of the overall strategy.
Personalization gets you quality talent
So, why should you market to your candidates? I'll cut to the chase: because organizations that use consumer marketing principles in their recruiting strategies will have the edge in attracting quality talent.
Your candidates regularly experience a high degree of personalization every time they shop online for a product or service. It's no different when they're "shopping" for a job. Their expectations have been raised, and they expect an experience that's accurate, relevant and tailored specifically to their needs and interests.
A well thought out recruitment strategy considers every touchpoint from the time candidates first express interest in working at your organization until they hit the "apply" button and through to employment. Everything – from your career site homepage to your job descriptions, email campaigns and the application itself – needs to work together seamlessly. And ultimately give your candidates what they need to make an informed decision.
That's why best-in-class talent acquisition teams use marketing strategies like these to attract A-level talent:
And these elements are all tied together by a strong employer brand and employee value proposition that speak to the core truths about your organization and help you stand out from the competition.
Profile building turns interests into relationships
Not everybody who shows interest in your organization is ready to make the leap into a full-blown job search. That's why you need to think about both active and passive candidates in your strategies and "speak" to them in different ways. And with the technologies available now, you don't need reams of information: often just an email address will be enough.
But no matter how they first connect, it's up to you to respond with a message and content that engages them wherever they happen to be in the recruiting funnel. Thanks to AI and machine learning, it's now possible to speak to potential candidates where they "live" online and deliver content that grows more targeted with each subsequent interaction.
Every time these potential candidates connect, the relationship deepens – and their profiles become more robust. This gives you a pipeline of great talent to leverage both for your immediate hiring needs and for positions that become available down the road.
Predictive Analytics put you in control
The data analytics tools you already have in place can give you plenty of useful information about the candidate journey. However, the data is often siloed across multiple platforms (like your ATS and CRM systems) and hard to interpret. Predictive analytics tools aggregate this information into a unified platform and establish a baseline that lets you set expectations with your hiring managers and business leaders around such critical questions as
Typical number of applicants
Expected time to hire
What's working
What's underperforming
In short, predictive analytics give you something to measure against - based on real data and past results. It's no longer a guessing game - you know.
The advantage? You're no longer in a reactive mindset. You have a handle on what's happening in real time and can adjust your strategy based on the realities of the current situation. Even better, every recruiting dollar works harder and smarter – all the time.
Productivity makes for a happier team
Would your recruiting team rather spend the bulk of their time slogging through back-end processes or building relationships with current and future employees? (OK, that answer's pretty obvious!). You may not realize that many formerly labor-intensive processes can now be fully automated and "run" with a minimum of fuss and effort.
Using preloaded templates it's now possible to launch a highly targeted email drip campaign or career fair microsite in a matter of minutes. Or put together a talent pool of interested and qualified candidates with a few simple clicks. Your recruiters will be more productive, less reactive and a whole lot happier, too!