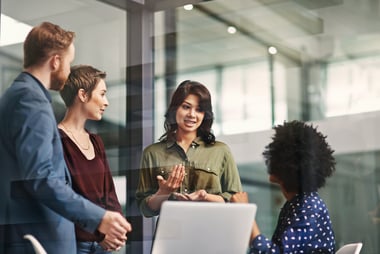 People are mysterious and, at times, unpredictable. Things like feelings, preferences and life experiences have a profound effect on decision-making. For those reasons, talent acquisition strategy can feel incalculable. In reality, though, nothing could be further from the truth.
Today's talent acquisition leaders can benefit greatly from recruitment marketing tools that capture and analyze data. Having that information at hand greatly reduces the guessing game involved in hiring, helps you understand how your team is performing and lets you deliver the personalized, candidate-centric experience that attracts and retains the right hires. Additionally, having recruitment metrics saves HR professionals time and effort that's better put toward fostering relationships.
Read on to learn about the seven most important metrics your team should know — and why.
1. Application Completion and Drop-Off
Knowing the number of applications that have been started versus the number that were completed is key to understanding your pain points as a company — as well as identifying areas that need improvement. Did job seekers come to your career site and not apply at all? Did potential candidates drop off on certain devices? Were the number of fields included in the application optimal? Having these details at the ready can help you identify weaknesses and boost job completion rates moving forward.
2.
Channel Efficacy
Ours is a digital world. Needless to say, recruitment marketing is far from immune to that fact — especially given there are more job applicant sourcing channels than ever. If sourcing metrics reveal more long-term employees came from job board A, while those who left prematurely came from agency B, that indicates altering your sourcing strategy is wise. Knowing what's most effective — be it social media, a career website or job boards — ensures your talent acquisition team uses their time (and budget) wisely.
3.
Hiring Costs
Having and understanding an annual budget is essential. But it's also important to know the cost per hire as candidates go through the recruiting funnel. From internal and external recruiter fees to job fairs, social media accounts, recruiter time, advertising, training costs and lost productivity due to unfilled positions, the reality is it can really add up. Having a solid answer to the cost of individual versus collective hires helps you make informed decisions about budget allocation based on clear, identifiable results.
4.
Employee Retention Rates
You found and hired quality talent — but how long do they stay? It's an important question, one that sheds light on what positions are hard to keep filled and, perhaps, why that's the case. Data-driven talent acquisition tools can help you analyze, and better understand employee retention. That way, you make smart decisions, including ones that improve your employee value proposition.
5.
Offer Acceptance and Rejection Rates
The hiring process — from first point of contact to when a job offer is made — takes time. Naturally, HR professionals want to invest in the right candidates so that time-consuming process isn't for naught. Having metrics that detail the number of offers accepted versus offers extended reveals is valuable — particularly if the acceptance rate is low. It may suggest compensation isn't competitive, or that it's taking too long to hire talent.
6. Ratio of Open Jobs to Filled Positions
Yes, it's important to take a bird's eye view of hiring performance. However, taking a deeper dive is essential, too. For example, gaining insight into the number of open jobs versus those that have been filled — particularly in relation to recruiter or job category — lets companies adjust their approach, with the goal of reducing vacancies and raising the number of filled positions.
7. Quality of Talent
Measuring hired talents' success admittedly is somewhat subjective, though it does help when talent acquisition teams understand employee performance across departments, roles and recruiters. Data and analytics tools can help identify and benchmark trends, leading to more informed, future-forward hiring decisions. By optimizing the pre-selection and hiring processes, the quality of your workforce will improve, as will the success of your organization overall.
The bottom line is, robust metrics have the power to answer hiring questions — as well as solve for them. And that insight can be used to improve business outcomes, resulting in happy, long-term and productive employees — as well as a better work culture for everyone involved.