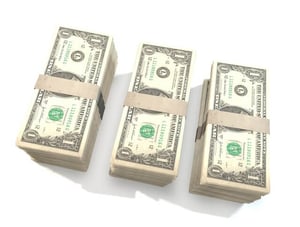 With candidates sitting in the driver seat, it becomes imperative to invest in fresh thinking to stand out. There are a lot of recruiting ideas out there that sound good in theory but don't lead to results. In the world of talent acquisition, results means finding the right candidates to fill positions quickly and efficiently at low cost and with little to no friction for the candidate and for recruitment teams.

Here are a few smart recruiting ideas, strategies, and real-life scenarios to help you put dollars toward results:
In an article titled, "The Top 12 Reasons Why Slow Hiring Severely Damages Recruiting and Business Results," internationally known HR thought leader John Sullivan notes:
The top 10 percent of candidates are often gone from the marketplace within 10 days.

Losing a truly game-changing innovator to another company may cost your business over $1 million.

Slow hiring could actually doom your company if you are only hiring average or slightly above-average candidates over an extended period
1. Omni-Channel: The Hot New Kid on the Block
You've heard recruiting ideas involving the multi-channel approach to recruitment marketing. Well, say hello to the new kid on the block who's super results-driven to boot: omni-channel.
What's the difference? While a multi-channel approach to recruitment marketing focuses on maximizing the performance of different channels (like the career website, social media platforms, and mobile), omni-channel takes it a big step further by integrating and synthesizing all of those channels, creating a seamless experience for the candidate.
As Lorne Epstein, writing for the SHRM, explains, the omni-channel approach "let[s] your jobs live in the places where your candidates are. A powerful component of these services is that with the push of a button your job description is sent to multiple channels. Your company's website and social media channels (i.e. Facebook, LinkedIn, Twitter, etc.), a dozen free job sites, and your employers who can seamlessly send it to friends and family who might be interested."
The seamlessness of the omni-channel recruiting experience for candidates extends to measuring ROI on channels, too. Smart, integrated omni-channel software makes it easy to figure out where your candidates are hanging out and which channels get the best response. That allows you to funnel your spend to the most effective channels, rather than spread your spend thin over all the channels out there.
Your company isn't all things to all people, and your recruitment strategy doesn't need to be either. Companies of different sizes and in different industries have different recruiting goals and ideal candidates in mind—not to mention different budgets. Seek out scalable and integrated software with a la carte functionality, which will give you the most bang for your buck when it comes to the omni-channel approach.
2. Converting Dollars to PESO
Nope, we're not talking about currency exchange. PESO refers to the combination of paid, earned, shared, and owned media that should make up your recruitment strategy. Simply posting on your company's social media profiles (aka owned media) isn't going to attract a lot of attention—and certainly isn't going to turn dollars into results—when done in a vacuum. Without the rest of PESO, it's kind of like sending out a message into the void.
Paid: Candidates responding to paid advertising such as PPC and paid social media

Earned: Candidates responding to a press article or industry publication featuring an organization

Shared: Candidates responding to social media shares by current employees and other candidates

Owned: Candidates responding to content on your blog or career site
Results-driven recruiting ideas involve not only spreading your message over different yet integrated channels but spreading your message in the same channel in different ways. That's exactly what software company CA Technologies did, with results that speak to the power of the PESO approach. CA Technologies decided to invest in an employee advocacy strategy with the help of QUEsocial, a tool that made social sharing super easy for employee advocates, by delivering shareable content via text or email. CA Technologies identified key social influencers, hiring managers, and executives at the company to participate in the program and then developed a plan to have them share content via their own platforms while following the 5:1 rule: For every five pieces of shared content that focused on providing value (like interview tips and tech-industry insights), employees would share one piece of content that made an "ask," like a posting about a recent job opening.
According to Craig Fisher who leads employer branding in the Americas for CA Technologies: "An employer's brand should be built from the inside out. Just as part of an organization's marketing message should come from its customers, the employer brand should be championed by its employees. For better or worse, they are the vehicles by which the message will be conveyed on blogs and social networks."
What happened when CA Technologies introduced its employee advocate posting strategy (shared media) to its social media strategy? Well, in just five months, its owned social channels saw a 1,000 percent gain in audience growth and a 33 percent gain in audience reach. Not to mention, the employees who posted using the QUEsocial content strategy saw an increase in their network growth, boosting their visibility within the industry.
What's so cool about CA Technologies' story is how it illustrates that when you invest in the different components of PESO, it pays back in dividends—because those different components build off of one another. A robust shared media approach fuels your owned media platforms and vice versa, creating a cycle of success in your social strategy.
3. Investing in Employee Advocacy That Leads to Bottom Line Results
CA Technologies' story isn't just about the power of PESO—it's about the power of employee advocacy. Activating employees into advocates sends a powerful message to candidates. It says, "We don't just talk the talk about our amazing employer brand—our employees feel the same way." At CA Technologies, the QUEsocial-fueled employee advocacy content program led to huge increases in social followings, yes, but it also led to the kind of results that directly affect HR's bottom line: more referrals.
And dollar for dollar, strategic employee advocacy programs will get you better ROI than traditional advertising—because an employee's word carries so much more weight. When compared to CPC and CPM approaches, CA Technologies estimated that it saved approximately $300,000 in five months with its employee advocacy approach to "advertising." If you're looking for recruiting ideas that lead to results while keeping costs down, engaging employee advocacy programs should be at the top of your list.
The key to achieving lasting results in your recruitment marketing is to invest in strategies that work together—like the omni-channel approach, PESO model, and employee advocacy. These three pieces work in concert to help you get the best talent and take your hiring to the next level.
What other recruiting ideas have you tried in order to drive results—and did they get you to where you wanted to be?