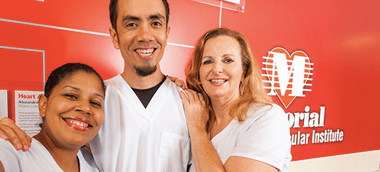 I recently co-hosted a webinar along with Teresa Pate, Director, Talent Acquisition for Memorial Healthcare System (MHS), on the strategic approach Memorial Healthcare System (MHS) used to find, hire and engage CVICU and CVOR nurses for the system's world-class cardiovascular service.
If you missed the webinar, you can listen to it on-demand here.
Thinking bigger
Located in southern Florida, Memorial Healthcare is one of the largest public healthcare systems in the nation, highly regarded for their exceptional patient- and family-centered care. When MHS began seeking nurses for their expanding cardiovascular adult and pediatric service, the recruitment marketing strategy needed to expand as well - going beyond the local market to resonate on a national scale.
To compete in this wider market, MHS knew they needed to
Build a consistent brand to create awareness outside of south Florida
Adopt an omnichannel recruitment marketing strategy
Personalize the candidate experience across multiple touchpoints
And while they wanted to reach and attract qualified candidates outside of market, Memorial didn't want to overlook quality candidates within Florida. Therefore, the approach needed to be compelling to nurses within the existing market as well.
Building the MHS brand
To begin, MHS defined their Service Vision, an empowering, internal-facing declaration meant to galvanize employees towards achieving a shared service-focused goal. "Deeper Caring. Smarter Healthcare" captures the culture at MHS with a declaration that's
Confident
Passionate
Clear and concise
Accessible to everyone
Next came an employee value proposition that considered the emotional drivers that would also be part of a nursing candidate's decision-making process:
Location: Florida can be an easy or tough sell. Some candidates are attracted by the great climate and tax advantages, others think tourists, hurricanes, and sweltering temperatures.
Patient Acuity: nearly 20% of Florida's population is aged 65 and older. Candidates may like the challenge of caring for an older population or consider it too difficult or intense.
Culture and Opportunity: Memorial is a not-for-profit institution which means that in many cases there are other in the area who offer better pay. The sell needs to be about more than money.
"Deeper Caring. Smarter Healthcare" encapsulates what MHS provides: a vibrant and supportive culture, defined career paths, high patient, employee and physician satisfaction scores, and exemplary patient safety and care standards. With this EVP in hand, MHS had the foundation for a compelling national recruitment campaign.
Delivering across every channel
MHS's new career website is the central hub communicating their EVP and employer brand messaging. The site showcases real people, and their stories, including a series of "day in the life" videos with leaders and employees. Career site visitors can also join the talent community easily – giving MHS all the info they need to start engaging with candidates and to begin the apply process.
MHS's omnichannel recruitment marketing approach includes Enhanced Job Descriptions, which provide candidates with all of the relevant information they need to make an informed decision including:
Tabs that visually breaks up the traditionally long list of formal content of the job description, making it easily digestible
The unit and/or facility-specific information
Testimonial and culture videos to showcase what life is like working at MHS
Growth opportunities and career progression paths, relevant to the role, showcasing internal mobility
From a content standpoint there is plenty of interesting information to leverage. The challenge is delivering content in a way that isn't overwhelming to the target audience. MHS keeps candidates engaged with relevant blogs posts, career eNewsletters, and drip campaigns. Symphony Talent also helped MHS launch their career social media pages (such as their Facebook and Twitter pages), introduced consistent posts for Linkedin and Glassdoor, and provided community management on each platform.


As a result of quality and consistent content and a targeted Facebook follower campaign, Memorial's FB Career page went from 0 to 5,899 followers in just seven months, one of the fastest growing Facebook pages in the careers space. (Today there are over 7,600 followers.)
Automating the experience
Now that they had a compelling employer branding message that was communicated across their career site, it was important for Memorial to reach candidates and bring them into that experience. So, the MHS cardiovascular nurses campaign team uses programmatic media technology extensively to reach each candidate in a way that speaks to their particular interests, concerns and emotional triggers. And the messages can grow more personalized with every subsequent interaction.
And once these candidates are in the home stretch, MHS's application process didn't leave them confused or frustrated. Their apply process is designed with consumer principles - checkout style - making it simple, quick and painless to apply.
Focused strategy, impressive results
Thanks to a thoughtful omnichannel recruitment marketing strategy prioritizing the candidate and recruiter experience, MHS is enjoying considerable success in attracting specialty nurses for these hard-to-fill roles – including higher conversion rates, a stronger pipeline of qualified candidates and less dependence on paid sources of traffic. Memorial is also happier with internal clients and partners whose expectations were defined and met.

Stay up-to-date on the MHS story by following #RedefiningTA @SymphonyTalent_ on Twitter!

Speak with an expert about ST Health, Symphony Talent's talent acquisition technology platform designed especially for healthcare.

Symphony Talent is here to assist you with any of your Talent Acquisition needs! If you're competing locally or out of market for hard-to-fill roles, we can help!